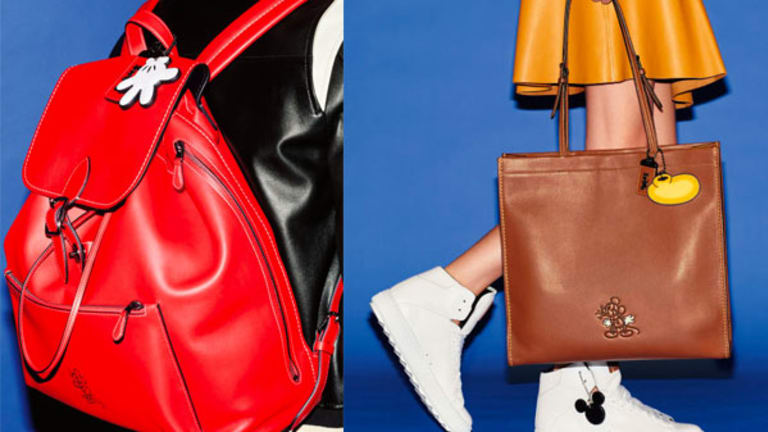 Coach CEO to Department Stores: We Are Taking Back Our Brand
Coach says it will shutter a number of sites inside North American department stores.
Coach says it will shutter a number of sites inside North American department stores.
Updated from 11:18 a.m. EDT with comments by Coach's CEO and additional analysis.
Coach (COH) started its life in the discount-heavy U.S. department store channel but will now toss nostalgia aside as it tries to elevate the perception of its brand among consumers.
The handbag and accessory maker announced a bold decision on Tuesday to shutter about 25% of its North American department store locations -- otherwise known as wholesale locations. Most of the locations tend to be low volume, according to the company, and the closings will be spread out in terms of geography. Instead, Coach will focus on the best-performing sites and avoid the stores that put its bags on sale or clearance at huge discounts.
Coach products are sold in over 1,000 wholesale locations in the U.S. and Canada. Its most significant U.S. wholesale customers are Macy's (M) - Get Report (including Bloomingdale's), Dillard's (DDS) - Get Report , Nordstrom (JWN) - Get Report , Lord & Taylor, The Bay,Bon Ton (BONT) , Belk and Von Maur.
"These moves are really meant to reduce the smallest doors that we have, and to ensure in the doors that we do remain that our brand is going to be first and foremost managed effectively and not have our pricing be overly promotional, which impacts not only consumer perception about the brand but also creates confusion across the various channels," Coach CEO Victor Luis told TheStreet in the below interview.
Luis, who has been overseeing an impressive reboot of the Coach brand since taking the CEO reins in 2014, added, "Overall, we believe in the department store channel and believe it's a great place for consumers to come in and cross shop -- but, we believe most in protecting and focusing our investments in the long-term health of the brand."
"I think it's a smart move, you have to protect the integrity of the brand while also creating some scarcity," said retail expert and money manager Jeff Macke.
Coach's maneuver is one that other brands may soon follow in order to escape a department store sector in love with discounts thanks to the shift toward online shopping and sporadic spending habits of consumers.  
Michael Kors (KORS) execs told analysts in June the company would see a "meaningful decrease" in wholesale sales over the next twelve months as it reduces exposure to U.S. department stores. The company's U.S. wholesale business is comprised of a whopping 1,532 department store and 929 specialty store locations. The overall wholesale business for Michael Kors, which includes international operations, represents about 45% of the company's annual sales. 
"Mall traffic has declined, and [department] stores have taken an aggressive position on promotional activity to generate volume and traffic into their buildings. We have seen that magnify over the last twelve months, and we believe that that long-term is not healthy for the Michael Kors brand," said Michael Kors Chairman and CEO in June. "We think that too many units are going into the marketplace, and believe that by reducing the amount of product going into the wholesale channel, we will actually create a healthier environment for our department store customers and partners and ourselves -- there will be less product, there will be more demand, and that demand will be more full price versus sale."
A more definitive location closing plan could be shared when Michael Kors reports its first fiscal quarter earnings on Wednesday. Pointed out Macke, "why should brands such as Coach and Michael Kors be part of what the department stores are going through right now -- they have to protect their brands."
Ralph Lauren may look to exit some lagging department store locations, too.
While department store staple Polo Ralph Lauren (RL) - Get Report hasn't announced door closures, they could be lurking as its new CEO Stefan Larsson tries to reduce the amount of unsold department store inventory finding its way to off-price retailers such as TJ Maxx (TJX) - Get Report and Ross Stores (ROST) - Get Report . A Polo Ralph Lauren spokeswoman didn't return a request for comment on the company's plans. 
As for Coach, its move comes after a quarter in which its sales trends at departments stores and within its own retail stores were night and day.
Sales at North American department stores for Coach declined by a mid-teens percentage in the quarter. Meanwhile, same-store sales at its U.S. retail stores rose 2%, marking the first time in 12 quarters the company has seen growth in this key metric. Excluding the impact of online sales, U.S. same-store sales rose 1%.
Net sales rose 15% from the prior year to $1.15 billion, relatively in line with Wall Street forecasts. Earnings excluding one-time items increased 47% year over year to 45 cents a share. Analysts expected 41 cents a share.
Shares of Coach fell as much as 3% in early trading on Tuesday as investors fretted about the company's full year forecast. They are now 1.3% at around $41. Coach forecast sales growth of low single digits for its new fiscal year and a low double-digit percentage gain in earnings per share. 
"People have to get serious," TheStreet's Jim Cramer said. "On 'Squawk on the Street' the stock was down a buck and a half, I said, 'What? Are you kidding me?' This was a great quarter."

Cramer said Coach is "definitely a buy," following a period of slowdown when Kate Spade "blew up," he said.

"Victor Luis is a winner, I liked the line, I think it's good," he said.