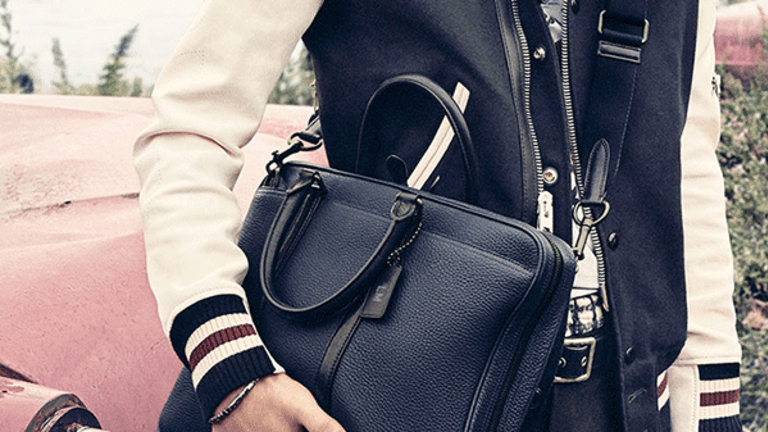 Coach Could Make Some Serious Money By Acquiring Kate Spade for $2.4 Billion
With a big deal often comes big profits.
Coach's (COH)  transition to a brand portfolio manager could prove quite lucrative. 
Credit Suisse estimated on Tuesday that Coach could see a 40 cents a share lift to profits "over time" from its splashy acquisition of rival Kate Spade (KATE) . Analyst Christian Buss sees Coach's efforts to clean up Kate Spade's distribution and cut costs as the major profit tailwinds.  
"Coach's acquisition of Kate Spade delivers on what we view as one of its biggest opportunities: the potential to take its efficient distribution model and recent return to sales discipline and apply it to acquired brands," Buss writes. 
The handbag and accessories maker said Monday it will acquire Kate Spade for $2.4 billion. The deal represents a 27.5 percent premium to Kate Spade's closing price as December 27, 2016, which is when speculation of Coach's interest surfaced. Kate Spade shares closed Friday at $16.97. They surged more than 8 percent on Monday to $18.38, while Coach's stock gained 4.8 percent to $44.71.
Coach sees about $50 million in cost savings within three years of the deal closing, most of which will come from closing unproductive locations at department stores and consolidating operations. On a conference call with analysts, Coach executives said Kate Spade will continue to be an independent brand, but will likely leverage its best in class leather supply chain.
"Kate Spade has created a very unique positioning in the marketplace -- they own the emotional attributes around fashion that are connected with fun, fashionable and femininity that resonates both in the U.S. but globally with consumers," Coach CEO Victor Luis told TheStreet in an interview. "We were especially excited in our due diligence to find the strength which the Kate Spade brand has with millennial consumers."
Kate Spade could use any help Coach's executives may have on offer.
After a successful 2016 that saw sales climb 13 percent to $1.38 billion and earnings jump 40 percent to 70 cents a share, Kate Spade struggled in the first quarter. Sales fell slightly in the quarter to $271 million, while earnings declined to 1 cent a share from 5 cents a year earlier.
For watchers of Coach under CEO Victor Luis, who assumed the leadership position in January 2014, the play for Kate Spade isn't a shocker. It was always a matter of when Coach's next deal would happen, not if. In January 2015, Coach spent $574 million to buy designer footwear maker Stuart Weitzman.
Top news on TheStreet today:
Editor's Pick: Originally published May 9.