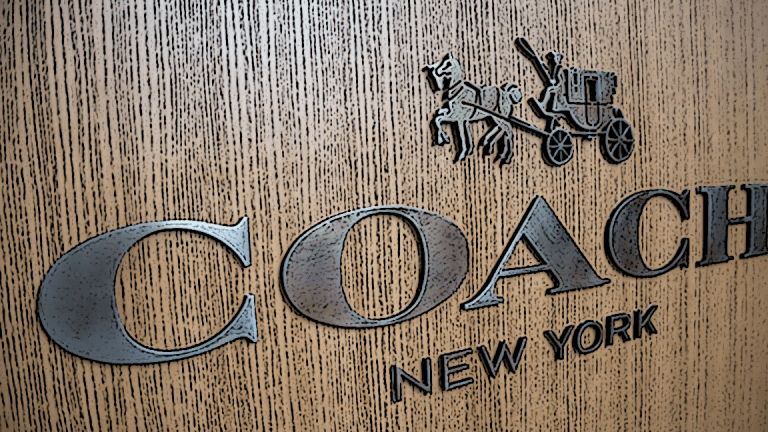 Coach Is Not Changing the Name of Its Handbags So Stop Freaking Out
The accessories company closed on its $2.4 billion acquisition of Kate Spade this summer and bought Stuart Weitzman in 2015.
Relax Coach (COH) fans.
After paying $2.4 billion for Kate Spade, Coach Inc. is changing its name to reflect its portfolio of three brands.
The accessories company announced Wednesday, Oct. 11, that it's rebranding as Tapestry Inc. and will change its ticker symbol to TPR, effective Oct. 31. The rebranding follows the July 11 close of its acquisition of fellow accessories maker Kate Spade and comes two years after its addition of shoe company Stuart Weitzman for $574 million.
Social media freaked out that the name change meant Coach's iconic handbags would have a different name on them. In turn, investors panicked a bit on fears of possible market share loss -- shares fell as much as 3% on the news. But, everyone needs to simmer down a bit. 
"No one will ever see the word Tapestry on a Coach store," Coach CEO Victor Luis told TheStreet, explaining the name change was just for corporate purposes. Luis says Coach did extensive research with its 20,000 employees worldwide in order to find a name that will stand the test of time, help it grow into new categories and avoid confusion among consumers and investors. 
So while the nameplate in Coach's impressive NYC will change, everything else is status quo. 
Coach isn't the only American branded accessories company branching out with acquisitions. Michael Kors Holdings Ltd. (KORS) , for instance, paid $1.35 billion for Jimmy Choo plc over the summer, closing the deal weeks after Coach closed its Kate Spade acquisition.
Check out the most expensive Jimmy Choo products we could find. 
Coach may want to become an "American LVMH," a "diversified luxury group" similar to the French conglomerate which owns brands like Louis Vuitton and Marc Jacobs," HSBC analysts wrote in a recent note. "Mono-brand companies, at least in soft luxury (handbags, accessories, apparel) are a risky investment as fashion, by essence, comes and goes," they wrote. "In that context, diversity offers a natural hedge." Grouping brands also provides synergies, learning opportunities and diverse management, they added.
HSBC even predicted the name change, "for obvious internal and external reasons."
More of What's Trending on TheStreet:
Editors' pick: Originally published Oct. 11.