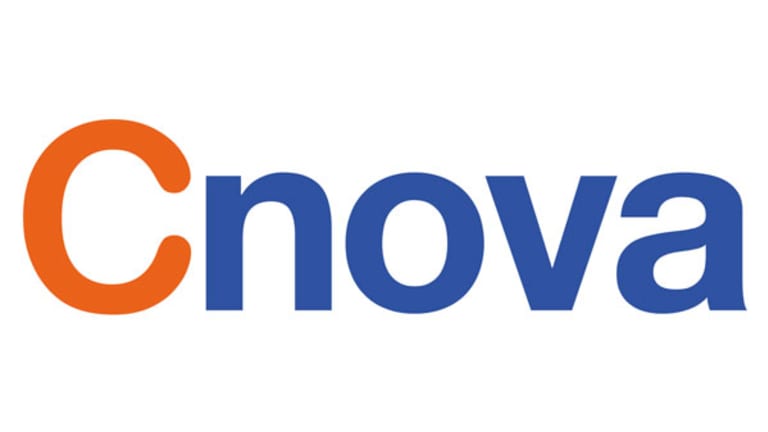 Cnova Shares Surge on Analysts' Stock Initiations: What Wall Street's Saying
Shares of the e-commerce firm gained 6% on Tuesday after sell-side analysts initiated coverage of the stock. Here's what they said in their reports.
NEW YORK (TheStreet) - Following on the heels of the record-setting IPO of Chinese e-commerce company Alibaba (BABA) - Get Alibaba Group Holding Limited American Depositary Shares each representing eight Report , shares of Dutch e-commerce firm Cnova (CNV)  surged 6% on Tuesday after Wall Street sell-side analysts initiated coverage on the stock. 
Though Monday, Cnova shares had been up 4% since the company's November IPO. Cnova, which was spun off from its parent Groupe Casino, raised $188 million by pricing 26.8 million shares on Nov. 20 at $7 a share. The stock is listed on the Nasdaq Global Select Market.
Cnova has nearly 13 million active customers through its Cdiscount sites and is a leader in France and the No. 2 e-commerce company in Brazil. The company also operates sites in Colombia, Ecuador, Thailand, Vietnam, Ivory Coast, Senegal and Belgium.
Here's what analysts said in their reports.
Justin Post, Bank of America Merrill Lynch (Buy; $11 PO)
We are constructive on Cnova (CNV), a multi-brand eCommerce company with a strong presence in France (~7% share), Brazil (~17% share), and several emerging markets. Cnova has growing market share, accelerating metrics and revenue growth, and an expanding third party marketplace which should drive gross merchandise volume (GMV) and gross margin expansion, which we view as the most interesting investment positive. We also think Cnova's relationship with its parent and its affiliates creates competitive advantages in purchasing and click and collect fulfillment vs. other companies targeting France and Brazil.
Based on a positive view on Cnova's market position in France and Brazil, we are initiating coverage with a Buy rating and $11 price objective. Our PO is based on 0.9x 2015 EV/Sales and our DCF analysis (which factors in long-term earnings potential), a discount to a global eCommerce comp group (excluding BABA and MercadoLibre (MELI) - Get MercadoLibre Inc. Report ) at 1.6x EV/Sales. Lack of significant near-term earnings, a complicated ownership structure, and a complex mix of businesses across geographies may result in an ongoing price-to-sales discount vs peers, but we think the discount is overdone. We think the discount could narrow as Cnova executes against its business plan for accelerating growth and margin expansion, and becomes more investable (only ~6% of shares outstanding currently trade, more likely coming).
Jaime Vasquez, J.P. Morgan Casenove (Overweight; $9.60 PT)
Thanks to the scale and infrastructure of its parent companies, Cnova has a low cost/ low capex model which allows for aggressive price positioning. This model is a strong platform to develop an electronic marketplace (MP) for 3rd-party vendors, which we expect to be the key profit driver in the coming years.
Low cost/low price leads to strong Direct Sales (DS) growth. Cnova benefits from the purchasing, logistics and store infrastructure (pick-up points) of its parent companies. Thanks to its aggressive pricing and convenient offering in terms of delivery and payment options, its DS growth is accelerating, both in France (14% in 2015-17E) as well as Brazil (30%).
We expect gross merchandise volume (GMV) growth to be even stronger as the MP grows faster than the DS. We forecast c34% CAGR GMV growth in the next three years (2015-17E), driven by c26% growth in France, c38% growth in Brazil and the development from scratch of the business in the International markets (Colombia, Thailand, Vietnam, Belgium, Ecuador and a few African countries). We forecast that the MP will account for 40% of French GMV at the end of 2016 from 21% in Sep- 14, and that the MP will account for 28% of Brazilian GMV at the end of 2016 from 4% in 2014. Both are in line with company guidance. The MP has been launched so far in only one of the three main websites in Brazil (extra.com) and will be launched in the other two (pontofrio.com and casasbahia.com) in 1H15.
Ross Sandler, Deutsche Bank (Hold; $8.50 PT)
There are a number of factors that make CNV unique among the global e-commerce peer group, including: 1) Brazil e-commerce has very low penetration of retail (3%) and should be in secular growth mode for some time, Cnova's BR GMV growth is accelerating on the back of the marketplace strategy roll out, 2) the price advantage from proprietary supplier deals as a result of the parent company relationship should allow CNV to continue to take share and grow above market rates, 3) profitability (which has been managed to near-zero for years) is likely to inflect higher as marketplace mix increases. We have modeled in most of these key drivers, but anything above our estimates would increase our conviction.
Potential downside risks include: 1) we expect to see a fair amount of volatility around key financial milestones across GMV, revenue, GP and EBITDA, somewhat typical from all newly public companies, but CNV may be subject to more given the recent CFO change, 2) the company has yet to turn meaningfully profitable, somewhat by design, with peer-defined EBITDA/GMV (including finance charges in Brazil) of less than 1%, 3) consensus estimates assume healthy re-acceleration in growth and higher margins which we rarely see in consumer internet, and leaves little room for upward revision, 4) click-and-collect is hugely beneficial in less efficient delivery markets like France, but we are not convinced that this model will emerge as the winner in Brazil and other CNV markets. We think 4Q is tracking solid on the GMV line, but have little visibility on EBITDA and GP flow through.
Edward Hill-Wood, Morgan Stanley (Overweight; $11 PT)
Cnova is amongst the lowest-valued major eCommerce companies at 0.5x EV/Sales '15, despite offering attractive 2nd quartile growth. Strong execution in 2015, particularly on margins, could enable material re-rating. We initiate at Overweight, with an $11 target.
Cnova is the world's sixth-largest eCommerce player by sales, and key category leader in Brazil and France, large addressable markets with underpenetrated eCommerce sectors. Cnova's four core brands (Cdiscount, Extra, Ponto Frio & Casas Bahia) have differentiated customer propositions and defendable scale in segments such as home appliances and consumer electronics, to drive market share gains and profitable growth. We forecast continued strong growth: revenue CAGR 22%, EBITDA 62% 2014-18.
- Written by Laurie Kulikowski in New York.