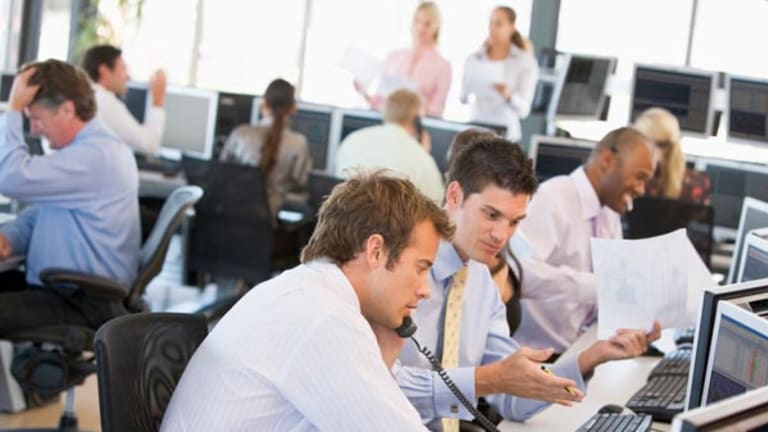 CME Group Interested in Merger with Deutsche Boerse: Hot Trends
CME Group reportedly contacted Deutsche Boerse AG about potentially entering merger discussions.
NEW YORK (
) -- Popular searches on the Internet include
CME Group
(CME) - Get Free Report
as the futures exchange is said to be interested in merging with
Deutsche Boerse AG
.
Shares in Deutsche Boerse surged 10% on the news.
According to a report by
Bloomberg
, CME Group contacted the Frankfurt-based exchange about a potential merger, but Deutsche Boerse is hesitant to enter formal discussions. Duetsche Boerse CEO Reto Francioni said last week that the exchange would be focusing primarily on growing on its own, but would remain open to joint ventures.
A merger between the two would combine the largest futures exchanges in the U.S. and Europe.
Barnes & Noble
(BKS) - Get Free Report
is trending after the retailer's chairman, Leonard Riggio, said he plans to bid for the company's retail assets.
Riggio told the company's board that he plans to buy Barnes & Noble Booksellers Inc. as well as its Web site. Riggio does not plan on bidding for the Nook e-reader business.
Shares of Barnes & Noble rose as much as 26% on the news.
Riggio already owns nearly 30% of Barnes & Noble. In a regulatory filing, he said the purchase would comprise mainly of cash and the assumption of some debt.
The company has set up a committee to consider Riggio's proposal.
Barnes & Noble's retail business has struggled as more and more customers turn to e-readers and books in digital formats.
Lowe's
(LOW) - Get Free Report
is another popular search. The home-improvement chain reported fourth-quarter results that beat analysts' estimates, helped by consumers looking to repair their homes after incurring damage from Hurricane Sandy.
Lowe's reported net income of $288 million, or 26 cents a share, in the quarter, compared with $322 million, or 26 cents a share, a year ago.
Analysts had been expecting a profit of 23 cents a share.
Looking ahead to the full year, Lowe's predicted earnings of about $2.05 a share, below analysts' expectations of $2.09 a share. The company also forecast total sales for the year rising 4%, while analysts had expected a 3% rise.
Lowe's also announced a $5 billion share buyback program set to take place over the next two years.
The chatter on Main Street (a.k.a. Google, Yahoo! and other search sites) is always of interest to investors on Wall Street. Thus, each day, TheStreet compiles the stories that are trending on the Web, and highlights the news that could make stocks move.
-- Written by Brittany Umar
.
Brittany joined TheStreet.com TV in November 2006 after completing a degree in Journalism and Media Studies at Rutgers College. Previously, Brittany interned at the local ABC affiliate in New York City WABC-TV 7 where she helped research and produce On Your Side, a popular consumer advocacy segment.