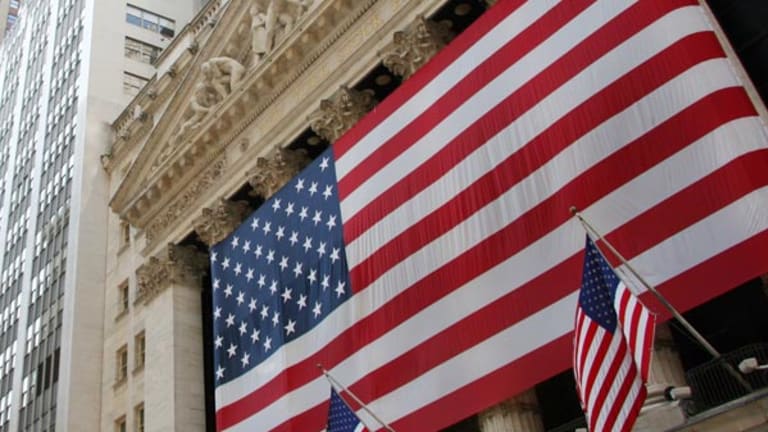 CME Group Conference -- Our Davos
CME Group holds its third annual Global Financial Leadership Conference next week and a CME spokeswoman anticipates a hot topic for attendees will be the new regulatory environment.
CME Group holds its third annual Global Financial Leadership Conference next week and a CME spokeswoman anticipates a hot topic for attendees will be the new regulatory environment.
CME Group
(CME) - Get Report
next week holds its third annual Global Financial Leadership Conference in Naples, Fla. The conference is relatively new but it already has distinguished itself as one of the highest profile annual get-togethers of business and finance leaders in the United States. Think of it as our Davos.
Speakers next week include hedge fund manager Paul Tudor Jones, bank analyst Meredith Whitney, Portuguese Minister of State and Finance Fernando Teixeira dos Santos, author Michael Lewis, former
Goldman Sachs
(GS) - Get Report
and
Citigroup
(C) - Get Report
alum Robert Rubin, and former President Bill Clinton.
I spoke with Anita Liskey, CME's managing director of corporate marketing communications, about the conference, how it came to be and the expected hot topics for discussion next week.
GFLC is now in its third year. Why did you start it and how have you been able to create such a prestigious conference in such a short time?
Liskey
: It's our marquee customer event each year for the CME Group. It cuts across all our business segments and draws attendees from all over the world. We just decided that if we're going to do this kind of event we wanted it to be a one-of-a-kind top-tier experience. We are fortunate to have many contacts to thought leaders across business, finance, and government so that when we've asked them to speak, they've immediately said yes. We're happy that the response from attendees has been so positive.
And the attendees are capped at 260 through invitation. What kind of people are coming?
Liskey: These are corporate treasurers, brokers, hedge fund managers, plan sponsors, prop traders, individual traders, and sovereign wealth fund managers. Although everyone loves to hear the speakers and panels, we consistently hear from attendees that at least 50% of the value they get from attending the conference is chatting to their peers in the hallways or at the end of the day. It's nice to unplug from the office and talk about key issues facing us today with trusted colleagues.
OK, so what are those conversations going to be about this year? On business TV, we hear the talking heads' opinions but what are your clients really paying attention to?
Liskey: We've tried to reflect it in our agenda. I would say the biggest concern right now is regulation. We all know Dodd-Frank is passed and now people are concerned about what will be the actual laws and what will be the impact on business. They're thinking about how their business might have to be reshaped because of the required regulatory changes. But commodities, like grains, food, and energy, are also top of mind right now for most of our clients. Commodity volume is strong right now, and people want to know if that's sustainable or what might happen down the road to impact prices.
A lot of people were surprised that the notoriously reclusive hedge fund manager Paul Tudor Jones agreed to headline the conference. How did he come to agree to do that?
Liskey: I know he rarely gives public speeches and we're thrilled he's coming. Mark Dalton, who is co-chairman and CEO of Tudor Investment Corp., spoke at last year's conference and I'm sure he put in a good word for us with Paul.
What's he going to be speaking about?
Liskey: The title of the speech: "Price Limits -- A Return to Patience and Rationality." So, we'll be hearing it for the first time along with the rest of attendees.
What were the first couple of years like for this conference?
Liskey: Well, the inaugural event was on Sept. 15, 2008, the day
Lehman Brothers
filed for bankruptcy. We didn't know if anyone would show up that morning. But virtually everyone did. There was obviously a lot of stress with what was going on in the markets, but the conference ended up being a great way for everyone to share information. With the crisis as a backdrop, our conference became immediately relevant.
Paul Volcker keynoted and Robert Shiller also spoke. Both correctly predicted at the event that the global economy was on the verge of a huge slowdown.
Last year, for our second event, the mood had changed considerably but the topic du jour was TARP and whether the bailout would work. There wasn't a clear consensus on that from attendees or the speakers. Going into this year, my sense is that the future is still foggy to many of our customers. They can see potential and obstacles. Hopefully, we'll get some more clarity at next week's event.
At the time of publication, Jackson was long Goldman Sachs.
Eric Jackson is founder and president of Ironfire Capital and the general partner and investment manager of Ironfire Capital US Fund LP and Ironfire Capital International Fund, Ltd. You can follow Jackson on Twitter at www.twitter.com/ericjackson or @ericjackson