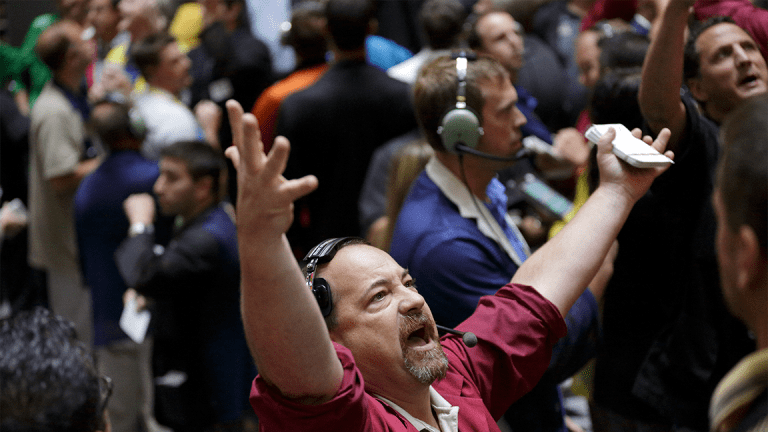 CME Group CEO: What Our Bitcoin Futures Trading Launch Really Means
CME Group gets ready to get into the bitcoin mix with bitcoin futures trading. TheStreet talks with CME Group chairman and CEO Terry Duffy about the big launch.
Count CME Group (CME) - Get CME Group Inc. Class A Report CEO Terry Duffy as among those that can't believe how quickly the hype around bitcoin has materialized. 
"I don't think I have ever seen so much media attention around something like bitcoin in my 37 years in this industry -- then the price action has been amazing," Duffy told TheStreet in an interview. In part due to the hard work of Duffy and his team at CME Group, the media attention around bitcoin is about to be ratcheted up yet another notch.
Bitcoin futures trading on the CME will kick off on Monday a week or so after a similar debut on the rival Cboe platform. CME's bitcoin futures contract will be cash-settled and based on the CME CF Bitcoin Reference Rate (BRR). Crypto Facilities will be working on the product with CME Group. They will both publish the CME CF Bitcoin Real Time Index (BRTI) to serve up price transparency to the spot bitcoin market.
Ahead of the launch, bitcoin prices neared $20,000 as of 7:00 a.m. EST. on Sunday. Prices have gained a dizzying 9% over the last day. 
TheStreet talked with Duffy about the bitcoin futures trading launch, financial industry regulation and what's on tap for CME Group in 2018. What follows is a condensed and edited version of our conversation.
TheStreet: Why is it so important for CME Group to be involved in bitcoin futures? How'd you get to this point?
Duffy: You just can't deny certain things, whether they are fads or not. From my standpoint, it seemed like more and more people were interested in bitcoin, more and more clients had interest in it. So I looked at it and said OK, as long as we can put our processes and safeguards in place I am willing to go forward with the product. 
When we made the decision to go forward with bitcoin futures, it was trading around $6,000. Prices now are pushing $20,000. So, it's truly unbelievable. It has been something to behold, we only made the announcement a month ago. I just don't think you can deny there is a huge interest in bitcoin. And for the people that say that's it's used for nefarious reasons -- listen, there have been people doing nefarious activities for a million years using whatever currency of the day was. They still do it with dollars and other products, even gold.  
I look at our audit functions and when someone asks how do we know who is trading bitcoin futures, I say we do know who is trading in our markets. We have real-time audit functions and capabilities that monitor each and every trade. It's not like the bad actors can just be running guns or something of that nature and decide to use our market to trade bitcoin. There is an audit process associated with it. 
I also think this helps introduce clients to other products that CME offers. I think this is also a little bit of a client acquisition play as well. People opening up futures accounts to trade bitcoin may also be trading crude oil in six months. 
TheStreet: So interest in trading bitcoin futures may spill over into other product lines?
Duffy: When people are normally trading look a likes like ETFs instead of index futures, and then they trade stock index futures for the first time, they often wonder why they were ever trading an ETF. The products are complimentary. But, the cost efficiencies of trading futures is truly a great benefit to the end user. 
So yes, I think the people that want to trade cryptocurrencies that may have never traded futures before could look at our other asset classes as well. 
TheStreet: What do you think happens to bitcoin prices because futures trading now exists?
Duffy: I would never try to predict the price of something, especially this particular product. I have a hard enough time with the standard contracts that I have been around for 37 years. I'm not even going to attempt at picking a price. I am here to manage the risk of all our asset classes. Whether prices go up or down we are agnostic. We don't trade the market, we just manage the risk. 
I think that's what's important about bitcoin trading on CME vs. cash platforms is that we don't participate in trading of the product, we manage the risk for the participant. 
TheStreet: Are you confident in the procedures you have setup in advance of the futures launch? Take us through how you got to this point.
Duffy: I am not going to tell you we made the decision two years ago, because we didn't. It was probably just a few months back and then we worked closely with our regulators over the last several months to get them comfortable with what our offering would entail. That includes with how our margin levels would be significantly higher than on other products and our risk management tools we have in place -- not only the intra-day limits with our systems.
These are all things I got comfortable with over the last several years with all our asset classes. And, I knew we could apply it to this particular one. 
TheStreet: I don't want this to be a whole conversation on bitcoin. The market seems to think financial regulation will be dialed way back in 2018. What do you think?
Duffy: I have been saying this for some time, and dealing with regulatory matters for 25 years. I don't know how much regulation will be dialed back. I said this on the day president Trump got elected, and I don't think I have been proven wrong yet, is that I don't see Congress acting in any certain way to rollback Dodd-Frank. There has been some legislation by chairman Jeb Hensarling put forth, but it has not become law. But what I think will happen is what we are seeing now. Regulators will have an interpretation of what Congress voted on in 2010 in Dodd-Frank and they have ability to make amendments on some of that, and that's what we will see.
This process will continue. But, I would not be overly excited about any new legislation that will be brought forth to the House and Senate, especially in the 2018 election year. They have to reconcile the massive tax bill they just passed. I don't see them trying to cause any other disturbances with voters one way or another, pro or con, by trying to pass new legislation. 
From CME's perspective, we are fine and we are comfortable. Any changes to the rules will not impact us. In fact, this may benefit us because the one thing we need to revisit is the Volcker Act. 
When the Volcker Act takes into account that you can be a market maker in cash Treasuries but not futures, I absolutely find that to be absurd. CME traded 44% of the market in government debt three years ago and today, we trade more than 80% and the banks can't even make markets in that. This makes no sense to me, liquidity is keenly important especially when you are in these low volatility markets. If you ever get a spike, you want to make sure everybody is involved in the marketplace to mitigate volatility. 
TheStreet: The rising interest rate environment expected in 2018, how will that impact CME?
Duffy: If it's a truly rising interest rate environment, it would have a very positive effect on CME for a whole host of reasons. Obviously we have the long and short end of the interest rate curve traded here at the marketplace. You will see more people adjusting those positions, you will see more turnover, and in turn it will create more revenue for the company. 
Regardless, just the shear anticipation of rates moving one way or another is good. I can remember when 25 basis point hikes was something we didn't even talk about back in the day. Now, it's a huge deal. So, people have priced that into their everyday commerce. So, if you are talking moving not 25 basis points, but a couple hundred basis points, well people would need to manage that risk. 
TheStreet: You think people are appreciating stock market risk? Millennials, for example, all they pretty much know is that stocks go up. 
Duffy: I agree with you. I think that the younger generation has only seen a few things. They saw some bad behavior in the 1990s. They saw the Sarbanes Oxley legislation and the financial crash of 2008. And they saw Dodd Frank created. So they have seen some bad things, but mostly they have seen stocks never really sell-off to an extent. Even the 2008 crisis, which happened so quickly, it wasn't like it was a two-year bear market. It was a huge flushing sound and then the market started to trend higher by March 2009. 
So, a lot of people haven't seen traditional bear markets like I have. I think people will eventually have to try to understand both sides of this market because we all know that nothing goes up forever. 
TheStreet: How does a 25 year old prepare right now for a bear market?
Duffy: I think they have to understand diversification. My dear friend Jim Cramer preaches diversification all the time. Diversification is key, and a lot of people don't understand that, especially the younger people. First off, they [think] they are bullet-proof and that nothing bad will happen to them and the markets do nothing except go up. I don't see this being a big dislocation in the marketplace because their patience level is so different today. Their tolerance for pain is different. Today, a 500 point move is a day trade for some.
TheStreet: Repatriation of cash under the Trump tax plan, cause of a major market disruption? 
Duffy: If the repatriation of cash materializes to the numbers people are talking about I would certainly hope that Congress would take that revenue and put that into the infrastructure of this country because this country needs to be repaired. It needs investment, it doesn't need more debt. Doing this would help the job market significantly. 
Now if they do that, what does it mean for the markets and companies? I would hope that companies reinvest with their savings from the tax rate cut.
TheStreet: What are you excited about for 2018?
Duffy: For me, it's the diversification of our revenue and client base. We got so tied up in the proprietary trading world and we have since focused on bringing clients into our markets. We continue to see record open interest in a lot of our asset classes. When you see record open interest in an asset class you know you are doing the right thing. Also, I think businesses are getting much more efficient and mitigating their risk, which helps the economy. 
So maybe we won't see a bear market in 2018 because businesses are becoming so efficient. 
TheStreet: Any acquisitions on your radar screen?
Duffy: The only thing I will share is what I just finished saying to my employees and board. We have put this company in a position of complete strength. We have liquidated some investments that were not working. So we have freed up a tremendous amount of capital. I think we are in the strongest position to look at different types of potential acquisitions. I have my team focused narrowly, not just analyzing everything people want to throw against the wall. We are really laser focused on what could add value to our clients and bring value to our shareholders. 
I obviously can't name names, but there are potential targets out there that we think are interesting. I assure you it will be value-added. 
Check out TheStreet's Other Influencer Interviews