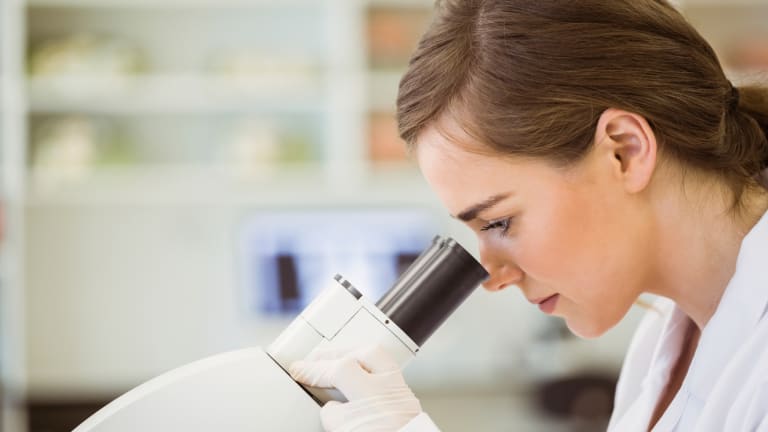 Clovis Sell-Off May Be Overdone
Clovis Oncology, Intercept Pharmaceuticals and Editas Medicine were among the biotech premarket movers on July 31.
Shares of Clovis Oncology Inc. (CLVS) - Get Clovis Oncology, Inc. Report were up 0.2% to $85 in after-hours trading on Monday, July 31, after finishing the trading session down 13.5%.
The Boulder, Colo.-based firm and Bristol-Myers Squibb Co. (BMY) - Get Bristol-Myers Squibb Company Report before the market open unveiled a collaboration to evaluate the combination of Bristol-Myers' s immunotherapy Opdivo and Clovis Oncology's poly (ADP-ribose) polymerase (PARP) inhibitor Rubraca in Phase 3 studies in advanced advanced ovarian cancer and advanced triple-negative breast cancers.
The collaboration will include a Phase 2 study of Opdivo in tandem with Rubraca in patients with metastatic castration-resistant prostate cancer.
"We think this deal is positive, as it provides CLVS with access to one of the leading approved PD1 inhibitors and access to BMY's clinical development infrastructure, while only incurring ~50% of the development cost," wrote Leerink Partners Michael Schmidt in a note Monday morning.
"The [Bristol-Myers] deal also positions [Clovis] very competitively in breast cancer, in our view, which is clinically validated by [AstraZeneca plc's (AZN) - Get Astrazeneca PLC Sponsored ADR Report ] Olympiad trial result, but has been a more difficult indication for PARP inhibitors outside gBRAC+ patients," Schmidt wrote.
Alexion Spikes on Q2 Earnings Blowout Providing Positive Signs for Rest of Sector -Biotech Movers
Shares of Bristol-Myers closed at $56.90, up nearly 3%.
Meanwhile, shares of Intercept Pharmaceuticals Inc. (ICPT) - Get Intercept Pharmaceuticals, Inc. Report were up 0.3% in after-hours trading after closing at $117.13, down 13.3%.The New York firm before the open on  Monday reported a second-quarter net loss of $3.46, compared with a net loss of $3.14 a share in the same period a year ago. Revenue was $30.89 million, compared with $5.52 million in the year-ago period.
"ICPT put up another good Q and beat as well as announcing positive data from two Phase II studies," wrote Jefferies LLC analyst Michael Yee in a note.
Analysts had expected, on average, a net loss of $3.6 a share on revenue of $27.49 million, according to Bloomberg.
Intercept on Monday also reported that a Phase 2 study of obeticholic acid for the treatment of patients with primary sclerosing cholangitis met its primary endpoint. In addition, the company said its Control study, a placebo-controlled trial to prospectively characterize the lipid metabolic effects of obeticholic acid  and concomitant statin administration in patients with nonalcoholic steatohepatitis with fibrosis or cirrhosis, met its met its primary objective "by showing that newly initiated treatment with atorvastatin rapidly reversed OCA-associated increases in LDL to below baseline levels."
Intercept also said that during the ongoing long term safety extension (LTSE) phase, there has been one patient death because of acute renal and liver failure. "While Intercept determined it could not be ruled out that this was possibly related to treatment, the principal investigator and the independent Data Safety Monitoring Committee determined the death was unlikely related to OCA," the company said.
In his note, Jefferies' Yee said Intercept's stock was down during Monday's trading session from a variety of details including commentary of potential summer seasonality, a patient death in the Phase 2 study which is unlikely related to the drug and the perception of less catalysts in the second half of the year.  Yee reiterated his buy rating on the stock, saying he thinks it will likely recover "given no change to fundamentals."
Worried about how to finance your golden years? Register here to watch a free webinar in which TheStreet's Jim Cramer talks with Ken Fisher, founder of Fisher Investments, about the market trends shaping retirement planning today.
More of What's Trending on TheStreet:
This Why President Trump Can Now Blame Apple for Atlantic's Reporting