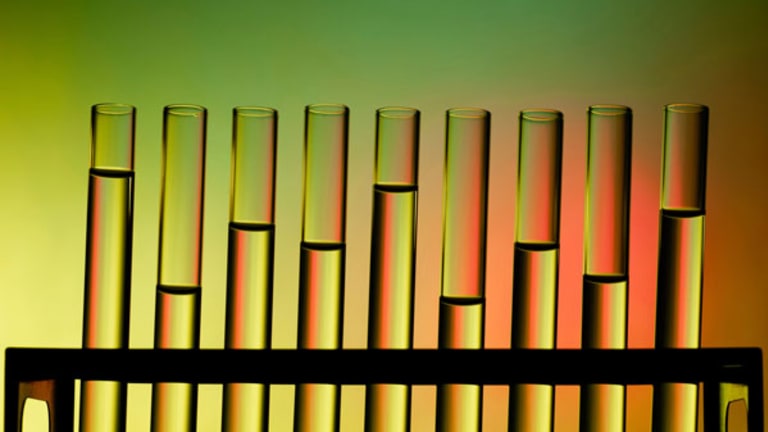 Clovis Oncology: Like the Story, Not the Stock
An investor finds few reasons to buy three pancreatic cancer drug stocks -- Clovis, Celgene and Threshold Pharma.
BOULDER, Colo. (
) -- One of the biggest fibs told to investors by people selling research -- or seeking page views -- is the promise of great stock picks on a regular schedule. Developing a solid, differentiated opinion about a company or product takes lots of work. Professional investors spend all day (and sometimes, all night) combing through reams of obscure data, Wall Street research, and SEC filings searching for tidbits of information from which to construct a viable investment thesis. Most of the time, the market prices stocks more-or-less correctly and there isn't anything for an investor to do with all his research. Occasionally, aberrant perception yields a buying opportunity; really good investments are usually born from this dislocation, but the ebb and flow of such moments cannot be predicted.
Case in point: I started the week wanting to recommend
Clovis Oncology
(CLVS) - Get Clovis Oncology, Inc. Report
as a long. I like the story a lot. The company has a very solid management team (the group that led
Pharmion
before its acquisition by
Celgene
(CELG) - Get Celgene Corporation Report
), a clever lead drug candidate, and is pursuing a clear unmet medical need in pancreatic cancer. Unfortunately, with a market capitalization of $530 million (up more than 80% since the IPO late last year) and limited data to support a novel biological thesis, Clovis feels a little too risky.
I also examined Celgene and
Threshold Pharmaceuticals
(THLD)
. Like Clovis, both companies are pursuing novel drugs for pancreatic cancer. I emerged with similarly mixed feelings. There doesn't seem to be any worthwhile pancreatic cancer-driven investment thesis for Celgene. For the risk tolerant investor, a small long position in Threshold seems reasonable but I'd need to get more comfortable with the downside risk before recommending a big investment.
Pancreatic cancer is a devastating disease with few options. It's relatively rare (roughly 43,000 new cases each year in the U.S. and a similar number in Europe), but most patients die within 12 months of diagnosis. Pancreatic cancer patients have few treatment options.
Eli Lilly
(LLY) - Get Eli Lilly and Company Report
received FDA approval for Gemzar in 1996 and the drug, now sold generically as gemcitabine, remains the standard of care. The only other new drug approved for pancreatic cancer in the past decade is Tarceva, developed by
OSI Pharmaceuticals
(now a part of
Astellas
) and the
Genentech
division of
Roche
(RHHBY)
.
To give you a sense of the dire unmet medical need in pancreatic cancer, consider that Tarceva (used in combination with gemcitabine) received approval based on a median overall survival of only 12 days longer than gemcitabine alone. Even with Tarceva's approval, gemcitabine remains the backbone of pancreatic cancer treatment.
Clovis Oncology
In November 2009, Clovis licensed rights to CO-101 (formerly known as CP-4126), a novel, lipid-conjugated form of gemcitabine, from Norway-based
Clavis Pharma
(extra credit to anyone in the U.S. who had heard of Clavis before this deal; I hadn't).
In order to be effective, gemcitabine must first get into the cancer cell. To do so, gemcitabine relies on a protein known (mind-numbingly) as human Equilibrative Nucleoside Transporter 1, or hENT1. Unfortunately, research indicates that more than half of all pancreatic cancer patients have low levels of hENT1, which means gemcitabine provides little or no benefit.
Clovis says CO-101 is designed to enter pancreatic cancer cells independently of a patient's hENT1 status. Once inside the cell, CO-101 is converted to the active form of gemcitabine.
Results from Clovis' pivotal "LEAP" study in metastatic pancreatic cancer should be available by year-end. After a biopsy to establish hENT1 status (
Ventana Medical
has developed a companion diagnostic), 360 chemo-naive patients were randomized to receive either CO-101 or gemcitabine. If CO-101 demonstrates a survival benefit over gemcitabine in low hENT1 patients (the primary endpoint), Clovis executives believes the study will support regulatory filings in the U.S. and Europe.
I believe the hENT1 hypothesis. Clovis has a lot of supportive data -- at least five published studies -- that suggest gemcitabine-treated patients with low levels of hENT1 have shorter survival than those with normal or high hENT1 expression. I am also unconcerned by the decision to use metastatic biopsy sites, rather tissue from the more difficult-to-access pancreas, to assess hENT1 status. Previously collected data, admittedly from only a small group of patients, show perfect hENT1 correlation between primary and metastatic tumor tissue.
Finally, Clovis is employing a smart trial design with reasonable assumptions that will give a clear-cut answer to whether CO-101 works or not. The company has assumed CO-101 will nearly double survival compared to gemcitabine in hENT1 low patients, from 4 months to 7.7 months. These estimates are based on calculations made from survival data in the Gemzar/gemcitabine label, assuming half of all patients have low hENT1 (I checked the math; it works out). Obviously, this would be a highly meaningful benefit.
Now let's look at the two risks that keep me from buying Clovis at this time.
First, the clinical data on CO-101 are extremely limited. A small Phase 1 study in various late-stage cancers showed no significant tumor shrinkage; only a handful of treated patients reported stable disease. Clovis also stopped an earlier Phase 2 study poorly designed and started by Clavis. Interim results from this study showed some tumor shrinkage and stable disease, but only three patients had low hENT1 and none of those had a major response to drug. This paucity of data gives me pause.
My big worry is that Clovis doesn't seem to understand how CO-101 gets into the cell; if the drug can't get into the cell in hENT1 low patients, LEAP won't work. To engineer CO-101 from gemcitabine, Clavis added a lipid to one end of the molecule -- hardly revolutionary stuff. One study demonstrates that CO-101 inhibits cell growth in vitro in transporter-deficient cell lines. So far, the best thesis about CO-101's mechanism of transport is "passive diffusion." Again, this is a pretty thin branch on which to hang an investment.
By the time we get data on CO-101, Clovis will have roughly $70 million in cash. Even if we assign $40 million to the company's two interesting earlier-stage drug candidates, investors are valuing CO-101 at $420 million. That's a lot of downside, especially when no one fully understands how the drug gets to where it needs to be and there are virtually no clinical data to override that concern. I would keep Clovis on the radar screen for now.
Celgene
The key cancer asset behind Celgene's 2010 acquisition of
Abraxis BioScience
, Abraxane is a reformulation of the old anti-cancer drug paclitaxel with a human protein called albumin attached. Albumin facilitates transport of the drug into the tumor cell. Late last year, investigators published promising results from a phase I/II trial of the drug in pancreatic cancer. The study combined several doses of Abraxane with gemcitabine and sought to establish a maximum tolerated dose (MTD), the dose that best balances efficacy and side effects. Celgene reported an encouraging median survival of 12.2 months. Based on these data, Celgene initiated a large phase III trial of the drug in combination with gemcitabine. Results should be available around mid-year.
Celgene's previous Abraxane data in pancreatic cancer must be interpreted cautiously since the study included no control arm. Investigators may have inadvertently enrolled relatively healthier patients into the study, skewing results in the drug's favor and making it difficult to confirm the benefit in larger, randomized trials. Abraxane's toxicity, especially in possibly healthier-than-normal patients, raises further concern.
Celgene's massive $33 billion market capitalization is largely linked to the company's impressive Revlimid franchise. I'm not convinced Abraxane can make a big enough dent in pancreatic cancer to make this an investable catalyst. There are reasons to own Celgene but not based on Abraxane in pancreatic cancer alone.
Threshold Pharmaceuticals
Threshold shares have nearly quintupled this month due to positive results from a non-blinded 214-patient Phase 2b trial of TH-302, again combined with gemcitabine, in pancreatic cancer. TH-302 is a modified version of a decades-old anti-cancer agent that the company believes becomes activated in hypoxic (low oxygen) areas of solid tumors in which traditional therapies have limited efficacy. The mechanism seems interesting but has little history; no marketed drug that I know of exerts its effects in this manner.
Despite my caution, TH-302 appears to have activity. In the Phase 2b, the drug delayed disease progression -- a metric known as progression free survival, or PFS -- by two months compared to gemcitabine alone. Patients in the TH-302 group also had a higher response rate than controls, a finding that matches earlier studies.
My concerns are about TH-302's unproven mechanism-of-action, the non-blinded Phase 2b trial -- which can lead to biased data interpretations -- and the risks of relying on a surrogate marker like PFS, which does not always translate reliably to overall survival. Although the two measures are correlated, the correlation varies from study to study. As an investor, I need to be more comfortable that the solid PFS differences observed in the Phase 2b trial -- an improvement from 3.6 months to 5.6 months -- will translate to a clinically significant difference in survival.
Nonetheless, with a market capitalization of less than $300 million, a recently inked development partnership with Germany-based
Merck KGaA
, and promising results from initial studies, Threshold seems worth a small long position.
Disclosure: Sadeghi has no positions in Clovis Oncology, Celgene, Threshold Pharmaceuticals or any of the other stocks mentioned in this article.
--Written by Nathan Sadeghi-Nejad in New York.
Nathan Sadeghi-Nejad has 15 years experience as a professional health-care investor, most recently as a sector head for Highside Capital. He has worked on the sell side (with independent research boutiques Sturza's Medical Research and Avalon Research) and the buyside (at Kilkenny Capital prior to Highside). Sadeghi-Nejad is a graduate of Columbia University and lives in New York. You can follow him on Twitter @natesadeghi.