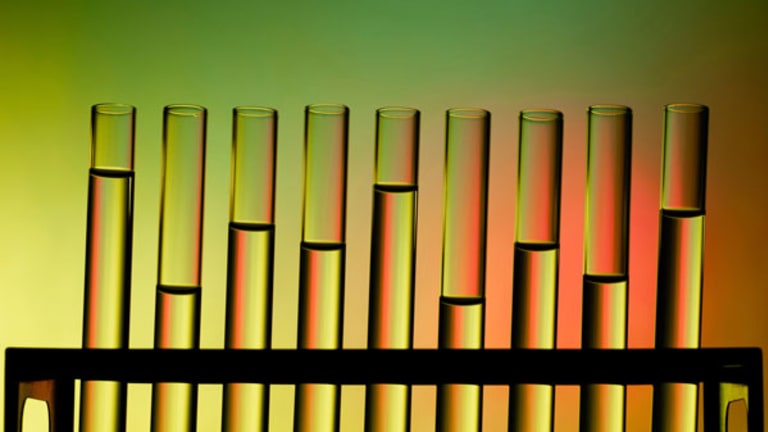 Clovis Lung Cancer Drug Trashed at FDA Panel, CEO Exit Next?
An FDA advisory committee delivers a brutal beatdown of Clovis' lung cancer drug rociletinib. It could cost Clovis' CEO his job.
It's time to start the clock on the announcement from Clovis Oncology (CLVS) - Get Free Report that CEO Pat Mahaffy is leaving to spend more time with his family.
As widely expected, a Food and Drug Administration advisory committee delivered a brutal beatdown of Clovis' lung cancer drug rociletinib. By a 12-1 vote, experts on the panel told FDA not to approve "roci" Tuesday. The lung cancer drug is not approvable until more data from an ongoing clinical trial expected to finish in 2019 is submitted to the FDA, the panel said.
This is the negative vote the FDA wanted from Tuesday's panel, so expect the agency to follow through on the roci recommendation.
The question for Clovis is where to go from here? The financially prudent course of action would be to discontinue roci's clinical development. Why waste more money on a drug that will be a niche seller at best, obsolete at worst, if approved four or five years from now? Maybe Clovis could salvage some value by out-licensing roci to a desperate biotech company. The drug is toxic to lung cancer patients and Clovis' balance sheet, so get rid of it.
If roci is jettisoned, Clovis could concentrate on the rest of its pipeline -- a PARP inhibitor in phase III for ovarian cancer and a phase II multi-kinase inhibitor. Neither of these remaining drugs is a cancer blockbuster but then Clovis' $250 million enterprise value is not exactly baking in much credit for the pipeline, either.
Is Mahaffy the guy to lead Clovis' recovery? Once upon a time, Mahaffy was a biotech golden boy. Health care investors loved him because he made them lots of money selling Pharmion to Celgene (CELG) - Get Free Report in 2008.
After Pharmion, Mahaffy co-founded Clovis and took the CEO job. The company's first product, a pancreatic cancer drug known as CO-101, failed in 2012. Investors were in a forgiving mood, thanks to the residual goodwill from the Pharmion deal and an uber-bullish biotech market.
Over the next three years, the stock price of Clovis soared from the $20s to more than $100. Mahaffy pitched a great story about roci becoming a lung cancer blockbuster. He scoffed at the idea of competition coming from AstraZeneca (AZN) - Get Free Report , which was developing a lung cancer drug with the same mechanism of action. Clovis bulls believed Mahaffy was likely to sell the company for a huge premium, just like he did with Pharmion.
And then reality squashed those dreams. At $15, Clovis' stock price going into Tuesday's roci FDA panel was down 87% from its all-time high of last September.
Two drugs have now blown up under Mahaffy's watch. It's hard to imagine investors buying into a Clovis turnaround story with Mahaffy still running the company.
The Pharmion goodwill tank is empty.
Adam Feuerstein writes regularly for TheStreet. In keeping with company editorial policy, he doesn't own or short individual stocks, although he owns stock in TheStreet. He also doesn't invest in hedge funds or other private investment partnerships. Feuerstein appreciates your feedback; click here to send him an email.