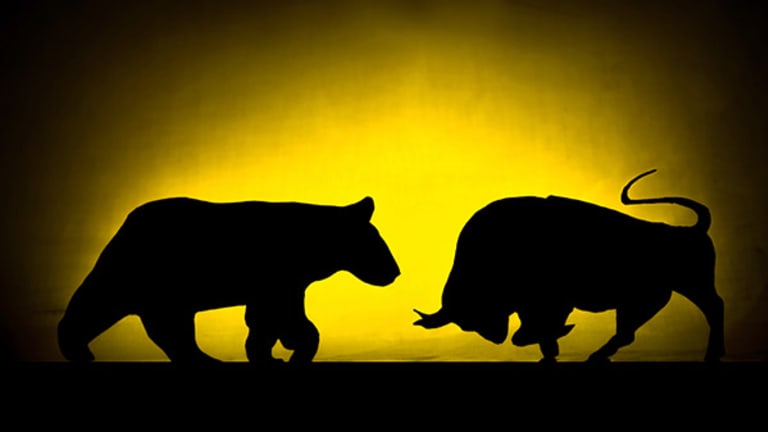 Cloudy Outlook for Aerie Pharma's Glaucoma Drug
When an experimental glaucoma drug is only marginally effective, one way to produce positive clinical trial results is to enroll patients with borderline glaucoma.
When your experimental glaucoma drug is only marginally effective, one way to produce positive clinical trial results is to enroll patients with borderline glaucoma. It's easier to treat patients successfully when they're barely sick.
This is the strategy Aerie Pharmaceuticals (AERI) - Get Aerie Pharmaceuticals, Inc. Report employs with its glaucoma drug Rhopressa. It has worked well so far, doubling Aerie's stock price over the past five trading days and helping the company raise $125 million.
Aerie has already submitted Rhopressa to the FDA, seeking approval as a standalone treatment for glaucoma. Roclatan, a combination therapy also containing Rhopressa, is Aerie's next pipeline project. The company believes Rhopressa/Roclatan will be the first glaucoma drug with a new mechanism of action to reach the U.S. market in 20 years. Analysts reacted to last week's Roclatan study results with happy thoughts, higher sales forecasts and increased stock price targets. Aerie is being touted as a possible takeover target by pharma companies looking to bolster their eye care businesses.
Aerie bulls could certainly be right, but their case would be more convincing if Rhopressa, alone or in combination, was a more effective glaucoma drug. A closer look at last week's clinical data shows otherwise.
Roclatan is Aerie's effort to make glaucoma treatments more convenient by combining the experimental Rhopressa with a commonly prescribed, generic glaucoma medicine known as latanoprost. In the phase III study known as Mercury 1, Roclatan lowered intraocular pressure significantly more than Rhopressa or latanoprost alone, achieving the primary endpoint.
There are a number of factors which go into diagnosing glaucoma, but intraocular pressure -- a measurement of pressure inside the eye -- is at or near the top of the diagnostic list. Normal intraocular pressure is in the range of 12 to 22 mmHg. Anything higher than 22 mmHg is a potential glaucoma warning sign.
Glaucoma patients were eligible to enroll in Aerie's Mercury 1 study with baseline intraocular pressure in the range of 20 to 36 mmHg. You can search the published medical literature and find plenty of glaucoma studies in which patients enter with average intraocular pressures in the high 20s.
The average intraocular pressure of the patients in Aerie's Roclatan study was 23 mmHG -- on the low end for glaucoma studies. (See data chart below.) Aerie enrolled 718 patients into the Mercury 1 study. Despite an eligibility criteria allowing for higher intraocular pressures at baseline, the glaucoma patients entered into the study had mild disease.
When you exclude patients with significant disease burden and only treat patients who are less sick, showing a positive effect with a mediocre drug isn't difficult. That's what Aerie did with Roclatan.
Last year, the first phase III study of Rhopressa as a monotherapy failed because the drug's efficacy was too weak in patients with more advanced glaucoma (higher baseline intraocular pressure.) This forced Aerie to change the second phase III study of Rhopressa monotherapy to exclude patients with higher baseline intraocular pressure, even after they were already enrolled.
The study was a success -- but only when restricted to mild glaucoma patients.
Look again at last week's Roclatan study results.
After 90 days, the average intraocular pressure of Roclatan-treated patients with mild glaucoma decreased from 23.7 to 15.6 mmHg. [Recall, "normal" intraocular pressure is 12 to 22 mmHg.]
The patients treated with latanoprost alone saw their intraocular pressure fall from 23.5 to 17.1 mmHg after 90 days.
Roclatan was numerically superior to latanoprost and Rhopressa alone, but FDA is likely to ask if an intraocular pressure difference of just 1.5 mmHg after 90 days is clinically meaningful, especially when all the patients complete the study with intraocular pressures in the normal range.
Note, too, that latanoprost was superior to Rhopressa in lowering average intraocular pressure at all time points measured in the study.
Aerie's glaucoma drug is less effective than a generic competitor at treating mild glaucoma patients. What about people with more advanced disease? Aerie has not disclosed Roclatan study results parsed by baseline intraocular pressure. The previous Rhopressa studies suggest the drug doesn't work in patients with more severe glaucoma.
If FDA approves Rhopressa/Roclatan, what will the label look like? Based on the data presented to date, the drug's label would restrict use of the drug to mild glaucoma patients only.
The efficacy of Rhopressa/Roclatan looks even less impressive when the safety and tolerability of the drug is factored in. Roclatan's benefit -- a 1.5 mmHg difference in intraocular pressure after 90 days -- comes at the expense of significant side effects. Three times as many patients in the Roclatan/Rhopressa arms discontinued from the study compared to the latanoprost patients. Eye redness, bleeding and cornea deposits were reported by significantly more Roclatan/Rhopressa patients compared to latanoprost. Rhopressa is not an easily tolerated drug.
With Aerie's market value exceeding $1 billion, investors are acting as if Rhopressa's approval is a lock and the drug will be rushed to the front of the line by doctors treating their glaucoma patients, despite the presence of established and effective generic medicines.
The data collected by the company to date suggests that level of optimism is unwarranted.
Adam Feuerstein writes regularly for TheStreet. In keeping with company editorial policy, he doesn't own or short individual stocks, although he owns stock in TheStreet. He also doesn't invest in hedge funds or other private investment partnerships. Feuerstein appreciates your feedback; click here to send him an email.