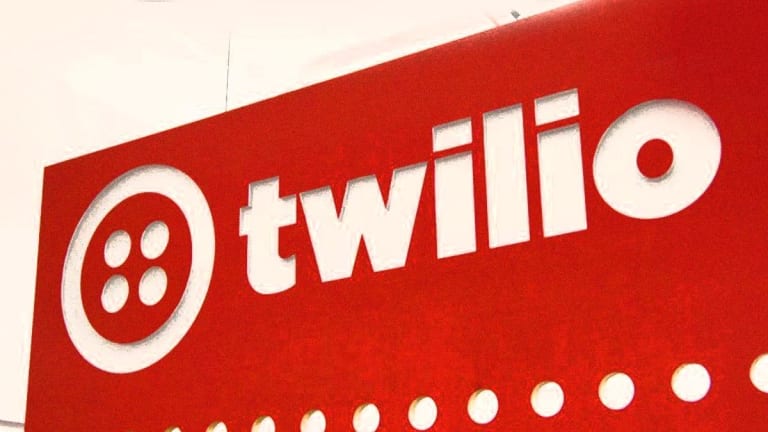 Twilio, Zscaler, Okta and Other Cloud Darlings Have Further to Fall
Zscaler, Twilio, Okta and other cloud computing favorites sport very high multiples as tech investors crowd into growth names. They need to cool off before they can go higher.
Zscaler, Twilio, Okta and other cloud computing favorites sport very high multiples as tech investors crowd into growth names. They need to cool off before they can go higher.
The sharp drop a week ago in young, cloud-focused tech stocks is unfortunately a taste of what's to come. These companies, wonderful as they are, have moved very fast this year, and they need to give up some gains before they can move higher.
Last Thursday saw declines of as much as 11% in several promising small- and medium-cap companies such as Zscaler (ZS) - Get Report , Zuora (ZUO) - Get Report , Okta (OKTA) - Get Report , MongoDB (MDB) - Get Report , Twilio (TWLO) - Get Report , and several others, though they have been steadily regaining ground in the trading days since.
There was nothing to prompt the group's drop, no whispers about upcoming earnings. And as this is earnings season, it's important to bear in mind that the state of their businesses shows no sign of weakness. Indeed, the outlook for them is still for fairly high double-digit percentage growth in sales.
Mostly, what stands out about these companies is their year-to-date price appreciation and  very high valuations, as measured by price-to-earnings ratios in some cases, but by a multiple of sales for others, given that several are losing money and will be for some time.
Companies such as Zscaler and Twilio, which have gone public in the last few years, are a noteworthy cohort: they are the first group of companies born in the cloud, as they say. Their businesses run as applications on cloud computing facilities run by the tech giants -- Amazon (AMZN) - Get Report , Microsoft (MSFT) - Get Report  or Alphabet's (GOOGL) - Get Report Google. They therefore have low infrastructure costs, which is good, and also a natural predilection to bill their customers on a subscription basis, rather than on a product sale basis. This generates a more or less steady annuity, which is also very good, since Wall Street loves that kind of stability.
They are still very young, however, with most of them having revenue of half a billion or less. Falling below the billion mark is a critical period for young companies, as they have yet to show that they have the staying power to be long-term winners. 
The exceptions in this case are some stand-out stars such as Twilio and life-sciences cloud computing company Veeva Systems, which are both expected to cross the billion-dollar-sales mark soon.
But in the case of all these companies, including Veeva and Twilio, the run-up in stock prices has created very high multiples of sales. Veeva (VEEV) - Get Report , with a $19 billion market capitalization, trades at 22 times trailing revenue, Twilio at 23 times. These are simply insane multiples, even if sales are expected to jump by almost 20% this year for Veeva and an amazing 65% in the case of Twilio. 
Even higher multiples of sales are scattered among the group, including 33 times for Zscaler, 28 times for MongoDB and 25 times for Okta. 
Even some more established names fall into the incredibly pricey bin, such as Workday (WDAY) - Get Report , the maker of enterprise resource planning (ERP) software with a roughly $43-billion market cap. With a price-to-sales ratio of 15 times -- not to mention an insane forward price-to-earnings multiple of 118 times -- it's not entirely surprising the stock took a dive last Thursday of about 4%. 
These multiples are a product of the group rising much faster than the market, with Zscaler up 73%, MongoDB up 70%, and Okta up 46% since the beginning of the year, to cite just the top few increases. By comparison, the Dow Jones Industrial average is up about 10%, the Standard & Poor's 500, up about 15%, and the Nasdaq up almost 20%. 
These sky-high multiples of sales represent investors chasing anything that isn't FAANG -- the household tech names whose growth has cooled. These are the pockets of revenue growth, in other words, for tech investors, so it makes sense that funds that need growth names in tech to satisfy the bylaws of their fund investments, will plow money into these stocks.
It's time to take some money off the table. The theory among bulls is that a dollar of these companies' revenues is theoretically more valuable than a dollar of, say, Alphabet's, given that these companies are building subscription businesses that are steadier than the transactional business of Google's advertising sales. Hence, Alphabet trades at 5 times revenue. Its 19% growth rate is nothing to get terribly excited about, and the same thing could be said of its fellow FAANGs.
But even if theory is correct, and a dollar of these young techs is worth more, the price increases they've already experienced represent a bit of a crowded trade. For patient investors, the companies themselves will still be around, and there will be better prices at which to scoop them up. 
Amazon, Microsoft and Alphabet are holdings in Jim Cramer'sAction Alerts PLUS Charitable Trust Portfolio. Want to be alerted before Cramer buys or sells these stocks? Learn more now.
Tiernan Ray neither trades nor owns any shares of any companies mentioned in this article.