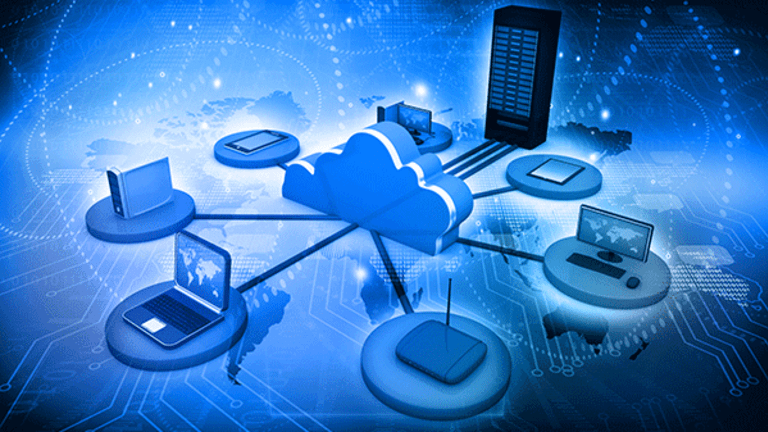 Cloud Computing May Not Be the Saving Grace for Mega-Tech Stocks
This technology area is a large market, but it isn't enough to keep companies firmly in the black without other significant business lines.
Disruption can be a profitable business model.
However, those that are the disrupters can end up getting disrupted if they aren't careful.
Cloud computing has rapidly changed the business of information technology. With the ability to offer rented services to companies, the business of buying IT staff, servers and software has been disrupted.
Some companies have been swift to adjust their business focuses, while others have jumped to offer the new services.
IBM is a prime example of a company pivoting to the realities of cloud computing. Once the leader in hardware and related services, the company has seen its core operations severely disrupted.
Having sold off many of its hardware and related services units, the company has been striving to develop its cloud offerings.
Meanwhile, Microsoft has seen its core offerings from its operating systems to productivity software go from dominance to being threatened. Its response has been to shore up what it can, while ramping up cloud services.
And in its most recent fiscal second quarterly discussion, cloud services were touted, even as it tried to tiptoe around its lingering software challenges.
Then we have the leaders in disruption: Alphabet and Amazon. Both companies dominate online services, wreaking havoc with traditional as well as online competitors.
But is the cloud market big enough to keep cash flows expanding? And what about the next bit of disruption?
Which trend should investors pinpoint for multi-year stock gains?
The market for public cloud computing services is estimated at nearly $100 billion. Although that is huge, it isn't enough to keep companies firmly in the black without other significant business lines.
And though some in the tech industry estimate that the size of cloud IT spending could rise to $1 trillion or more, there are still questions about if and how.
In addition, there are some challengers to the dominance of the leaders.
First, there have been a swarm of recent start-up companies coming to market aiming to cut the cost of cloud services.
Gone are the days of just accepting rising cloud bills. In the case of Amazon's cloud and web services, the company has been pushing the limits of its clients by moving pricing contract terms more than 70 times in the past several years.
Customers are being courted by new companies that are ramping up their skills in figuring out how to cut costs for cloud services by figuring out what is really needed and how to adapt. Companies that pull off these strategies will richly reward shareholders.
Some of the leaders trying to disrupt the cloud market include Cloudyn. This private company charges a percentage fee of cloud contracts, which is smart for clients, but that eventually will cut into revenue if indeed the company is successful at lowering cloud contract costs.
And there are others in this group including Cloud Cruiser and CloudHealth. All are making their calls on everyone from mom and pop shops to mega-retailers on how to slash their bills from Alphabet, Amazon, IBM and Microsoft.
The target market for cutting cloud services is only getting bigger. Although the majority of the largest U.S. companies have already deployed some form of Cloud services, there are still many more that still are trying to do it in-house.
Second, myriad companies are entering the cloud services market that was corralled by the big four.
Centurylink, NTT and Verizon Communications, as well as many smaller entrants, are all ramping up their own competitive cloud offerings. Overall, expect those nice fat cloud contributions to the bottom lines of Alphabet, Amazon, Alphabet, IBM and Microsoft to be thinner.
And one last big of disruption specifically for Alphabet and Microsoft, while less so for Microsoft with its Bing product but major for Alphabet's Google search and advertising revenue is the ramp up of virtual assistants.
From Alphabet's Google Assistant to Amazon's Alexa as well as Apple's Siri and Microsoft's Cortana, each of these offers the ability to search and provide direct results without a mention of an advertisement.
That is a very frightening thought, particularly for Alphabet with a massive amount of its revenue coming from search and ad sales.
Alphabet and Apple are holdings in Jim Cramer's Action Alerts PLUS Charitable Trust Portfolio. See how Cramer rates the stocks here. Want to be alerted before Cramer buys or sells GOOGL and AAPL? Learn more now.
The key takeaway is that market disruption keeps coming. And investors can't stay any more comfortable with revenue expectations without continuing to ask the most important question for each of their stocks: What can or will go wrong, and how will the company cope?
---
As I've just explained, many mega tech companies are challenged investment bets now. But, if you're looking for other growth opportunities, we've found a genius trader who turned $50,000 into $5 million by using his proprietary trading method. For a limited time, he's guaranteeing you $67,548 per year in profitable trades if you follow his simple step-by-step process. Click here now for details.
This article is commentary by an independent contributor. At the time of publication, the author held no positions in the stocks mentioned.