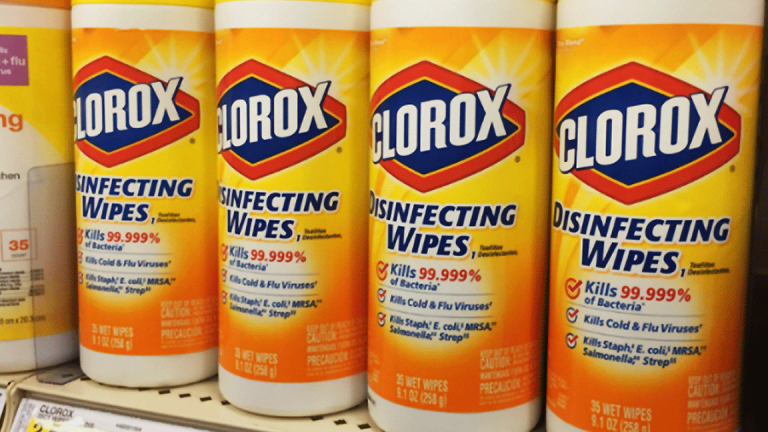 Clorox Has Magically Added $4 Billion in Market Cap This Year -- Here's How
Clorox has quietly been one of the best-performing consumer packaged goods companies in 2017. Here's why.
Traffic may be slow to retail stores thanks to Amazon (AMZN) - Get Amazon.com, Inc. Report , but Clorox (CLX) - Get Clorox Company Report is still managing to clean up. And so have investors. 
Shares of the bleach and cosmetics maker have gained a tidy 20% this year, outperforming the S&P 500's 17% rise. In the process, Clorox has added nearly $4 billion to its market cap. 
Fueling the stock's latest run were better than expected fiscal first quarter results. Earnings of $1.46 a share came in above analyst estimates for $1.42 a share. Sales of $1.50 billion beat estimates for $1.48 billion. The company said it saw record shipments of Clorox disinfecting wipes and strength in other innovative products such as trash-bags.
While Clorox may be a 104-year-old consumer products giant, it continues to think like an innovative upstart based out of Oakland, California. Investors continue to reward the transformation. 
At least that is what Clorox chairman and CEO Benno Dorer conveyed in a recent interview with TheStreet. Under Dorer's leadership over the last three years, Clorox has managed to get people to pay more while walking retailer aisles by injecting otherwise boring Fresh Step cat litter with Febreeze and adding new scents to disinfecting wipes. In laying out his vision for the company up to 2020 in early October, Dorer signaled the innovation push is far from over -- including in the bleach category.
"For the first time in our history, we are launching a bleach that doesn't just clean and disinfect but it also protects surfaces," Dorer revealed. Clorox is also expanding into the all-natural cosmetics space via new launches under Burt's Bees.
And the innovation burst is a good thing seeing as there is major disruption in retail right now, namely the shift to e-commerce shopping that is making it harder to get the attention of consumers. In order to get the business of consumers, a product has to fundamentally offer something different, Dorer explained.
Dorer discusses the importance of corporate diversity.
More of What's Trending on TheStreet:
Alibaba Just Found a Novel Way to Use Your Face