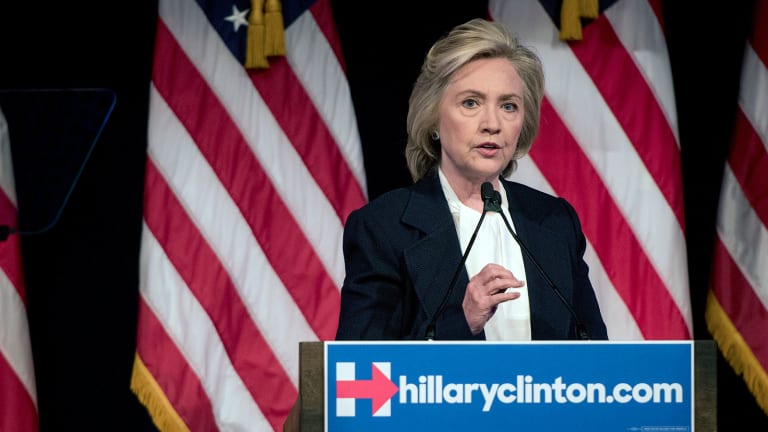 Clinton Drug Plan Cuts Market Exclusivity, Sets Mandatory R&D Spending
If Clinton's proposal is implemented, biotech companies would have less time to generate profits from their expensive biologic drugs before other companies could enter the market with cheaper copies.
NEW YORK (TheStreet) -- For biotech companies and their investors, the scariest part of Hillary Clinton's multi-part plan to rein in the escalating cost of prescription drugs is a proposal to reduce the period of sales exclusivity for biotechnology drugs to seven years from 12.
If Clinton's proposal, announced Tuesday, is implemented, biotech companies would have less time to generate big profits from their expensive biologic and specialty drugs before other companies could enter the market with cheaper copies, known as biosimilars.
Clinton, seeking the Democratic nomination for president, also wants to force drugmakers to spend a set portion of their revenue on research and development, or risk losing federal grants or tax credits. Biotech companies already spend a generous portion of their revenue on R&D, so this proposal isn't likely to impact the sector all that much.
The R&D requirement could have a larger, negative effect on specialty pharma companies likeValeant Pharmaceuticals (VRX) , which eschew new drug development but grow instead through acquisitions and raising the prices of older drugs.
A smaller but similar company, Turing Pharma, run by a former hedge fund manager Martin Shkreli, was the target of intense criticism Monday because of a decision to buy an older infectious disease drug and raise its price from $13.50 a pill to $750 a pill.
A tweet from Clinton on Monday calling Turing's plan "outrageous" and promising to rein in high drug prices sent biotech and drug stocks into freefall. Both the iShares Nasdaq Biotechnology ETF (IBB) - Get iShares NASDAQ Biotechnology ETF Report and the SPDR S&P Biotech ETF (XBI) - Get SPDR S&P BIOTECH ETF Report closed Monday down 5%.
Now that the details of Clinton's drug-pricing plan are public, investors might view Monday's biotech stock freefall as an overreaction. There's little in Clinton's proposals that hasn't been floated before by her election-year rival Bernie Sanders or in previous attempts to legislate some control over prescription drug prices.
Clinton wants to grant Medicare the power to negotiate drug discounts just like private insurance companies can do already. But even this proposal has been pushed by Democrats for years but never implemented due to Republican opposition.
Circling back to Monday's brouhaha over Turing Pharma, its CEO  Shkreli and the 5,000% price hike for the infectious disease drug Daraprim. A biotech CEO (he asked I not share his name) had this to say about Shkreli:
Please make the point that Turing is NOT representative of our industry. A CEO that maligns other CEOs, journalists and anyone who opposes him in our industry is a disappointment. What he is doing does not even come close to what our industry is about. He is not a genius, a leader or a visionary. It's disgusting to see what he is doing.
There's a desire to differentiate Shkreli and his business strategy at Turing from the biotech industry as a whole. The CEO quoted above believes the biotech industry works hard to develop drugs to improve the lives of patients (and at prices that can be justified). He doesn't want to be tarred with the same profiteering brush used to vilify Shkreli. I understand his desire to remain anonymous, but his argument would be stronger if he identified himself.
I reached out to a few other biotech companies and CEOs for comment Monday. No one wanted to talk about Shkreli, even though they were as frustrated as the CEO above. I asked BIO, the biotech industry trade group in Washington, D.C., if it agreed with Shkreli's justification for increasing the price of Daraprim by 5,000%. I also wanted to know if Turing's decision would help or hurt the biotech industry, overall.
Monday night, BIO issued the following statement:
As a general policy, BIO does not comment on matters related to individual company products or product pricing decisions, such as today's news about Turing Pharmaceuticals. That said, the focus of the biotechnology industry is to develop innovative therapies and cures for patients. This means it is imperative not only that we develop these new medicines, but that all patients have access to them, as necessary to meet their healthcare needs. This principle should apply to old medicines as much as to the new.
Weak sauce, BIO. You need to do better to serve the interests of most of your biotech industry members.
Here's a starter hint: There are important differences between Turing Pharma and Gilead Sciences (GILD) - Get Gilead Sciences, Inc. (GILD) Report   Or Vertex Pharmaceuticals (VRTX) - Get Vertex Pharmaceuticals Incorporated Report . Try making that clear to people.
At the risk of becoming the second-most hated person on Twitter, some of the arguments Shkreli made Monday to justify the higher price for Daraprim do make sense. Cheap, single-sourced drugs treating forgotten diseases don't tend to generate much revenue. Without revenue, the makers of these drugs have little incentive to spend money on educating doctors and patients about the drug's availability or its benefits. When this happens, some patients may never be diagnosed or learn there's a drug which could help them. (Doctors, harried for time in our overloaded health care system, don't always know about every disease or drug out there.)
Shkreli is right that some drugs are underpriced. It may seem counterintuitive, but raising the price of these drugs can actually benefit patients. The big question, of course, is which drugs are underpriced and how much more should they cost? This is where Shkreli's argument loses steam, in my opinion. Daraprim and toxoplasmosis don't seem like the drug-disease combination calling out for a 5,000% price hike, from what I've read. I'm not sure a price increase of that magnitude is justified for any drug.
Investors freaked out Monday as if no U.S. politician has ever called for drug-price controls. Nonsense. Democrats have been trying to rein in drug prices for years, without any luck because of Republican opposition. Few, if any, of the legislative proposals made by Sanders recently or Clinton on Tuesday are new.
What Shkreli did well Monday was inject a gigantic bolus of mainstream anger into the drug-pricing issue. Polls show that voters -- Democrats and Republicans -- are concerned about drug prices being too high, but no one seems aggressively upset about it. I don't know if he did it intentionally or not, but Shkreli is now the poster boy for the greedy, price-gouging drug executive. Gawker is writing about him. The Daily Beast called Shkreli an "A-hole" in a headline! Even Reddit trolls hate the guy.
The economics of drug pricing is complicated, even boring, but what Shkreli did is much easier to understand -- and hate. People seem angry, and anger is often the populist spark that makes change happen.
Oppenheimer's Akiva Felt:
Public opinion shapes public policy. We recommend reading the following post from Popular Science explaining the news source's decision to disable public comments on published articles. We caution against dismissing the "outrage culture" as extreme or uninformed, especially when it is powerful enough to draw the attention of political hopefuls.

Arguments against high drug pricing are easy to understand, while arguments supporting market-driven pricing are complicated. This is self- explanatory, in our view, but should not be overlooked in an election season. We could even see bipartisan calls for increased drug pricing controls given how easy it is to rally voter support for new, easy-to-comprehend policies. Drug pricing is looking increasingly like low-hanging fruit.
And I'll add this. For those who believe Republicans are an unassailable wall against legislation enacting drug-price controls, consider who supports change to carried interest.
Terry Haines, the health care policy analyst at Evercore ISI (Mark Schoenebaum's colleague), believes all the worry is over nothing:
Even if a Democratic president is assumed, a 2017 Congress almost certainly would not approve drug pricing regulation legislation. In 2017 the House very likely remains Republican, and the best (and by no means likely or certain today) case for Democrats is a small Senate majority. The result of the Democratic congressional election best case for drug pricing regulation is that it will not happen: the Republican House would oppose and not take up any legislation to regulate drug prices, and this assumed Senate Democratic majority is too small to force a vote on it in the Senate. This situation mirrors the one that existed in 2013-14 (Republican House, marginally Democratic Senate), and then no drug pricing legislation was even seriously considered. In the 2017 scenario we are assuming here, a new Democratic president would be expected to make a run at drug pricing, but this will not change the result.
RBC's Michael "Yeezus" Yee reminds investors that worry is often enough to keep fair-weather investors out of the biotech sector. Sentiment matters, he writes:
Healthcare drug pricing is a key long-term risk and fear that generalist investors and portfolio managers have long cited as an issue that can cause them to stay away from the space given political unpredictability and causes too much uncertainty in long-term models and DCFs. While we are clear we don't think anything material would likely get through legislation given it is still very early, this has been discussed before and isn't new, and Republicans control Congress, it is still a risk factor to "money flow" in healthcare that we need to watch especially with the IBB up 500% over the last few years and investors seeking reasons to get more nervous these days in biotech (despite a short-term rally post August selloff).
Adam Feuerstein writes regularly for TheStreet. In keeping with company editorial policy, he doesn't own or short individual stocks, although he owns stock in TheStreet. He also doesn't invest in hedge funds or other private investment partnerships. Feuerstein appreciates your feedback; click here to send him an email.