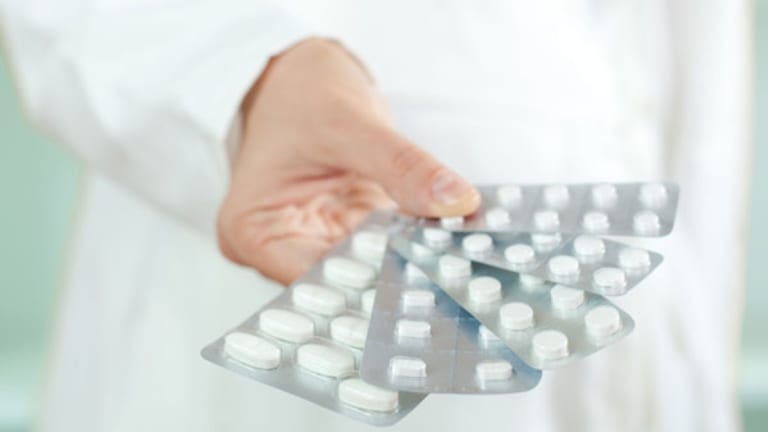 Clinical Data: The FDA Bear Thesis Explained
A Wall Street investor explains why he believes FDA might reject Clinical Data's antidepressant and is therefore shorting the stock.
NEWTON, Mass. (
) --A Wall Street hedge fund source who happens to be one of the smartest neuro-pyschiatric drug analysts I know is shorting
Clinical Data
(CLDA)
on the belief that U.S. regulators will reject the company's antidepressant vilazodone on or before a key Jan. 22, 2011 approval decision date.
"Vilazodone is a marginally effective antidepressant that is trying to gain approval into a crowded, genericized class of drugs in which many of the generics are, in fact, better," said the analyst, who works for a fund that doesn't allow its employees to be quoted by name in the media.
Clinical Data conducted two, phase III studies of vilazodone, both of which successfully met their primary endpoints. Isn't that enough to get the drug approved by FDA?
"Clinical Data did the bare minimum clinical work necessary to get vilazodone approved," the analyst says, adding that the lack of a robust data package including marginal efficacy data and no studies comparing vilazodone to active, currently marketed antidepressants will give FDA reviewers the clinical justification needed to reject the drug and request at least one additional pre-approval study.
"I give vilazodone a 35-40% chance for first-pass approval," the analyst says. His short position is predicated on the low probability of a vilazodone approval as well as a fully diluted market value for Clinical Data of around $750 million when convertible debt and stock warrants are included.
Sell-side analysts are taking a much more optimistic view of vilazodone's chances with FDA. Wedbush's Greg Wade advised clients in a Nov. 10 research note that, "Based upon the strong trial data, promising safety/tolerability profile, precedent for the two mechanisms of action, and the fact that vilazodone is the first drug for depression to have success in its first 2 Phase III trials, we believe the drug has an excellent likelihood of approval, and the stock at $18.85 a share has a favorable risk-reward profile to our $28 price target."
The U.S. antidepressant market is worth about $12 billion in annual sales, so the stakes are high for vilazodone.
Clinical Data shares were up 13 cents to $17.45 in early Tuesday trading.
Clinical Data's FDA approval package for vilazodone is based on two phase III studies in newly treated depression patients, both of which met primary and secondary endpoints with statistical significance. A deep look into the vilazodone data is where the drug's problems surface, explains the hedge fund analyst shorting Clinical Data.
In the phase III studies, patients treated with vilazodone reported a statistically significant, 3.3-point and a 2.5-point improvement, respectively, in the Montgomery-Asberg Depression Rating Scale (MADRS) compared to placebo. Since this was the primary efficacy endpoint of the vilazodone studies, Clinical Data and its supporters contend vilazodone's should be approved.
The short-selling analyst contends, however, that a key secondary endpoint in the trials, the Hamilton Rating Scale for Depression (HAM-D) is the more relevant measure of vilazodone's efficacy because it is what FDA and most psychiatrists traditionally use to assess antidepressants.
Using the HAM-D scale, vilazodone showed a 1.8-point and 1.6-point improvement over placebo in the two phase III trials. The difference was statistically significant so technically positive. However, any improvement under a 3-4 point difference is generally not viewed as clinically meaningful, contends the analyst.
"HAM-D has a longer history than the MADRS, therefore FDA reviewers are more comfortable translating the effect size with clinical relevance," he says. Clinical Data designed a trial that was large enough to detect a small difference in HAM-D with statistical significance, but that just magnifies the marginal efficacy of the drug, the analyst adds.
Clinical Data doesn't have a Special Protocol Assessment (SPA) with FDA in which the company and the agency agreed on study designs for vilazodone or determined which efficacy endpoint would be used to assess the drug for approval. That means FDA is free to use HAM-D instead of MADRS despite the latter being the primary endpoint used in the vilazodone studies.
Vilazodone also failed to put a significant number of depressed patients into remission, defined as an absence of any depressive symptoms. In the first phase III study, vilazodone's remission rate was 23.2% compared to 15.6% for placebo -- a difference (or improvement) that was not statistically significant. In the second phase III study, the vilazodone remission rate was 27.3% compared to 20.3% for placebo -- again, not a statistically significant improvement.
Given the marginal efficacy of vilazodone seen in the phase III studies, the fact that Clinical Data failed to study the drug against any currently marketed antidepressants is a liability and a red flag that will likely give FDA reviewers pause, the analyst contends.
"Running studies against an active control is not an FDA requirement for approval, but other companies developing anti-depressants have usually submitted at least one such active control study with their approval filings," he says.
A study comparing vilazodone to an already-approved antidepressant is especially important because of vilazodone's checkered clinical history.
GlaxoSmithKline
(GSK) - Get Report
and
Merck KGaA
both studied vilazodone in multiple phase II studies; both companies passed on future development after which Clinical Data acquired the drug.
Clinical Data's original development strategy was to develop a genetic test to pre-identify depressed patients who would most likely respond well to vilazodone. That effort to design a genetic test failed.
Clinical Data also only studied a single, 40 mg dose of vilazodone, which must be titrated over two weeks because patients get nauseous. A high rate of nausea compared to placebo is the most worrisome side effect of vilazodone. On the plus side, vilazodone appears to cause fewer sexual side effects, but since the drug was compared to a placebo only, there is no data to determine whether vilazodone causes fewer sexual side effects than currently marketed antidpressants.
"Generally, FDA likes to see data on a range of effects at different antidpressant doses," the analyst says. "With data on just a single dose, FDA can't determine what would happen, for instance, if a doctor doubles a patient's dose of vilazodone because the 40 mg dose was ineffective. The FDA also doesn't have enough data to determine if 40 mg is the lowest effective dose of the drug."
The overall clinical view of vilazodone painted by the analyst is of a drug which doesn't improve depression in a clinically meaningful way against placebo and has not been evaluated against competing antidepressants. Clinical Data has not performed the clinical work necessary to convince FDA to approve the drug at this time, which is why the analyst is short the stock.
"Clinical Data did the bare minimum amount of work necessary to meet FDA's approval requirements," he explains. "It's like your editor asking you to write a 250-word story and you write a story that stops mid-sentence because you reached 250 words exactly. If you did that, your editor and your readers wouldn't be happy and neither will FDA with the vilazodone data."
--Written by Adam Feuerstein in Boston.
>To contact the writer of this article, click here:
Adam Feuerstein
.
>To follow the writer on Twitter, go to
http://twitter.com/adamfeuerstein
.
>To submit a news tip, send an email to:
.
Adam Feuerstein writes regularly for TheStreet.com. In keeping with TSC's editorial policy, he doesn't own or short individual stocks, although he owns stock in TheStreet.com. He also doesn't invest in hedge funds or other private investment partnerships. Feuerstein appreciates your feedback;
to send him an email.