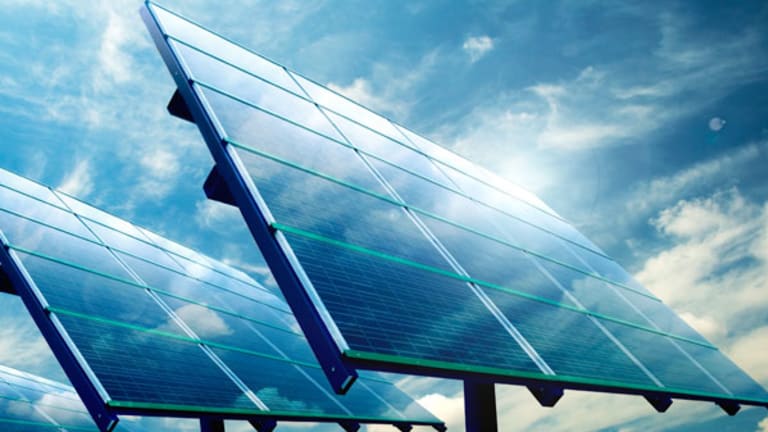 Clean Tech Winners: Cree Hits a Three-Month High
LED sector bellwether stock Cree hits a three-month trading high.
NEW YORK (
) -- Earlier this week, LED lighting sector bellwether
Cree
(CREE)
but the big market selloff trend. On Thursday, Cree hit a three-month high share price, as the market rebound caught up to the recent reversal of Cree sentiment in the direction of renewed optimism.
The three-month high share price that Cree hit on Thursday is notable because the past three-month period included a major inflection point for stocks linked to the LED sector. On August 18, Cree shares were trading at $59.72. It was all downhill from there as various industry reports, analyst reports and news headlines trumpeted the glut in the LCD flat panel TV market. Cree shares bottomed out between $48 and $49.
Notably, exactly three months to the day of August 18, Cree shares are finally back in the range of $58. Not that the battle doesn't remain an uphill one for Cree. After all, go back a few weeks previous to August 18th, and Cree was above $71 a share.
Morgan Keegan helped buoy Cree shares this week by moving back to a buy on the LED stock, with its analyst Harsh Kumar arguing that the recent dual headwinds of a glut in the TV market and a slowdown in China's street lamp orders aren't going to be prolonged drags on Cree shares.
>>Clean Tech Winners: Cree Bucks the Trend
When sentiment turns to the positive for a stock in a momentum sector like Cree's LED segment of the market, it's good time to check in with the more bearishly inclined for a reality check. Is it time to get set for the next shorting opportunity, or are shorts going to be running to cover after Cree's next earnings report?
Long-time Cree bear Hans Mosesmann of Raymond James says that the attitude may indeed be more positive about Cree, and it might be true that the inventory glut in the TV market will only last another quarter and some kind of recovery take shape in the first quarter 2011. He also noted that with the Chinese street-lamp market picking up again with province-by-province new standards being put in place, Cree is set to win its share of new orders. However, all headwinds considered, the long-term structural issues for Cree haven't changed.
"I agree that the short-term headwinds are going away, but that's not what drives the Cree business," Mosesmann said, adding "We're not looking at a step function increase in demand immediately, but a gradual recovery."
For one, the Raymond James analyst says that while Cree shares may be pivoting off a sense that the inventory glut is a one-quarter event and cultish Cree investors saying "let's start to buy," in his opinion it remains a little early to make that call and not take into account the gold rush in China among LED makers. Forget about the oversupply in the TV market, Mosesmann says. the larger issue is the oversupply in the LED market overall with the Chinese government practically begging companies to buy LED equipment.
"Cree's earnings multiple remains vulnerable, and the multiple it has enjoyed over the past 18 months is going away," Mosesmann said.
The Raymond James analyst also contends that the new street-lamp standards being put in place on a provincial basis in China aren't a slam dunk for Cree. China is also keen on setting standards that will benefit local vendors of LEDs. "It's an open market, and Cree will benefit, but they will win at the expense of gross margin as there is a more level playing field," Mosesmann argues.
A three-month high in Cree shares is an arbitrary event, even if it does bespeak a silver lining from investors. The markets have also been on a months-long rally, and when the major market indexes tanked on Tuesday, the lows they reached were equivalent to August levels. "The challenge for Cree to get back to the upper echelons where it was recently
Cree shares were as high as $74 in August is they need to beat and raise, beat and raise, and that's tough when margins are under pressure," the Raymond James analyst said.
For long-term investors willing to overlook either a positive or negative bump in the first quarter, now might be a good time to be betting on Cree. Yet for the long-time Cree bears, the structural issues still loom, and still support the case that a more level playing field is coming and Cree's tech edge, and stock premium, diminishing. "To be fair, Cree has been out there saying it needs to roll up its sleeves and spur the market to innovate," the Raymond James analyst said.
While those structural issues play out over the longer-term, Cree will trade more like a volatile solar stock. "Investors might get lulled in here just like in solar, but the market's getting crowded and growth rates slowing. It's harder to trade Cree now," the Raymond James analyst said.
-- Written by Eric Rosenbaum from New York.
RELATED STORIES:
>>Clean Tech Winners: Cree Bucks the Trend
>>Veeco Instruments: Best in Class
>To contact the writer of this article, click here:
Eric Rosenbaum
.
>To follow the writer on Twitter, go to
.
>To submit a news tip, send an email to:
.