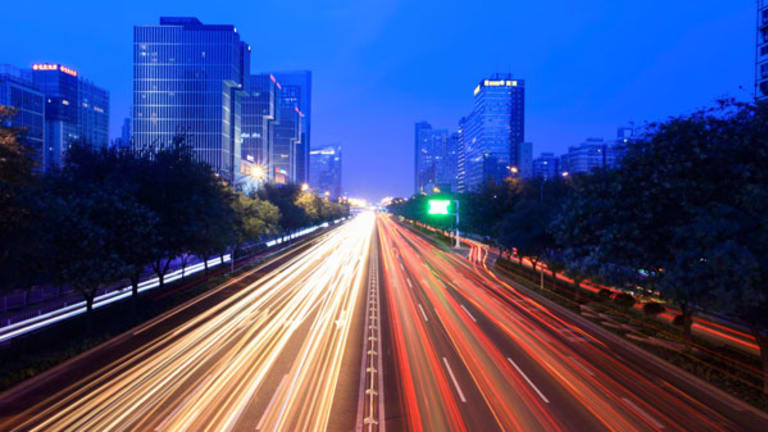 Publish date:
Clean Energy Winners: EPA Emissions Trades
The EPA announces new emissions standards for heavy duty trucks, and some alternative transportation plays rally.
The EPA announces new emissions standards for heavy duty trucks, and some alternative transportation plays rally.
NEW YORK (
) - Natural gas truck stocks, and at least one prominent player in the electric vehicle battery space, rallied on Tuesday for reasons that defied easy explanation, but could be tied to Monday's announcement from the Obama administration of the first emissions standards for heavy-duty trucks.
If that's the case, it's a buyer beware scenario, as the read-through that the new EPA emissions standards will directly benefit alternative transportation technologies is a tenuous case to make at best.
The three major natural gas vehicle stock plays,
Westport Innovations
(WPRT) - Get Report
,
Clean Energy Fuels
(CLNE) - Get Report
, and
Fuel Systems Solutions
(FSYS)
were all up on Tuesday, with Westport shares leading the charge, rallying by 4.5%. Clean Energy Fuels and Fuel Systems Solutions were each up 3.5%. All three stocks saw typical trading volume, but the action still looked like the type of sector basket trading that usually only occurs for these stocks on major legislative news.
A123 Systems
( AONE), a maker of lithium batteries for electric vehicles, was up 5%, and its case, trading was twice its daily average.
There were some company-specific announcements on Tuesday that could have been a read-through trading signal for A123 and Westport. Chinese car and electric battery maker BYD announced a 99% drop in income in the most recent quarter on Tuesday. It's possible that BYD's sales losses are being read by the market as A123's gains.
In the case of Westport, its joint venture partner
Cummins
(CMI) - Get Report
announced quarterly results on Tuesday. While the earnings were largely a disappointment to Street expectations, Cummins did say it would be spending $200 million on engine technology spending, including new initiatives for natural gas engines.
In even more general earnings commentary about transportation,
Ford
(F) - Get Report
and
Johnson Controls
(JCI) - Get Report
were saying more positive things about the automotive market. It was a notably big day of trading for Ford shares, with more than 214 million shares in play on Tuesday, versus an average daily volume of 61 million shares, following the company's quarterly report.
In any event, the real wildcard on Tuesday is whether investors were betting that the new EPA emissions standards for heavy duty trucks made a stronger case for alternative transportation stocks like natural gas truck companies. The EPA was clear in its release that the emissions standards weren't applicable to natural gas vehicles.
Several analysts covering the alternative transportation sector said the EPA news made the most sense as a trigger for the natural gas stocks in particular to rally. Looking at other potential legislative triggers for a rally, there seemed to be little news meriting a trading case.
Typically, the natural gas stocks move when there is news on pending energy legislation that will increase the subsidies for natural gas truck purchases. The stocks move up as often as they move down on the latest developments on Capitol Hill. There have been several stalls this year in terms of getting a natural gas act into comprehensive energy legislation, and the stocks ran out of steam after the last failure to pass energy legislation. Now there's talk of a lame duck piece of legislation, but considering how often these stocks have failed after rallying on the hope that energy legislation would be passed, it's hard to see investors betting on any lame duck energy legislation.
A minor hope of late on the legislative front has been that tax credits which have been important in the natural gas vehicle space, will get an extension. The credits are set to expire at the end of the year, but could be continued by legislators as a consolation prize for not being able to get the industry comprehensive energy legislation. Yet even maintaining the status quo in terms of federal support is far from a sure thing.
Which leaves the EPA emissions standards for heavy duty trucks as the driver of trading.
Rob Brown, analyst at Craig Hallum Capital Management, said in an email to
TheStreet
that all it should take is the EPA proposing the first-ever fuel economy and carbon emissions standards for heavy-duty trucks to drive adoption of natural gas vehicles.
Yet it's not an open and shut case. One can make the argument that as it gets tougher and tougher to meet emissions standards for traditional engines, incentives are created for buying alternative fuel technologies. However, Shawn Severson, an analyst at ThinkEquity, says that this argument is a stretch when it comes to the natural gas vehicle stocks.
"Without increased subsidies, the economics in the natural gas truck space still don't work," the ThinkEquity analyst said. "It's a weak read through," the analyst added.
Remember that all the excitement about the natural gas vehicles stocks in early summer was predicated on comprehensive energy bill that would increase the subsidies for buyers of natural gas vehicles to the level where they were competitively priced in comparison to traditional trucks. The legislation is still a moving target, and the stocks sold off their highs after hopes on the legislative front dimmed.
Craig-Hallum's Brown says that the case for the natural gas vehicle stocks is strong enough just with the added fire of the EPA emissions standards. "Yes, the EPA news is regulation, not subsides. But I disagree that natural gas vehicles are too expensive w/o subsidies," the analyst wrote in an email to
TheStreet
. Nat gas vehicles have significant cost savings in fuel and a 3-4 year payback in incremental costs without subsidies. The regulations are forcing changes, despite increased costs."
Brown's view is logical, but the problem for many investors in the natural gas space has been how long the road will be to profitability for these companies. Westport isn't profitable today, and it is only the federal subsidies bringing pricing versus traditional trucks into parity that will make Westport profitable tomorrow.
Even ThinkEquity's Severson, who finds the EPA emissions trading rally to be a poor thesis, doesn't doubt that Westport will be a profitable company, but without the federal subsidies being doubled, that road to profitability could be two years, or four years even.
ThinkEquity's Severson said he searched all day for a good reason for the natural gas stocks to rally and came up dry, as did those in the market with whom he checked in. "It was a sector-related buy, but the hedge funds I talked to today called it the 'USA Today' buying on the EPA emissions news, retail investors getting excited about this being good for natural gas stocks."
If that's the case, investors should be aware that the newspaper headline read-through won't necessarily dry the ink on easy or quick profits in the alternative transportation space.
-- Written by Eric Rosenbaum from New York.
Follow TheStreet.com on
and become a fan on
Copyright 2009 TheStreet.com Inc. All rights reserved. This material may not be published, broadcast, rewritten, or redistributed.