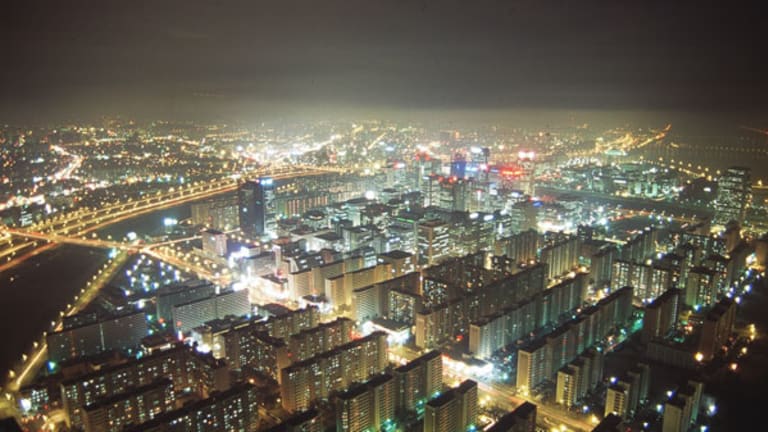 Clean Energy Winners: Ener1
Lithium ion battery maker Ener1 rallies for the second time this week, but questions remain about the growth prospects and cash burn rate.
NEW YORK (
) --
Ener1
undefined
didn't print the kind of third quarter earnings number that generally result in a double-digit percentage rally in shares, but the U.S. lithium ion battery maker is up more than 12% on Friday. Trading volume of more than 2.5 million shares by the early afternoon was well ahead of the typical day for the lithium ion battery maker, when less than 500,000 shares are typically in play.
Ener1's Thursday after-hours third quarter earnings were light on the top line -- $17.3 million in revenue versus the Street at $21 million. The Ener1 report showed a loss of 18 cents, 8 cents worse than the Street expectations. However, the lithium ion battery maker was hit with a one-time $13 million debt conversion charge that cost it a beat -- without the debt conversion it would have beat the Street by a penny on the bottom line.
In any event, it wasn't a set of numbers that was eye-popping, though it wasn't by any means a disaster of a miss for Ener1. Some analysts were, though, scratching their heads at a double-digit rally in shares.
Ener1 rallied earlier this week on no particular news, possibly fueled by market chatter about it being a takeout target.
In terms of Friday's rally, analysts were pointing to some speculative comments that could be supporting an Ener1 rally from retail investors. Ener1 CEO Charles Gassenheimer was also on
CNBC
on Friday morning.
General Electric spoke last week about investing in a fleet of electric cars numbering in the tens of thousands, and placing an order this week, which was noted by Ener1 on its conference call, according to analysts. However, General Electric was also one of the original financial backers of Ener1 lithium ion battery competitor
A123 Systems
(AONE)
, which GE has continued to fund with additional capital infusions.
The strategic financing in the lithium ion space isn't clear cut in terms of relationships. For example, in 2008, GE and A123 signed a strategic agreement with electric-car maker Think Global. Ener1 has been a major investor in Think Global, too. In fact, there are some questions about whether its stake in Think Global has grown too large for a battery maker dependent on sales to the electric-car maker. "Some investors haven't taken kindly to battery companies funding their own customers," said one clean tech analyst.
Early in 2010, Think Global named EnerDel, an Ener1 affiliate, the exclusive battery supplier for Think City vehicles sold in the U.S. through 2012.
Ener1 also put out a big number for revenue by 2013, saying that it estimates revenue as high as $600 million to $800 million in three years time. However, coming off a quarter in which its $17.3 million in revenue missed the Street consensus, some analysts took that Ener1 projection with a grain of lithium.
"That's a blue-skies, best-case scenario, and why people attach credibility to it, I can't understand," the clean tech sector analyst said. "Lots of people really believed in this story in 2009, but it beats me who's buying this stock now," the analyst added.
Two of the main pillars of the optimistic Ener1 revenue profile are still uncertain. The grid storage business -- for which Ener1 lined up the Russian national grid company this week -- still has to prove that it can grow beyond its relationship with the Russians. Ener1's board of directors includes Boris Zingarevich, a Russian businessman with close ties to Russian President Dmitry Medvedev and Prime Minister Vladimir Putin.
In the U.S., Ener1 built batteries for five one-megawatt power systems used by Portland General Electric, and it continues to view the U.S. grid business as an opportunity that supports $300 million in grid revenue by 2013.
In the electric-car market revenue segment, the Think Global car business isn't at a scale that confidently supports revenue growth to the level of $600 million to $800 million.
Theodore O'Neill, analyst at Wunderlich Securities, described the third quarter earnings as showing that Ener1 is "still in the game." However, the Wunderlich analyst was far from confident about the future.
"Think Global has yet to prove they can sell in high volume level," O'Neill said.
Wunderlich estimates that in order for the market for lithium-ion batteries to penetrate a meaningful fraction of the world's car market, battery prices need to fall by about 50%, which will occur sometime in 2014 or whenever the industry has cumulatively produced over 50 million individual battery cells, or 150,000 EV equivalent cars are produced.
The second clean tech analyst said the amount of capacity being built in the lithium ion battery market between now and 2012 remains a serious issue because the market size has not even been close to defined yet.
At a more fundamental level, Ener1 will continue to have significant capital raising needs. "Functionally, it will be tough for them to continue to operate at this level of cash. I think they get through this year OK, but next year they need to do another raise," the Wunderlich analyst said.
Ener1 raised $160 million in 2010 before the third quarter, and yet, at the end of the third quarter it only had $34 million in cash.
"Ener1 is burning cash every quarter, so there could be plenty of dilution coming up," said the second clean tech analyst. "Will the Russians continue to bankroll the company?" the analyst asked.
Nevertheless, the Wunderlich analyst said it's too soon to sell Ener1, even if a double-digit rally isn't justified by the business outlook. "Critical to achieving our price target is having the company earn something close to $1.00 in earnings by 2018. Alternatively, this price target could be achieved in the near term during a sale of the company, which would nominally achieve the same price at 2x sales, a typical acquisition multiple," the analyst wrote in an earnings wrap.
-- Written by Eric Rosenbaum from New York.
Follow TheStreet.com on
and become a fan on
Copyright 2009 TheStreet.com Inc. All rights reserved. This material may not be published, broadcast, rewritten, or redistributed.