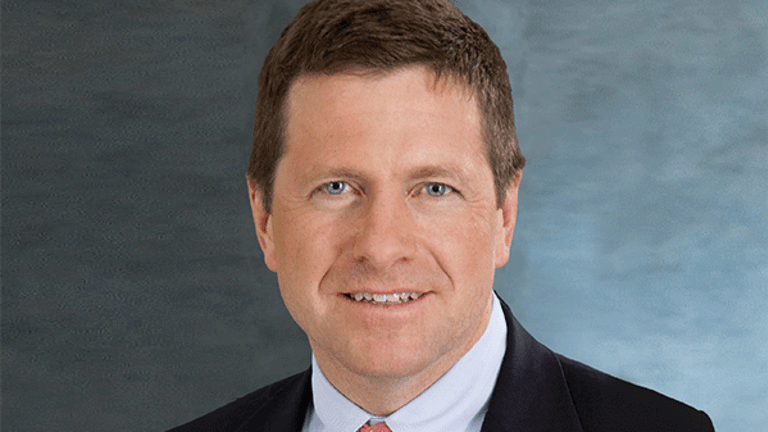 Trump Choice Clayton to Bring Deal-Making, IPO Experience to SEC
If confirmed, the SEC would be led by a seasoned M&A attorney with experience advising for a wide variety of blockbuster mergers.
President-elect Donald Trump on Wednesday chose Wall Street attorney Jay Clayton as his nominee to be the next chairman of the nation's securities agency.
If confirmed on Capitol Hill, the Securities and Exchange Commission would be led by a seasoned M&A attorney with experience providing legal advice around a wide variety of blockbuster mergers, including critical deals that were struck during the 2008 financial crisis that helped alleviate a more extensive market meltdown.
EDITOR'S NOTE: This article was originally published by The Deal, a sister publication of TheStreet that offers sophisticated insight and analysis on all types of deals, from inception to integration. Click here for a free trial.
Trump said Clayton is a "highly talented" expert on many aspects of financial and regulatory law and will ensure our financial institutions can "thrive and create jobs."
The choice of Clayton, 51, represents a major departure from another name that until recently was floated as a potential candidate to head the SEC -- Debra Wong Yang. Yang would have brought prosecutorial and managerial expertise to the agency as she was U.S. Attorney for the Central District of California between 2002 and 2006.
"I think a lot of people would think that it would be a lot more preferable to bring in someone like Clayton, who has practiced securities law for so many years, to the SEC than someone who has been a prosecutor for a large part of their career," said Keith Gottfried, partner at Morgan, Lewis & Bockius in Washington.
Clayton has spent the past 22 years as an attorney at Sullivan & Cromwell, according to relationship mapping service BoardEx, a service of TheStreet.
During his career at Sullivan & Cromwell, Clayton provided legal advice for a number of well-known deals and initial public offerings. He advised on IPOs such as the $25 billion 2014 Alibaba Group (BABA) - Get Alibaba Group Holding Ltd. Sponsored ADR Report offering, Och-Ziff Capital Management's (OZM) $1.2 billion IPO and $1.5 billion in Ambac Financial Group (AMBC) - Get Ambac Financial Group, Inc. Report securities offerings, according to his bio on Sullivan & Cromwell's website. In addition, he advised on deals such as Ally Financial's (ALLY) - Get Ally Financial Inc Report sale of over $8 billion in assets, and Castleton Commodities in its acquisition of Morgan Stanley's (MS) - Get Morgan Stanley (MS) Report oil trading and storage business, in a deal that followed one that unraveled in 2014 when the mega-bank was unable to sell its oil trading business to OAO Rosneft amid tensions between the U.S. and Russian governments.
Gottfried noted that Clayton has more expertise than Wong in the details of SEC's rules around raising capital and understanding what it takes to conduct blockbuster mergers. "If you have been a public company lawyer your whole career you have good insight into the SEC capital raising process," Gottfried said.
The work on deals and IPOs, experts say, suggests Clayton fits in Trump's mold of seeking out deal-makers and people who build companies for key government slots. One bank lobbyist noted that Clayton comes from the same deal-making mentality as other major Trump picks, including Private equity billionaire Wilbur L. Ross Jr., Trump's pick for commerce secretary.
Also, Clayton was in the midst of a number of high-profile 2008 crisis-era deals -- which suggests he knows what it took to stabilize the financial system during the midst of the largest credit crunch since the Great Depression.
Specifically, Clayton represented Goldman Sachs (GS) - Get Goldman Sachs Group, Inc. (GS) Report when it received a $5 billion capital allocation from Berkshire Hathaway's Warren Buffett during the peak of the credit crisis. He also represented Goldman when it received a capital infusion from the U.S. Government's crisis-era Troubled Asset Relief Program. In the deal department, Clayton advised Bear Stearns when its assets were sold to JPMorgan Chase (JPM) - Get JPMorgan Chase & Co. (JPM) Report in March 2008 in a deal that was facilitated by Federal Reserve financing and one that averted the collapse of the institution. In addition, he also advised Barclays Capital when it acquired asset of Lehman Brothers out of bankruptcy.
One banking lobbyist that requested anonymity noted that Clayton's experience working on high pressure, complicated mergers has given him tremendous insight into the banking crisis and what it took to stabilize the banking situation.
Ernie Patrikis, partner at White & Case in New York, said Clayton's crisis-era experience will likely be useful when handling stressful matters at the SEC. "It would help him gain confidence when dealing with a crisis but let's hope he doesn't need to use that experience," Patrikis said.
Sullivan & Cromwell is a key adviser to Goldman Sachs and the addition of Clayton may be viewed by some critics as another individual too closely associated with the investment bank and their view that the Trump administration is setting up a revolving door between Wall Street, particularly that individual investment bank, and government agencies. For example, Trump's Treasury Secretary pick, Steve Mnuchin, is a former Goldman Sachs partner and Goldman's President and COO Gary Cohn agreed to take the job of director of the National Economic Council.
"I am not troubled by his prior representation of Goldman, but others will be," said Columbia Law School Professor John Coffee. "I expect as an enforcer he [Clayton] may show less zeal than his recent predecessors, but that remains to be seen."