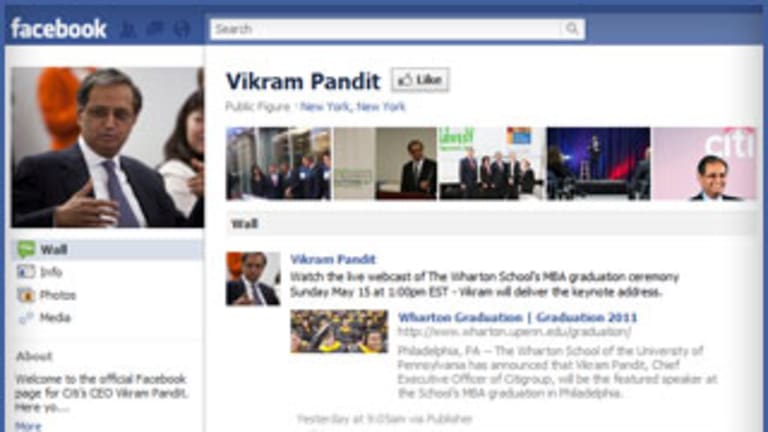 Publish date:
Citigroup's Pandit Wants You to 'Like' Him
Banks are trying to adopt social media, but some are unsure of the benefits.
Banks are trying to adopt social media, but some are unsure of the benefits.
NEW YORK (
) --
Citigroup's
(C) - Get Report
CEO Vikram Pandit wants you to "Like" him... on Facebook.
Armed with his own Facebook page -- and 1,493 fans -- Pandit and Citigroup management are hoping to engage customers through the use of social media in effort to bolster the bank's image.
"Not too many Fortune 100 leaders have a Facebook page," says Paul Butcher, Citigroup's director of digital communications and the engineer behind Citigroup's recent social media push.
Besides Pandit's page, the Citigroup has its own Facebook page, a Twitter account, a blog and a YouTube account. "I think he thought it was a good idea for him to have it to communicate his actions and ideas to a large global audience," Butcher says.
Citigroup's CEO Vikram Pandit has a Facebook page.
It is no mystery that Citigroup has been trying to change its image post-crisis into a more open and transparent institution. The bank's social media strategy is part of Citi's way to show customers that it is listening to their needs, Butcher says.
"These channels do provide a way to engage customers that did not exist before," Butcher adds.
Although Pandit has a Facebook page he does not post or update the page himself, so you won't see any personal status updates, friend requests or be able to poke him, Butcher explains. "He doesn't update the page personally, but he thinks social media is very important," he says.
What Pandit's page does do is display recent events he has attended as well as Citi's latest initiatives and business strategy. Videos of events he has spoken at and shareholder conferences are on the site.
But as with all things social media, the benefits sometimes come with some downside.
For example, Pandit's page is full of wall posts, photos and comments from users such as one "fan" who wrote on May 13, 2011, "Vikram we C stock holders need your help!!! Stock dropped like crazy since the split!" Another commenter called Citigroup, "The worst company ever!" on April 1, 2011.
Despite the hecklers, Butcher says Citigroup remains committed to social media. "It provides a way for people to see and understand what he is doing and ask questions," says Butcher. "The vast majority of comments on the page are constructive and relative to the conversation."
Pandit appears to be the only big four bank CEO to have an official Facebook page.
Bank of America
(BAC) - Get Report
CEO Brian Moynihan and
JPMorgan Chase
(JPM) - Get Report
CEO Jamie Dimon have pages, but they are not maintained by their companies. Both JPMorgan and Bank of America confirmed that their CEOs do not have official Facebook pages.
--Written by Maria Woehr in New York.
To contact the writer of this article, click here:
Maria Woehr
.
To follow the writer on Twitter, go to
.
To submit a news tip, send an email to:
.