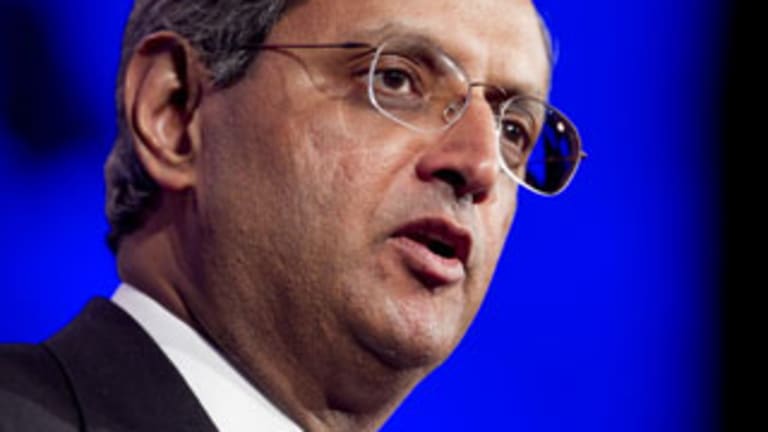 Citigroup Shareholder: Keep Your Penny
Citigroup shareholders overwhelmingly approve a 10-for-1 reverse stock split during the annual meeting.
NEW YORK (
) -- As far as some stockholders are concerned,
Citigroup
(C) - Get Citigroup Inc. Report
can keep its penny dividend.
Shareholders expressed concerns about the recent 10-for-1 reverse stock split to CEO Vikram Pandit and the board of directors during the annual stockholders' meeting Thursday at the New York Hilton. The board and shareholders eventually approved the stock split overwhelmingly, with 95% voting in favor. It is scheduled to go into effect on May 6.
Citigroup CEO Vikram Pandit
"You have not used Citi's position to reduce the shares outstanding," said one shareholder to Pandit and Chairman Richard Parsons during the meeting. "You have not supported the long-term shareholder and have diluted shareholder value. It is embarrassing for the long-term shareholder ... to issue a penny dividend. Keep the penny dividend and buy back shares."
"I am disappointed that you cannot get Citi's stock to go above $5 a share," said another shareholder.
Pandit reassured shareholders that the reverse stock split was coming from a position of strength rather than weakness.
"Even though the number of shares and the price of shares will change, the ownership will remain the same," said Pandit during the meeting. "We will reinstate the dividend, even though it is a penny per share because many investors cannot buy stocks below $5 a share and others cannot buy stocks without a dividend."
Several shareholders approached the stage to ask Pandit and Parsons questions about the company's strategy to boost the stock price.
"I am very upset about it," said one shareholder. "It will be very devastating. The stock value is down 90% and now you are taking away 90% of our shares. Why are we doing this? Couldn't you lower the ratio?"
Parsons and Pandit fielded questions on whether there would be more share splits if the strategy did not work
"We will not issue another split," said Parsons. "We need to shrink the capital base to attract more shareholders."
Pandit disputed the notion by some shareholders at the meeting that the reverse split favored institutional investors over individual investors.
"We think this will add value to investors across the board," Pandit said. "It creates benefits because it opens up the stock to larger groups such as institutional investors," said Pandit. "We are considering individual investors, and if it is 400 shares or 4,000 shares, it is the same distance you have to go. Ultimately, it comes down to the value of the company."
"I am going to vote against it. It is just a little window-dressing," said one investor in response to Pandit's answer.
Citigroup beat analyst earnings expectations,
reporting first-quarter profit
of $3 billion, or 10 cents a share earlier this week. The bank reported strong revenue from international banking and releasing $3.3 billion in credit reserves.
Citigroup shares were trading down 2 cents at $4.55 Thursday.
--Written by Maria Woehr in New York.
To contact the writer of this article, click here:
Maria Woehr
.
To follow the writer on Twitter, go to
.
To submit a news tip, send an email to:
.