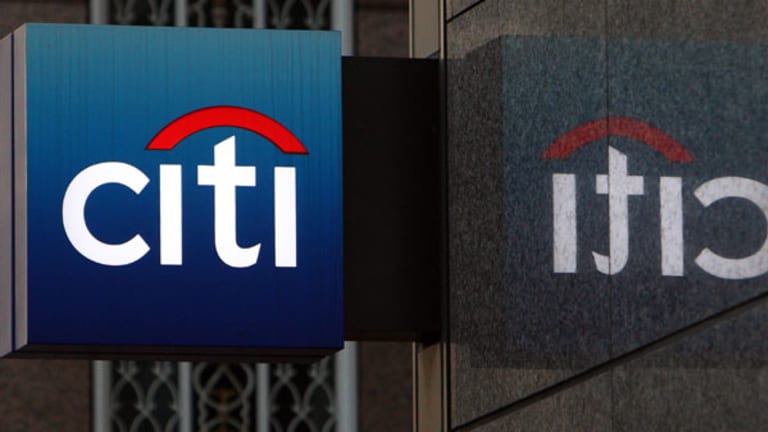 Citigroup Reverse Split Still Irks Shareholders
At the bank's annual meeting in New York on Wednesday, shareholders repeatedly urged the management to consider a 10-for-1 stock split.
NEW YORK (
) -- It has been nearly two years since
Citigroup
(C) - Get Free Report
decided to do a 10-for-1 reverse stock split, but it is still a sore point for Citigroup's long-time shareholders.
At the bank's annual meeting in New York on Wednesday, shareholders repeatedly urged management to consider a stock split, a move they hope would restore the money they believe they lost as a result of the reverse stock split.
One particularly irate shareholder clamoring for the 10-for-1 stock split claimed to have lost more than $1.5 million as a Citigroup shareholder of more than 30 years. "You guys know what the price of the stock is. It is the same price when we did the reverse split. This stock has to reach $600 for me to break even. Bring it down to $4.65 and then maybe it can climb back up to $60."
However, CEO Michael Corbat and Chairman Mike O'Neill said they backed the reverse-split move. While they remained focused on bringing the share price above tangible book value, the bank won't consider "splitting our way to prosperity," O'Neill said.
"This
reverse stock split wasn't done to engineer the stock price," Corbat said in response to shareholders. "It was done to reduce volatility and to get shareholders out of the stock who were using it as a trading vehicle."
He added that a reduced sharecount also made it operationally easier for the bank to pay out its dividend.
In May 2011, Citigroup, which was still suffering from the fallout of the financial crisis, decided to dramatically reduce its share count by turning every 10 shares into a single share. The stock that had been trading at $4.52 at the time, began to trade above $40 a share.
Citigroup's then CEO Vikram Pandit and former Chairman Richard Parsons said the purpose of the reverse split was to increase the share of institutional investors holding the stock. Many mutual funds, they argued, are prevented from holding stocks that trade below $5, while others don't buy stocks that don't pay a dividend.
Stock splits, which increase share count and reduce price, and reverse stock splits that do the opposite, do nothing to alter the value to shareholders. They are tools often used by management to send psychological signals to the market.
In Citigroup's case, in allowing the stock to trade above $40, the management was hoping to shed penny stock traders and attract legitimate long-term investors. It was also intended as a signal that the crisis was behind the bank.
The move, however, did not go down well with some retail investors who saw it as little more than
.
And given the stock's dismal performance in the two years since, those investors are still complaining.
On Tuesday the stock closed at $46.46 or what would have been $4.64 pre-reverse split, so that means shareholders have seen their stock move up by all of 12 cents in nearly two years.
"Reverse stock split has been and remains an emotional issue for shareholders," Corbat acknowledged at the meeting.
"This is not just an emotional issue," one shareholder told Corbat. "We are left with 10% of our holdings. We will never see those dividends for the remaining holdings. Not in my lifetime. Not in my children's and not in my grandchildren's."
But Corbat clarified that the dividend is set based on the bank's ability to pay dividends and is not based on its sharecount base. Once the board determines the amount that can be distributed as dividend and the Fed approves it, it is divided by the sharecount to arrive at the dividend per share. "Whether there is 1 share or 3 billion shares, your dividend is unaffected."
Essentially, shareholders are getting a lower dividend, not because of the lower sharecount, but because Citigroup has not been in a financially strong enough position to increase its dividend payout to what it once used to be.
O'Neill reiterated that shareholders had not lost their claim on the assets of the company as a result of the stock split. "In 2009, we made a very dilutive stock offering for which the company is very sorry. The split did not affect your economics, the issuance of shares did."
-- Written by Shanthi Bharatwaj in New York.
>Contact by
.
Disclosure: TheStreet's editorial policy prohibits staff editors and reporters from holding positions in any individual stocks.