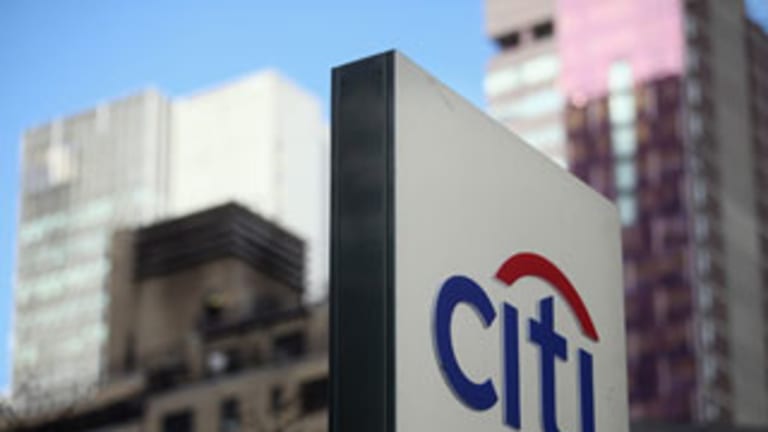 Citigroup Is the 'Most Compelling' Big Bank Stock
Citi's shares have 18% upside over the next 12 to 18 months, according to Oppenheimer analyst Chris Kotowski.
NEW YORK (TheStreet) -- Citigroup (C) - Get Report has become a very strong bank.
Surprised? In October 2008, the company -- along with all the other major U.S. banks -- received significant bailout assistance from the government through the Troubled Assets Relief Program, or TARP. In fact, Citigroup received extraordinary assistance, to the tune of $45 billion. Out of that preferred stake, the government converted $25 billion into common shares. Following Citigroup's redemption of TARP preferred shares and the government's sale of its common shares, the U.S. Treasury in December 2010 said it had turned a tidy profit of $12 billion in the Citigroup bailout.
Citigroup's long-term shareholders -- that is, the ones who were holding the shares before the credit crisis and hung in there afterward -- suffered terribly through the dilutive conversion of TARP preferred shares to common shares and additional offerings of common stock.
Adjusting for a one-for-10 reverse split in May 2011, Citigroup's shares have lost 81% since the end of 2007 through Monday's close at $53.29.
For other investors, Citigroup has been quite a performer. The shares have returned 35% this year, following a 51% return during 2012.
Over the same period, most bank stocks have been quite strong, but Citi's shares have outperformed the KBW Bank Index (I:BKX) , which has returned 33% this year, following a 30% return during 2012.
Over the past several years, under the leadership of former CEO Vikram Pandit and continuing under the leadership of Michael Corbat, Citi has been pursuing a "good bank/bad bank" strategy of placing non-core assets within its Citi Holdings subsidiary, from which the assets have been sold or allowed to run off.
Citi Holdings had $122 billion in assets as of Sept. 30, declining 29% from a year earlier and 59% from two years earlier, representing just 6% of Citigroup's total assets.
Oppenheimer analyst Chris Kotowski in a note to clients late on Monday called Citigroup "the most compelling value in our coverage."
Two important things investors want to see from Citigroup are a higher return on equity (ROE) and a higher return of capital through higher dividends and share buybacks. Of course, these two items are directly related. The good news for investors, according to Kotowski, is that Citi's core unit Citicorp "should be able to run" with less than $100 billion in tangible common equity, "well below the $165B that they currently have."
That's a boatload of excess capital, plenty of which will continue to be freed up as Citi Holdings continues to wind down.
Following the completion of the Federal Reserve's annual stress test process for the nation's largest banks in March, Citi left its quarterly dividend on common shares at a penny a share, while receiving approval from the regulator for a modest $1.2 billion in common share buybacks through the first quarter of 2014.
Following a meeting with Citigroup CFO John Gerspach, Kotowski wrote that Citi was not expecting organic growth or acquisitions to "make a major dent in the excess capital position." Please see this recent story from TheStreet showing just how weak loan demand has been for the "big four" over the past several years.
So Citi can be expected eventually to seek regulatory approval to return capital to investors in excess of its earnings. Investors can expect a significantly higher capita return following the 2014 stress tests in March. However, "the Fed wants to see slow, incremental movements and nothing too sudden in any one year," according to Kotowski, who was paraphrasing Gerspach's comments.
When asked by Kotowski if Citigroup might be able to accelerate the wind-down of Citi Holdings, "Gerspach acknowledged that there were more options now than one would have guessed possible two years ago, but he stayed with the view that the wind-down of Holdings would be a long process."

Big Banks Are Cheap, Especially Citigroup
Among the "big four" U.S. banks, Citi is the only one still trading below tangible book value. The shares closed at $53.29 Monday, and are also cheaply valued at 9.8 times the consensus 2014 earnings estimate of $5.42 a share, among analysts polled by Thomson Reuters. The consensus 2015 EPS estimate is $5.96.
Here's a quick look at the same stock valuations for the rest of the "big four" club:
JPMorgan Chase (JPM) - Get Report on Monday closed at $57.65 Monday and trade for 1.6 times tangible book value, according to Thomson Reuters Bank Insight. The shares trade for 9.6 times the consensus 2014 EPS estimate of $6.01. The consensus 2015 EPS estimate is $6.37.
Bank of America (BAC) - Get Report closed Monday at $15.81 Monday and trade for 1.2 times tangible book value. The shares trade for 11.8 times the consensus 2014 EPS estimate of $1.34. The consensus 2015 EPS estimate is $1.60.
Wells Fargo (WFC) - Get Report on Monday closed at $44.48 and traded for 2.2 times tangible book value. The shares traded for 11.1 times the consensus 2014 EPS estimate of $4.01. The consensus 2015 EPS estimate is $4.22.
So Citigroup is the cheapest among the big four to tangible book value, while JPMorgan Chase is the cheapest on a forward P/E basis, reflecting the company's very rough government litigation ride this year.
Kotowski rates Citigroup "outperform," with a 12-18 month price target of $63, implying 18% upside for the shares. "We believe that the ongoing businesses in Citicorp easily have $5.50-$6.00 per share of earnings power, probably more if and when capital markets revert to a more normal state of affairs," he wrote.
Interested in more on Citigroup? See TheStreet Ratings' report card for this stock.
RELATED STORIES:
Building Permits Jump to 1.03 million in October
Yes, Banks Should Screw Depositors if Fed Forces Them To
How Senate Rule Change Could Hurt Banks
Pending Home Sales Drop 0.6% in October, Hurt by Government Shutdown
-- Written by Philip van Doorn in Jupiter, Fla.
Philip W. van Doorn is a member of TheStreet's banking and finance team, commenting on industry and regulatory trends. He previously served as the senior analyst for TheStreet.com Ratings, responsible for assigning financial strength ratings to banks and savings and loan institutions. Mr. van Doorn previously served as a loan operations officer at Riverside National Bank in Fort Pierce, Fla., and as a credit analyst at the Federal Home Loan Bank of New York, where he monitored banks in New York, New Jersey and Puerto Rico. Mr. van Doorn has additional experience in the mutual fund and computer software industries. He holds a bachelor of science in business administration from Long Island University.