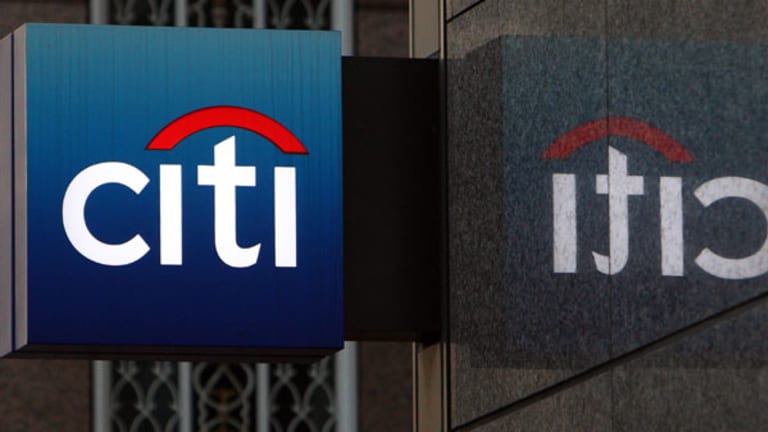 Citigroup Has Great Upside From Housing Turnaround: KBW
Citi has a relatively small mortgage presence but could be among the biggest beneficiaries from rising home prices.
NEW YORK (
) --
Citigroup
(C)
is set to be among the biggest beneficiaries of a rise in housing prices, KBW analysts said in a report released on Monday.
Citi's mortgage loans account for less than 7% of its assets, much smaller than most of its major competitors. According to KBW, mortgage loans make up 23 % of total assets for
Wells Fargo
(WFC)
, followed by
US Bancorp
(USB)
(18%),
Bank of America
(BAC)
,
PNC Financial
(PNC)
(roughly 17% each ) and
JPMorgan Chase
(JPM)
(7.3%).
Still, next to Bank of America, Citi could have the biggest earnings upside from rising home prices, according to the analysts. This would put the company in line with healthier mortgage banks such as Wells Fargo and PNC.
While Citigroup has aggressively scaled back its mortgage operations in the years since following the financial crisis, it still has over $80 billion in troubled mortgage assets.
The bank has been trying to wind down the portfolio through sales and runoffs, but the pace of sales has slowed, with Citi reluctant to do bulk sales at discounted prices.
Also see: Citigroup Gets a Reprieve >>
Now it looks like those troubled assets might actually position Citi relatively well compared to other mortgage banking peers as the housing market turns.
The recovery in housing has something of a mixed impact on bank earnings. While credit costs are expected to decline sharply and the value of legacy assets is expected to improve, mortgage origination revenue is likely to be under pressure as pricing competition stiffens and refinancing volumes wane.
That means banks with troubled mortgages, such as Bank of America and Citi, stand more to gain from rising housing prices than a market leader such as Wells Fargo, whose credit and servicing costs are already relatively low.
KBW analysts led by Frederick Cannon analyzed the impact of a 20% reduction in credit costs from first quarter levels, a 20% reduction in mortgage banking fees and a 10% reduction in the cost of servicing bad loans.
The analysis showed that Citi would benefit significantly from lower charge offs and servicing expense, below Bank of America, and above Wells Fargo, JPMorgan and US Bancorp.
SunTrust To 'Outperform Peers Going Forward': FBR >>
Citi would also be least affected by the decline in mortgage banking fees, according to the KBW analysis.
Overall, the annualized benefit would be 25% for Citi's earnings per share relative to first-quarter earnings. Bank of America's benefit would still be much higher at 54%.
Meanwhile, Wells Fargo's benefit to earnings would be 22%, JPMorgan Chase's upside would be 20%, while US Bancorp's benefit relative to first quarter earnings would only be 4%.
Citigroup said in its
media call that it continues to sell mortgage assets at favorable prices, although the improvement in credit costs means the bank is under less pressure to dispose assets at a rapid pace.
-- Written by Shanthi Bharatwaj New York.
>Contact by
.
Disclosure: TheStreet's editorial policy prohibits staff editors and reporters from holding positions in any individual stocks.