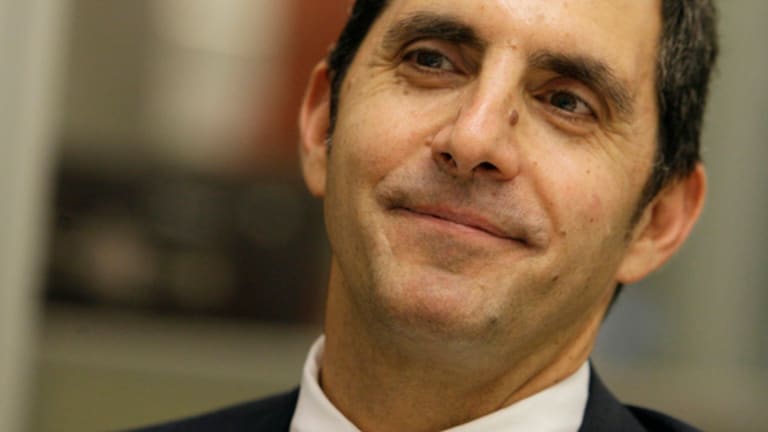 Citigroup Gets a Reprieve: Mike Mayo
The bank's incremental progress in recent months is encouraging, says the analyst turned activist shareholder.
NEW YORK (
) -- CLSA analyst Mike Mayo believes
Citigroup
(C)
has earned itself a "reprieve" from shareholders calling for a bank breakup.
In an interview with
TheStreet
following Citigroup's annual shareholder meeting on Wednesday, the veteran analyst said he was encouraged by "the incremental progress" the bank has made in the last few months and that his interactions with the new management had left him more optimistic.
"For me, it is management over model. I am agnostic about how they realize value," he said. "The ultimate judge is the stock price."
If the stock is down next year, the shareholder calls to break the bank up will increase. For now, "Citigroup is on probation," says Mayo.
Mayo is a long-time critic of Citigroup who reversed his sell call in the fall of 2012 following the exit of former CEO Vikram Pandit.
The analyst, known for his outspoken criticism of Wall Street's excesses and for frequently clashing with managements over performance, is now broadening his role, becoming somewhat of an "activist" analyst.
In January, he managed to get approval from CLSA to buy 100 shares in stocks of Citigroup,
Morgan Stanley
(MS)
,
State Street
(STT)
and
KeyCorp
(KEY)
, a move that exposes him to potential conflicts of interests. The analyst has "buy" ratings on the first two stocks and "outperform ratings" on the latter two.
He hopes the investment positions will provide him more access to management through shareholder meetings and allow him to push for change as a shareholder.
On Wednesday, Mayo attended Citigroup's shareholder meeting for the first time in his career as an analyst. Calling it a "fantastic experience" Mayo said it provided him fresh perspective. "Seeing the directors in person, looking them in the eye and shaking their hands after talking with them, they were finally more than names on a page," he said.
Watching new CEO Mike Corbat and Chairman Mike O'Neill tackle their first annual meeting, Mayo said he felt assured seeing the "natural interplay" between them and that any concerns about frictions in their relationship were put to rest, for now.
Still, Mayo did not necessarily get the answers he was seeking at the meeting. His main question: Under what circumstances will the bank consider strategic alternatives such as breaking itself up?
Shares of Citigroup would trade nearly two-thirds higher on a "sum-of-the-parts" valuation than they do now, by Mayo's estimate, suggesting that the franchise is considerably undervalued.
"We believe the plan we are operating now will generate returns over time," Chairman O'Neill told Mayo. "Our objective is to generate returns above the cost of capital. If management reaches a conclusion that it is not possible, we have to consider alternatives. But importantly, we think we can," he added later.
"Our business model is the right one. We have started on a path, put out public targets on returns on efficiency," said CEO Mike Corbat. "There is more we need to deliver in terms of transparency but give me some time."
Mayo believes that Citigroup is moving in the right direction but as someone who has followed the bank for 15 years, he is aware of its poor track record in execution.
"We'd like to see Citi have a Plan B given the multitude of Plan As that did not pan out in the 15 years since Citigroup was formed," he wrote in a recent report ahead of the meeting.
"Citigroup had the best first quarter among the big banks, but "don't confuse a quarter with a quindicennial," wrote Mayo. "Citi stock remains 90% below its pre-crisis level (or 50% lower after adjusting for its increase in share count) and, in our view, reflects the failure of resource allocation, oversight and management that stretches back to the formation of the company in its current form in 1998."
Following the meeting, Mayo says he is "half reassured" as meeting the Chairman in person reinforced his positive impression of him.
Still, he felt that the bank has to show investors that it is analyzing other alternatives and he is pushing for more disclosures on profitability metrics. "They should disclose their return on equity by business and by sub-segment. Then maybe we can make a determination about which businesses they should sell. Let the sun shine on Citi's returns."
Mayo believes shareholders will increasingly push for restructuring at the big banks and that companies should consider doing so or else regulators will do it for them.
He says he has his hand on the trigger to break up Citigroup but is not ready to pull it yet given its recent progress. The analyst believes
Bank of America
(BAC)
should be broken up. While
JPMorgan Chase
(JPM)
has pointed to the benefits of its diversified model, he believes its asset management business, whose value is not reflected in the bank's stock price, might need to be spun off.
Wells Fargo
(WFC)
, however, has "earned the right to stay at its size," he said.
-- Written by Shanthi Bharatwaj in New York.
>Contact by
.
Disclosure: TheStreet's editorial policy prohibits staff editors and reporters from holding positions in any individual stocks.