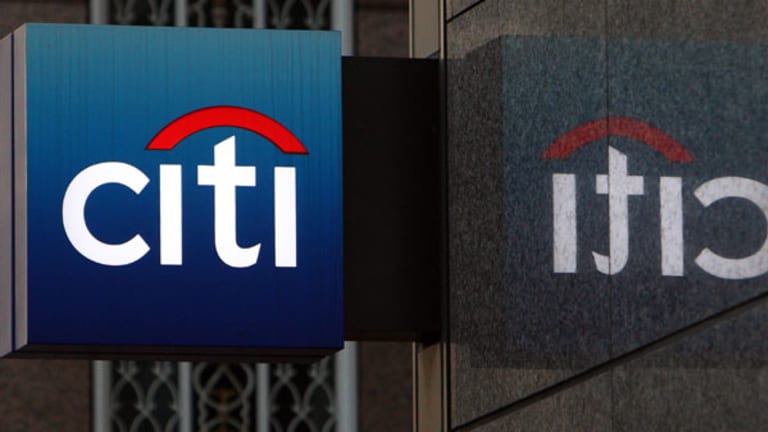 Citigroup Burned by Mexico Fraud
Citi announces an earnings restatement tied to accounting fraud by a Mexican oil services company.
Updated from 9:27 a.m. ET with additional comment from Citigroup CEO Michael Corbat from an internal company memo.
NEW YORK (TheStreet) -- Citigroup (C) - Get Free Report on Friday said it was restating its 2013 earnings after its Mexican banking subsidiary discovered fraud committed by a commercial borrower.
Citigroup's Mexican subsidiary, Banco Nacional de Mexico, commonly called Banamex, lent $585 million to Oceanografia S.A. de C.V. ("OSA"), a Mexican oil services company, with the loans secured by accounts receivable, as is typical for many commercial and industrial loans.  Banamex also had $33 million in loans made directly to OSA or letters of credit  issued on behalf of OSA.
OSA had been a "key supplier" to Petroleos Mexicanos, or Pemex,  Mexico's state-owned oil company. But in February, OSA was suspended from new Pemex contracts.    After Citigroup and Pemex reviewed OSA's accounts receivable securing the loans, "Pemex asserted that a significant portion of the accounts receivables recorded by Banamex in connection with the Pemex accounts receivable financing program were fraudulent and that the valid receivables were substantially less than the $585 million referenced above."
Citigroup estimates that only $185 million of the accounts receivable pledged by OSA are legitimate.  The $400 shortfall has been charged to operating expenses within the company's Transaction Services unit for the fourth quarter, "with an offset to compensation expense of approximately $40 million associated with the Banamex variable compensation plan."
In an internal company memo, Citigroup CEO Michael Corbat gave more details about the fraud: "It appears that invoices from OSA were falsified to represent that Pemex had approved them. A Banamex employee processed them, and as much as $400 million was misappropriated throughout the course of the fraud. At this point, it is not clear how many people were involved in the fraud."
Citi restated its 2013 earnings, lowering after-tax net income by $235 million to $13.673 billion, and lowering earnings-per-share by 7 cents to $4.35.  The bank said it believed the fraud was "isolated," and that it was continuing a review to determine whether the remaining $33 million credit or $185 million in account receivables collateral due from Pemex was impaired.
Commenting in a press release, Corbat said the company was "responding forcefully over the past week by assessing the overall exposure to Citi, coordinating with law enforcement, pursuing recovery of the misappropriated funds, and seeking accountability for anyone involved."  The company is going through a "rapid review" of similar accounts-receivable collateral arrangements.
Corbat went on to say that Banamex was working with Pemex and Mexico's attorney general, "to initiate criminal actions in connection with this matter that, in addition to imposing just penalties on the responsible parties, may allow us to recover damages. "
The CEO struck a bitter tone: "I can assure you there will be accountability for those who perpetrated this despicable crime and any employee who enabled it, either through lax supervision, circumvention of our controls, or violating our Code of Conduct. All will be held equally responsible and we will make sure that the punishment sends a crystal clear message about the consequences of such actions." 
In the internal memo, Corbat reminded the bank's employees of what bank employees everywhere should already be aware -- you need to be a straight shooter.
"Only two weeks ago I wrote to you about the absolute need for everyone at this firm to act in accordance with the highest ethical standards and explained how failing to do so jeopardizes everything we work for. We now have a galling example of what happens when people fail this basic requirement," the CEO said.
Citi's shares recovered most of their losses from the beginning of Friday's trading session, and were down 0.3% to $48.57 in morning trading.
This chart shows the stock's performance against the KBW Bank Indexundefined and the S&P 500undefined since the end of 2011:
data by YCharts
Fannie and Freddie Plaintiffs Eye FDIC Share Sales
Were Fannie, Freddie Negotiations Done in Good Faith?
-- Written by Philip van Doorn in Jupiter, Fla., and Antoine Gara in New York.
Philip W. van Doorn is a member of TheStreet's banking and finance team, commenting on industry and regulatory trends. He previously served as the senior analyst for TheStreet.com Ratings, responsible for assigning financial strength ratings to banks and savings and loan institutions. Mr. van Doorn previously served as a loan operations officer at Riverside National Bank in Fort Pierce, Fla., and as a credit analyst at the Federal Home Loan Bank of New York, where he monitored banks in New York, New Jersey and Puerto Rico. Mr. van Doorn has additional experience in the mutual fund and computer software industries. He holds a bachelor of science in business administration from Long Island University.