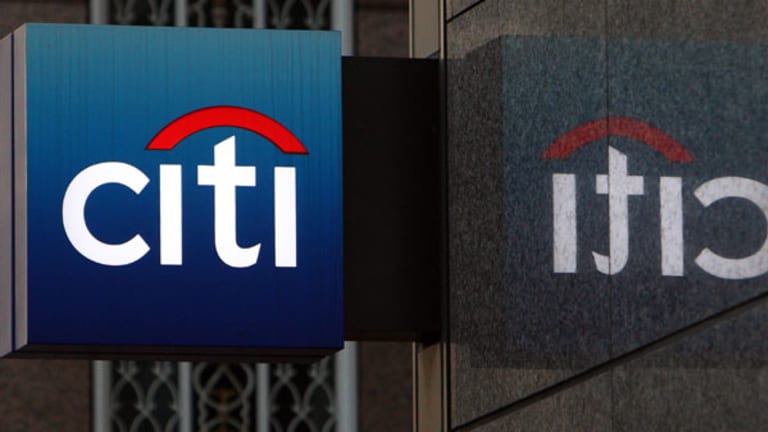 Citigroup and the 'Straw That Broke the Camel's Back'
Citigroup and analysts are quite surprised with the Fed's rejection of the bank's 2014 capital plan.
NEW YORK (TheStreet) -- It appears Citigroup (C) was the victim of some very bad timing, with the discovery of a large fraud within its Banamex unit in Mexico in February.
While the regulator didn't say as much, it appears the Banamex fraud factored heavily in the Federal Reserve's decision to reject Citigroup's 2014 capital plan. The regulator late Wednesday announced the results of its annual Comprehensive Capital Analysis and Review (CCAR), which is the second part of the regulator's annual stress-test process.
The first round of stress tests -- called the Dodd-Frank Act Stress Tests (DFAST) -- was completed on March 20, with 29 of the 30 banks showing they could remain well-capitalized with Tier 1 common equity ratios of at least 5.0% through a nine-quarter "severely adverse" economic scenario. Zions Bancorporation (ZION) of Salt Lake City failed the test.
Neither Citigroup nor Wall Street analysts had expected the bank's capital plan to be rejected. After all, Citi passed the first round of stress tests showing a strong minimum Tier 1 common equity ratio of 7.2% through the Fed's nine-quarter "severely adverse" economic scenario. That was the second-highest ratio among the "big six" U.S. banks, with only Wells Fargo (WFC) showing a higher first-round minimum Tier 1 common equity ratio, at 8.2%.
Goldman Sachs (GS) passed DFAST with a minimum Tier 1 common equity ratio of 6.9%, while JPMorgan Chase (JPM) showed a minimum Tier 1 common equity ratio of 6.3% in the first round, Morgan Stanley (MS) had a minimum ratio of 6.1%, and Bank of America (BAC) came in lowest for any bank passing the first round of stress tests, with a minimum Tier 1 common equity ratio of 5.9%.
Aside from Citigroup, all of the big-six banks had their capital plans reviewed, as detailed here.
The Federal Reserve said it had rejected Citigroup's capital plan on "qualitative" factors, and not because of the bank's capital level.
"While Citigroup has made considerable progress in improving its general risk-management and control practices over the past several years, its 2014 capital plan reflected a number of deficiencies in its capital planning practices, including in some areas that had been previously identified by supervisors as requiring attention, but for which there was not sufficient improvement," the regulator said.
Citigroup CEO Michael Corbat in a statement late Wednesday said, "Needless to say, we are deeply disappointed by the Fed's decision regarding the additional capital actions we requested. The additional capital actions represented a modest level of capital return and still allowed Citi to exceed the required threshold on a quantitative basis."
Citi had requested the Fed's approval to raise its quarterly dividend on common shares to a nickel from a penny, and to repurchase up to $6.4 billion in common shares from the second quarter of 2014 through the first quarter of 2015.
Downgrade
KBW analyst Fred Cannon on Thursday downgraded Citigroup to a "market perform" rating from an "outperform" rating and lowered his price target for the shares to $52 from $58, while calling the Fed's rejection of the bank's capital plan the "Straw That Broke the Camel's Back."
"It is now obvious to us that capital return to investors will not occur as soon as we expected," Cannon wrote, adding that the discounted market valuation for Citi's stock compared to peers is "warranted based on the lack of capital return which will likely impair C's ability to meet stated return targets, increased risk associated with a global consumer footprint following the Mexico fraud losses, and expected downward pressure on consensus estimates."

Even before the shares dropped 6% in after-market trading following the Fed's announcement, Citi's stock was cheap. The shares closed at $50.16 Wednesday and traded for 0.9 times tangible book value, according to Thomson Reuters Bank Insight, and for 8.8 times the consensus 2015 earnings estimate of $5.71 a share. The consensus 2014 EPS estimate is $4.81. Those are the cheapest price-to-tangible-book and price-to-forward-earnings ratios among large-cap U.S. banks.
Citigroup's long-term shareholders have been long-term sufferers. The dilution of Citi's shares has been quite significant, because of the bank's common-equity raises following its $45 billion bailout in 2008 and because of the conversion of part of the government's preferred stake in the company to common shares. The 10-year total return for Citigroup's shares through Wednesday's close was a negative 88%, factoring in the reverse 1-for-10 split the shares underwent in 2011.
Since the Fed's rejection of Citi's capital plan was based on qualitative and not quantitative concerns, it would appear doubtful the company can improve its risk-management systems sufficiently this year for the Fed to approve a revised capital plan that includes a dividend increase or share buybacks this year. The Fed indicated the unique global nature of Citi's business is part of the problem, saying, "Practices with specific deficiencies included Citigroup's ability to project revenue and losses under a stressful scenario for material parts of the firm's global operations, and its ability to develop scenarios for its internal stress testing that adequately reflect and stress its full range of business activities and exposures."
"Prior to today, we viewed Citigroup as the best restructuring opportunity in large-cap financials," Cannon wrote, adding that the bank's restructuring under Corbat "has been slow to progress."
"As a result, we believe investors can find better investment opportunities in Financials despite C's discounted valuation relative to peers," Cannon added.
Citigroup's excess capital continues to grow, which places a drag on the bank's return on equity, and the bank's inability to repurchase its discounted shares should weigh heavily on the stock when trading opens at 9:30 a.m. EDT Thursday.
"Sell Banamex?"
Cannon didn't offer any harsh assessment of the Federal Reserve's action, but CLSA analyst Mike Mayo sure did, writing in a note to clients late Wednesday, "In the new world of Big Brother Banking, the government can make decisions such as this, even if a bank is well above regulatory minimums, allowing a new level of regulatory discretion. The Fed's decision makes it look like there is no level of capital that is sufficient whereby Citi could repurchase stock."
Mayo called the Fed's rejection of Citi's capital plan "a shocker," and added that "Citi needs to make this defeat into victory," by restructuring faster, including a possible sale of Banamex, as well as "enhancing governance and holding managers more accountable, especially after management's reassurance about financial processes."
Mayo continues to rate Citigroup a "buy," although he lowered his price target for the shares to $58 from $60 on Wednesday.
Citi's stock was down 6.2% in premarket trading Thursday, to $47.93.
Bank of America Reaches $14.35B Settlement With Fannie and Freddie
Citigroup Stock Plunges After Capital Plan Rejected by Fed
Philip W. van Doorn is a member of TheStreet's banking and finance team, commenting on industry and regulatory trends. He previously served as the senior analyst for TheStreet.com Ratings, responsible for assigning financial strength ratings to banks and savings and loan institutions. Mr. van Doorn previously served as a loan operations officer at Riverside National Bank in Fort Pierce, Fla., and as a credit analyst at the Federal Home Loan Bank of New York, where he monitored banks in New York, New Jersey and Puerto Rico. Mr. van Doorn has additional experience in the mutual fund and computer software industries. He holds a bachelor of science in business administration from Long Island University.