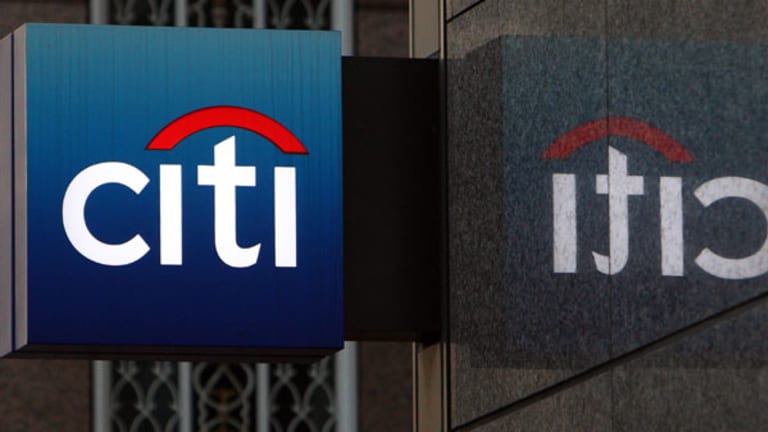 Citigroup $50B Tax Controversy Still Worries Analysts
Citigroup continues to face scrutiny from analysts over a roughly $50 billion tax asset it has claimed ever since the crisis.
Citigroup tax story updated from 4:23 pm Monday with new information in seventh and eighth paragraphs.
NEW YORK (TheStreet) -- Citigroup (C) - Get Report continues to face scrutiny from analysts over a roughly $50 billion tax asset it has claimed ever since the crisis.
Known as a deferred tax asset (DTA), it represents tax credits Citigroup can use resulting from past losses. But in order to claim it as an asset, Citigroup needs to earn enough money to be able to use it over a 20 year period. If it can't, it has to take a loss. So if Citigroup can't use $20 billion of the DTA, that would mean losses of $20 billion--about what Citigroup earned in 2012 and 2013 combined.
Citigroup drew criticism in 2009 for claiming such a large DTA, most notably from accountant Bob Willens of Robert Willens LLC and analyst Mike Mayo, now at CLSA. At the time, the figure stood at $46.1 billion. Today, even though Citigroup has earned $33 billion over the past four years through the end of 2013, the DTA has only grown. At the end of 2013, it was $52.8 billion.
Citigroup used about $1 billion in the first quarter, so if it can continue to do that, it will use up the DTA in 12.5 years.
However, asked about the issue by two separate analysts on Monday's first quarter earnings call (neither of which was Mayo), Citigroup's management wasn't all that reassuring. CFO John Gerspach talked about three variables that affect the DTA and while two of those appear to be moving in the right direction, Gerspach offered no assurances on the third--called other comprehensive income (OCI). That relates to the performance of securities in which Citigroup invests the deposits it gathers.
"If interest rates increase and the securities portfolio will deteriorate in value that will create a whole lot of DTAs in a hurry, so much of it is beyond their control,"  Willens told TheStreet in a telephone interview Monday.
Most investors and analysts still don't appear to be focusing much on the DTA, and RBC Capital Markets analyst Gerard Cassidy offered no qualifier while noting its $1.1 billion reduction during the quarter. Citigroup shares were up by more than 4% Monday and were headed higher again in pre-market trading Tuesday, as the shares have under-performed in 2014 and first quarter earnings beat expectations.
Oppenheimer's Chris Kotowski called Citi "one of the few genuine values remaining in the banking sector" in a report published late Monday.
And Citigroup CEO Mike Corbat made clear the tax issue is on his radar, bringing it up on two occasions during the call without being asked.
"We talked about DTA consumption and our ability to change that and there's have been those historically who were quite critical of our ability to consume DTA. And I think we've proven we came in and we said it's a priority:$2.5 billion of DTA utilization last year, $1.1 billion for the first quarter of this year and we're committed to continuing to consume it."
The longer they go without consuming it, however, the more likely it becomes that regulators will force them to get rid of the asset. That would put Citigroup in the uncomfortable position of explaining away billions of dollars of unanticipated losses.
Disclosure: TheStreet's editorial policy prohibits staff editors, reporters and analysts from holding positions in any individual stocks.