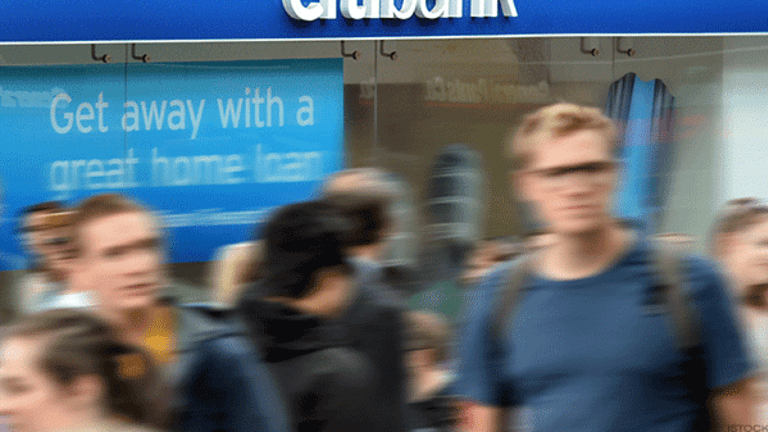 Citi CEO: No 'Outsized Risks' to Reach $20 Billion Profit Target
Michael Corbat aims to keep dividends and buybacks at $19 billion or more, too.
Updated from 9:34 a.m. on Tuesday, July 25, 2017.
Citigroup Inc.  (C) - Get Citigroup Inc. Report  is targeting profit growth of 34% over the next two years after turning a corner in CEO Michael Corbat's push to exit riskier businesses after a financial-crisis bailout and return more capital to investors.
The New York-based bank aims to generate net income of $20 billion in 2020, compared with $14.9 billion last year, Corbat said in an investor summit on Tuesday, July 25. The company's first such meeting in several years, it was scheduled because "the management and our board believe Citigroup has crossed an inflection point," he said. 
Corbat, who succeeded Vikram Pandit in 2012, has shrunk Citi's consumer footprint to 19 markets as of last year, from 41 when he took over, while trimming so-called legacy holdings -- high-risk assets that were hard to value after the 2008 crisis, by 74% to $54 billion.
Such holdings totaled $888 billion at the end of 2007, when subprime mortgage defaults were beginning to choke the broader economy, and trimming them became a priority after the bank was forced to take a $45 billion government bailout as regulators raced to shore up the financial system a year later.
Shrinking the portfolio, once labeled Citi Holdings to separate its performance from the bank's stronger businesses, to such a small level that it doesn't need to be reported to investors separately "is a stunning achievement for a segment that once had over $800 billion of assets and was capable of losing billions of dollars in just a single quarter," Corbat said.
The company is now delivering "levels of growth we couldn't have supported in the years immediately following the crisis," Corbat added, and has "clear line of sight to improved earnings power."
After last year's stress tests, which measure the capital strength of the country's largest banks in an attempt to safeguard the U.S. economy from another financial crisis, the bank won the Federal Reserve's approval to return as much as $18.9 billion to shareholders through June 2018.
The payout, through dividends and stock buybacks, represents 130% of average profit estimates, Corbat noted. "We hope and expect to return at least that amount" in each of the next two years, he added. 
Citi has climbed 6.1% to $68.30 since the bank announced the returns in late June, more than triple the gains on the broader S&P 500.
"We recognize our job's not done," Corbat added. "We haven't yet delivered the level of returns you, our investors, both expect and deserve. You've been patient with us and we want you to know that we don't take that patience for granted, and we don't think it's inexhaustible."
Citigroup is a holding in Jim Cramer's Action Alerts PLUS charitable trust portfolio. Want to be alerted before Cramer and the AAP team buy or sell the stock? Learn more now.
Future expansion, executives said, will be driven by leveraging Citi's existing strengths in consumer banking as well as institutional services, which include investment banking and fixed income and stock trading.
A priority in the consumer division, which garnered 45% of the company's $71 billion in revenue over the last 12 months, is meeting demand for digital services, which studies have shown are less frustrating than branch transactions and can be handled at a fraction of the cost.
"Globally, approximately two-thirds of our clients regularly engage with us digitally, including through our mobile channels," Corbat said.
Citi's consumer unit scored a coup two years ago when it landed a lucrative branded-credit card deal with retailer Costco Wholesale Corp. (COST) - Get Costco Wholesale Corporation Report that had been held for years by American Express Co. (AXP) - Get American Express Company Report
Already, about 73% of the spending on Citi's Costco Anywhere card is occurring outside of the the chain's stores, said Jud Linville, head of the bank's card business. "This suggests the card has become 'top of wallet' for our customers," he said. 
At the same time, cards issued under the Citi brand -- including the popular Prestige rewards card that competes with AmEx's platinum card and JPMorgan Chase & Co.'s (JPM) - Get JPMorgan Chase & Co. ReportSapphire Reserve -- are leading U.S. rivals in replacing competitors' products as users' primary cards, according to a report by consultant Lightspeed FSG.
In Citi's institutional clients group, which generated nearly half of last year's revenue, the bank is taking advantage of an edge with multinational firms in developing markets as it seeks to boost the group's return on tangible common equity by 90 basis points to 14% over the next two years, said the business's chief, James Forese.
"Where we have unique access and scale relative to peers is in emerging markets" he noted. "Our emerging markets franchise contributes to stability of overall results, not volatility, and that's not commonly held."
More of What's Trending on TheStreet
Department Stores Are Dying -- Michael Kors Declares War on Coach With Big Jimmy Choo Deal
Walmart Looks Like It's Beating Back This Ruthless German Grocery With Some Success