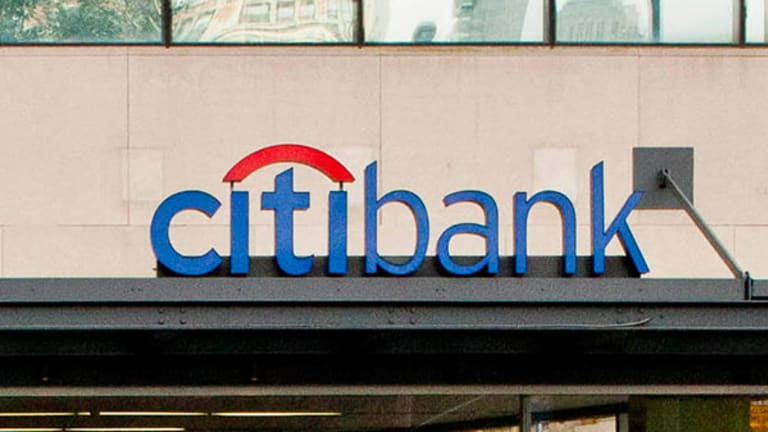 Citi May Have to Write Off Up to $12 Billion of Tax Credits Under Trump Plan
Citigroup has made its $45 billion of tax credits a key pillar of its strategy to improve profitability and increase dividends. But tax-code changes under Trump could force a reassessment.
Citigroup has made its $45 billion of tax credits a key pillar of its strategy to improve profitability and increase dividends. But tax-code changes under Trump could force a reassessment.
President-Elect Donald Trump's promised tax cuts for corporations pose a threat to one of the biggest U.S. banks: Citigroup (C) - Get Report , which has pitched investors for years on the enormous value of its $45 billion of tax credits accumulated during the financial crisis of 2008.
John Gerspach, Citigroup's CFO, told an investor conference on Wednesday that the New York-based lender may have to write off as much as $12 billion if Trump succeeds in cutting the corporate tax rate to 25% from about 35% currently. Under another scenario where the tax cuts are applied on more limited basis, the write-off would be closer to $6 billion, or $4 billion if the rate drops to just 28%.
"There's a lot of moving pieces," Gerspach said, "but that's sort of where we are right now in trying to do a top-level assessment."
Citigroup's Gerspach, along with CEO Mike Corbat, have touted the benefits of the so-called deferred tax assets as a way of increasing net earnings above what the bank makes from its regular operations. The downside is that the DTAs can only be deployed slowly: The lender has used just $10 billion of them since Corbat took over in 2012, and it would take 25 years to work off the remaining balance at the past year's rate.
The disclosure brings the outspoken CLSA analyst Mike Mayo closer to vindication in his contention as early as 2009 that the bank's refusal to write off the DTAs -- even then -- represented aggressive accounting practices that should have been abandoned in the wake of the post-financial-crisis clean-up. Citigroup executives, even dating back to former CEO Vikram Pandit, have adamantly insisted there was no need to write down the DTAs, arguing in a presentation as recently as September that a central pillar of the bank's strategy to improve profitability involved "consistently utilizing the deferred tax assets."  
Mayo has railed against the bank's management over the issue, arguing that the tax credits were unlikely to ever be fully utilized.
"We'll eventually be right about the DTA write-down at Citigroup," Mayo said Wednesday in an interview. 
Trump, on his campaign website, said his tax plan calls for a reduction in the business rate to 15% from the current 35%, which he described as "one of the highest in the world, making domestic investment unattractive." Profits at foreign units could be brought back to the U.S. at a 10% rate, according to the site. The tax cuts are part of an economic policy package that would create "millions of jobs" and "unbridled economic growth."  
In a note to clients this week, Mayo wrote that Citigroup's DTA write-off could reach $25 billion if Trump pushes the tax rate down to 15%.
The write-offs may not matter much to the stock price, Mayo said, since many investors haven't really given the bank credit for its DTAs anyway.
Citigroup's stock trades at a discount of roughly 30% to the value per share that's recorded on the financial statements -- an indication that investors don't believe the lender's assets are worth what it claims. 
EXCLUSIVE LOOK INSIDE: Citigroup is a holding in Jim Cramer's Action Alerts PLUS charitable trust portfolio. Want to be alerted before Cramer buys or sells the stock? Learn more now.
Gerspach said that about $7 billion of the DTAs aren't included in the bank's regulatory capital -- the buffer of extra assets that lenders are supposed to hold to protect depositors and prevent costly government bailouts. 
So a write-off up to that amount wouldn't hit capital, Gerspach said, meaning Citigroup wouldn't have to take additional steps to reach regulatory compliance, such as by slashing dividends or selling new shares.
But a write-off of more than $7 billion would start to impact the regulatory capital, Gerspach said. 
The silver lining, according to Mayo, is that a write-off would make Citigroup look more profitable, since it would reduce the bank's equity base, under U.S. accounting rules. And that in turn would increase the bank's lagging return on equity, averaging just 7.7% through the first nine months of this year. Many analysts see 10% as the minimum for banks to be a viable investment; the figure was 14% at Wells Fargo (WFC) and 13% at JPMorgan Chase (JPM) .  
A write-down of $25 billion would increase Citigroup's returns to 9.9%, three years earlier than under the current trajectory, Mayo wrote in the report. 
"The irony here is that if you take the full extent of our analysis, Citi may finally generate an return on tangible equity of 10%," Mayo said in the interview.