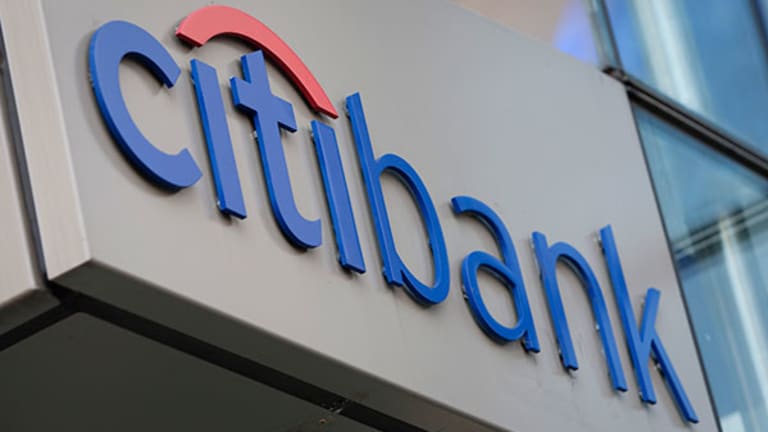 Citi Loses More Ground to Rivals After Missing 2015 Profitability Goal
Return on tangible equity is a key profitability measure for U.S. banks, and Citigroup is nowhere close to meeting the 10% threshold that CLSA analyst Mike Mayo says investors demand.
As the largest U.S. banks race to reinvent themselves amid an onslaught of new regulations, Citigroup (C) - Get Citigroup Inc. Report is falling behind.
On a key measure of profitability, Citigroup lags behind the other five big U.S. banks -- and is barely halfway toward its own goal. During the first nine months of this year, the New York-based lender's return on tangible equity was just 7.7%, well behind the 14% at Wells Fargo (WFC) - Get Wells Fargo & Company Report and 13% at JPMorgan Chase (JPM) - Get JPMorgan Chase & Co. Report . Citigroup has set a long-term goal in the "mid-teens," while refusing to set a timeline.
And investors may be losing patience. Mike Mayo, a veteran analyst at brokerage CLSA, estimates that most U.S. bank investors demand a return on tangible equity of at least 10%. It's a threshold known as "cost of capital," since investors could theoretically get that return in another stock for the same level of risk. Citigroup isn't even close, as Mayo sees it.
"They're destroying value," Mayo said in an interview. "If management can't show a plan to generate returns above the cost of capital, either they need to change the strategy, or the board needs to change the management."
Such comments offer a green-eyeshade reality check following the release of Citigroup's encouraging third-quarter results last week. The firm beat analysts' estimates for its earnings handily, due to a stronger-than-expected performance from bond-trading; revenue from that business surged as investors struggled in September to divine the Federal Reserve's interest-rate plans, spurring volatility and a flurry of trades. (The Fed ultimately held rates steady.)
But Citigroup's earnings per share fell by 5% from a year earlier, as overall revenue slumped. And the stock has lost 4% this year, even as bank shares on average have been risen slightly.
Ever since the financial crisis of 2008, U.S. regulators have pushed lenders to improve their financial strength by requiring more equity -- the buffer of extra assets that's supposed to protect depositors and prevent the need for costly government bailouts. By simple mathematics, higher equity levels pressure profitability, since they're the denominator in calculating return on tangible equity.
The largest banks have responded by paring back risky trading operations and exiting low-return businesses -- all while boosting revenue in operations that offer a higher return. Wells Fargo and JPMorgan have succeeded in getting profitability above the 10% hurdle. Bank of America (BAC) - Get Bank of America Corp Report is at 9.4% so far this year, up from 6.6% in 2015. Goldman Sachs (GS) - Get Goldman Sachs Group, Inc. Report is tracking at an 8.5% clip, and Morgan Stanley (MS) - Get Morgan Stanley Report is at 8.9%, based on CLSA estimates.
Citigroup, meanwhile, is going backwards, with its profitability down from 9% in 2015.
EXCLUSIVE LOOK INSIDE: Citigroup and Wells Fargo are holdings in Jim Cramer's Action Alerts PLUS charitable trust portfolio. Want to be alerted before he buys or sells the stocks? Learn more now.
CEO Michael Corbat, a former Harvard University football player who took charge in 2012 after almost three decades with the firm, has laid out a plan to boost the return on equity.
Complicating his efforts is the pile of disastrous assets and legacy of losses stemming from the financial crisis eight years ago. For starters, he wants to reduce some $61 billion of businesses and lousy securities that are earmarked for disposal; collectively they earn a paltry 4.9% return on tangible equity. The pool of unwanted assets, known as Citi Holdings, is already down by 73% since Corbat became CEO, according to the company.  
The bank also still carries $45.4 billion of tax credits known as "deferred tax assets," or DTAs. Because of banking regulations, Citigroup earns nothing on most of those assets, dragging down the profitability.
Without the DTA baggage, Citigroup says, its return on tangible equity this year would have been 9.2%.
The benefit of DTAs, of course, is that they allow Citigroup to reduce taxes, and thus to increase total earnings above what the bank makes from regular operations.
But only a small fraction can be used at a time: Over the past year, Citigroup has used up just $1.8 billion of the DTAs; at that rate, it would take 25 years to work off the full balance. Even since Corbat became CEO, the total balance is down by just $10 billion. 
While Corbat says the DTAs will help Citigroup in the long run, investors aren't necessarily giving the bank the benefit of the doubt. The stock is trading at 77% of tangible book value -- an indication that investors don't believe the company is worth the value recorded on its accounting statements.
Citigroup's stock valuation is the lowest among the largest U.S. banks. Wells Fargo, by contrast, trades at 150% of tangible equity, and JPMorgan is at 136%. Goldman Sachs trades at 105%, Morgan Stanley is at 104% and Bank of America is at 97%.
"Clearly the market is showing some sense of frustration," Jason Goldberg, an analyst at Barclays in New York, said in an interview. Goldberg hesitated to estimate when Citigroup's profitability might clear 10%. When pressed, he said, "You would hope by the end of 2018."
Another Corbat strategy is to increase returns on Citigroup's ongoing businesses. But there, too, the bank is still well shy of its goals. On a conference call last week, CFO John Gerspach said consumer banking should eventually produce a 20% return on tangible equity; so far this year, it's averaging 14%. And the trading and investment-banking division should return 14%, up from 12% now.
A final leg of Corbat's plan is to increase dividends and share buybacks to minimize the company's equity base. Yet such actions are tightly controlled by regulators, who want banks to hold more equity, not less.
Dick Bove, a 46-year veteran analyst who works at Rafferty Capital Markets, says he doubts buying back shares will actually do anything for the stock price. Based on his analysis, repurchases usually don't -- partly because buying back stock is a warning signal that there aren't sufficiently high-returning investment opportunities within the business.
"If these guys can't figure out how to invest in their own company instead of just giving it to someone who doesn't want to own the stock, then we should give the company to someone who knows how to run it," Bove said.
Corbat is already behind his own schedule. In March 2013, he set a target of getting Citigroup's return on tangible equity to at least 10% within two years. After the company failed to meet the target in 2015, investors registered their dismay; at an annual investor meeting in April, about 36% of shares were voted against Corbat's $16.5 million pay package.
CLSA's Mayo said Citigroup should take swifter action to match its peers, such as accelerating asset sales to produce taxable gains that could be set against the tax credits. And while the bank has agreed in the past month to sell at least $4.7 billion of assets, including consumer-banking businesses in Argentina and Brazil, it could do much more, according to Mayo.
On last week's conference call, Mayo suggested that Citigroup could sell its bank in Mexico instead of proceeding with a plan announced this month to invest $1 billion in the country.
Corbat responded that he was "constructive" on Mexico's growth prospects, and in the current economic environment, "positions like that are to be treated well." The $1 billion of extra spending was needed to catch up with competitors in the areas of technology, branches and ATMs, he said.
Mark Costiglio, a Citigroup spokesman, declined to detail the expected return from the Mexican investments. Corbat wasn't available for an interview, he said.
"Citi has become a simpler, smaller, safer and stronger institution over the last four years," Costiglio said in an e-mailed statement. "The strategy we are executing is generating significant capital and remains the one that will be most accretive for our shareholders over time."
Erik Oja, an analyst at research firm CFRA, says Corbat is on the right track -- partly because the bank has few other options beyond gradually selling off its unwanted businesses and running down the DTAs.
And while the stock's trading valuation is "disappointingly low," it does offer a buying opportunity.
Even so, "it's going to take a few years" to get to a 10% return on equity, Oja said. "It's really a long-term goal."
How long is the question.