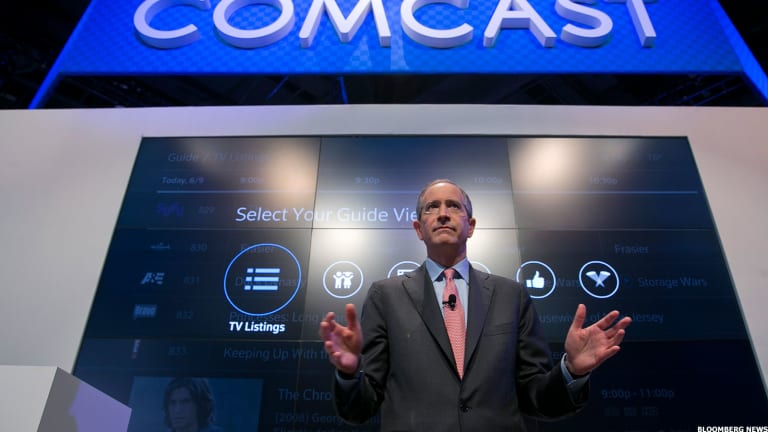 Verizon Should Sell Itself for $215 Billion to This Media Giant, Citigroup Thinks
Verizon a seller?
Citigroup on Wednesday suggested a deal that could potentially be worth up to $215 billion and would most certainly turn heads. 
The firm argued that Comcast (CMCSA) - Get Comcast Corporation Class A Report should purchase Verizon Communications (VZ) - Get Verizon Communications Inc. Report , effectively helping the wireless carrier expand its Internet connectivity outside of homes.
Another advantage to the deal would be that both cable and wireless companies will need to advance fiber further into neighborhoods. As a combined firm, this investment would need to be made only once, not twice. 
Citi analyst Jason Bazinet estimated that Comcast would pay roughly a 20% premium to Verizon's share price, $43.98 at the end of Tuesday's session.
AT&T, Verizon to Report on the Wireless Industry's Q2 Pain
Additionally, with Verizon shares plunging over 17% this year, Comcast now has a bigger market value. Verizon's market value was $179 billion as of Tuesday's close; as a result, a 20% premium would place the deal's value at $215 billion.
"It's a call Comcast should make...and Verizon should take," wrote Bazinet in the note. He added that the regulatory climate might be more sympatheitc under the current administration to large combinations.
Bazinet estimates the deal would generate $2.1B of annual synergies, and be neutral to positive for Comcast's stock.

Watch More with TheStreet:
Sorry Zuckerberg, Elon Musk Still Thinks Artificial Intelligence Is a Huge Problem
Gold Will Make a Comeback; Dollar Rally is Over - Peter Schiff
How Birchbox Took on Macy's, J.C. Penney and the $500 Billion Beauty Counter