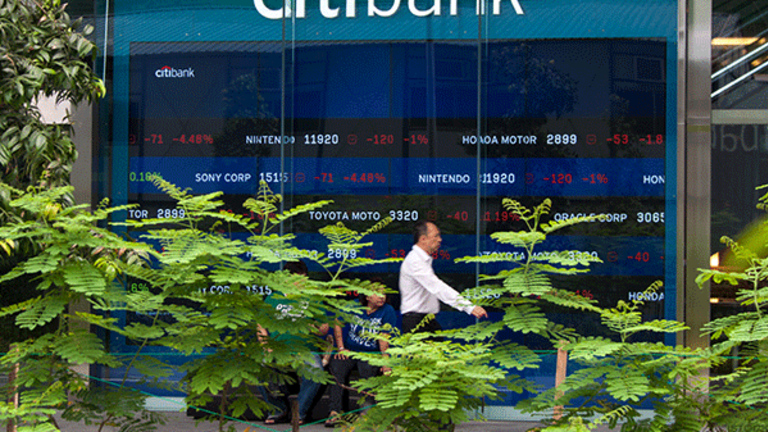 Citi Bids Farewell to a 'Bad Bank' Once Valued at $888 Billion
Citi Holdings -- the megabanks' last separately run bad asset unit -- is now profitable. So when's the next bailout?
Citi Holdings -- the megabanks' last separately run bad asset unit -- is now profitable. So when's the next bailout?
It's the end of an era in the U.S. banking industry -- at least until the next financial crisis. 
The last of the "bad bank" divisions that companies like Citigroup (C) - Get Report  and Bank of America (BAC) - Get Report   created during the financial crisis to report earnings separately from the rest of the firm will stop doing so in the New Year.
Citi Holdings was created in 2009 as the financial crisis came to a head and once carried as much as $888 billion of New York-based Citigroup's assets. Used to divest non-core holdings like One Main and the bank's hedge fund business, it now has just $61 billion in assets.
"We've been through Dodd Frank, very heavy regulations and oversight," said Marty Mosby of Vining Sparks. "We've already gone through all the divestitures. All the larger banks have retreated back into core business."
Bank of America stopped report separate results for its so-called legacy holdings in 2015.
Citi Holdings is still shedding some of what it owns, and will continue to do so following the change in reporting methods. Much of what remains in the division is mortgage assets, a source said.
What's interesting, though, is that the once battered division has become profitable.
The period from July through September marked the ninth straight quarter that the unit posted positive results, CEO Mike Corbat said during an earnings call in October. The division's assets account for just 3% of the company's total balance sheet, he added, and are down by nearly half from just a year ago.
Corbat ran the Citi Holdings unit before succeeding Vikram Pandit as CEO of Citigroup.
Of course, the fact that Citi Holdings had to be created in the first place reflected the bank's bad decision-making before the subprime mortgage meltdown in the mid- to late 2000s. Citi and Bank of America each eventually accepted government bailouts of $45 billion.
And that wasn't the first time that Citi experienced problems requiring taxpayer help. During the Latin American debt crisis in the 1980s, Citigroup and other banks' loans to companies in the region that then defaulted required the Treasury to help offload those liabilities through so-called Brady Bonds, named after then-Treasury Secretary Nicholas Brady.
While Citi didn't receive a bailout during the Great Depression of the 1930s, its precursor, National City Bank, dumped bad assets on unsuspecting investors, which helped lead to the enactment of the Glass-Steagall Act separating investment and commercial banking. 
Ironically, yet another former Citi CEO, Sandy Weill, was instrumental in convincing the Clinton administration to do away with Glass-Steagall in 1999, though the law had ceased during the previous decade to be an effective bar to the mixing of the two types of banking, thanks to loopholes that the industry had convinced regulators to add.
Citi's asset sales through Citi Holdings included its 93.5% stake in Japanese telemarketer Bellsystem24 Inc., bought by Bain Capital in 2009 for ¥93.5 billion ($1 billion), the largest buyout by a foreign private equity firm in Japan in almost two years.
Just a few months later, in April 2010, Citigroup agreed to sell its hedge fund business to SkyBridge Capital for an undisclosed sum, and in 2012, it sold a stake in the Indian mortgage lender Housing Development Finance Corp. for $1.9 billion. 
In June 2014, Citi agreed to sell its consumer-banking business in Greece, as well as its Diners Club of Greece credit card unit, to Alpha Bank. The deal included 480,000 customers, $1.4 billion in deposits and $540 million in card and loan accounts.
And while there are still a few divestitures to come for Citi Holdings, the bank is clearly in much better shape than it was in the wake of the financial crisis.
"We continue to like [Citi], given its immensely improved regulatory standing," Jack Mohr, chief investment strategist for Action Alerts PLUS, which holds Citi and is co-managed by TheStreet's Jim Cramer, said in a recent note to clients. "The bank stands to benefit greatly by the improved macro and even more from deregulation, should that occur."
Citigroup representatives declined further comment than what has been made public on Citi Holdings.
Citi, which has a market value of $164.71 billion, has climbed 16% this year to $59.97, outpacing the broader S&P 500.