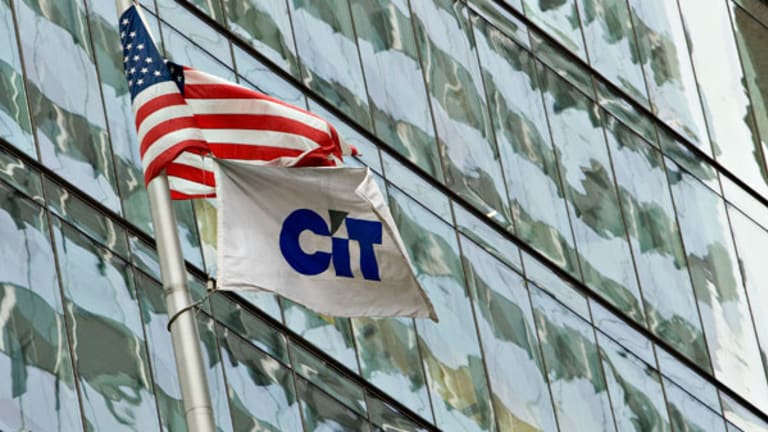 CIT Group Ups Risk, Eyes $1.6B Tax Gain
The lender gets an upgrade, but admits it is making riskier loans.
NEW YORK (
) --
CIT Group
(CIT)
is increasingly making riskier loans as it looks to capture a $1.6 billion tax benefit.
The New York-based lender to mid-sized businesses reported a first-quarter profit of $163 million or 81 cents per share Tuesday, missing consensus estimates of 86 cents per share vs. a loss of $2.13 a year ago. Shares fell 1.38% to close at $40.88. They rebounded on Wednesday, however, and were up by 1.59% to $41.53 in early trading. BTIG analyst Mark Palmer attributed the miss to higher expenses, among other factors, in a report published Tuesday.
CIT, which filed for bankruptcy in late 2009 and reemerged under former
NYSE Euronext
(NYX)
and Merrill Lynch chief John Thain, has been working to improve its funding costs and appealing to regulators to allow it to return capital to shareholders.
Also see: Discover Keeps Cooking With 27% Return on Equity >>
Despite the earnings miss on Tuesday, CIT got praise from Palmer and Oppenheimer's Chris Kotowski, who on Wednesday upgraded the shares to outperform from neutral while setting a $54 price target.
Kotowski sees CIT maintaining steady profitability, which he believes ought to allow it to recapture a $1.6 billion deferred tax asset by the end of 2014. That would add $8 per share to CIT's tangible book value of $40.35, Kotowski wrote in his upgrade note. Kotowski added management "did not offer a time frame," for the recapture on Tuesday's conference call.
Kotowski also believes "it is reasonable to expect some kind of return of capital, and most likely a share buy-back, by 2014."
BTIG's Palmer, however, stated in a note on Wednesday that regulators may be cautious about allowing a capital return while CIT remains subject to a constrictive "written agreement" with the Federal Reserve.
Also see: Jon Corzine Sued By MF Global Bankruptcy Trustee >>
"While Thain had said during CIT's 4Q12 conference call that it would be possible for the Fed to approve the company's plan for capital return with the Written Agreement still in place, many investors with whom we have spoken have expressed skepticism about the Fed's willingness to demonstrate that degree of flexibility," Palmer wrote.
Palmer nonetheless maintained his "buy" rating and $45 price target. He stated in Tuesday's note he was encouraged by the continued reduction of high cost debt and increased gathering of lower-cost deposits.
Despite these positive signs, CIT CFO Scott Parker acknowledged in response to a question from analyst Sameer Gokhale of Janney Capital that the company has increasingly provided financing for so-called "dividend recap" deals. Those are deals in which private equity firms borrow money to pay themselves a dividend, rather than reinvesting in the business. This is perceived as risky because it increases debt without adding anything that might contribute to future profits.
Gokhale appeared to express surprise and a bit of confusion about the issue.
"But wait. Are you playing in the dividend recaps or not? Because my impression was that historically, you have not done as much in the dividend recap activity, just because that tends to be riskier," Gokhale said.
Parker acknowledged that CIT was financing such deals, though he said "it's not one of our core focuses."
--
Written by Dan Freed in New York
.
Disclosure: TheStreet's editorial policy prohibits staff editors, reporters and analysts from holding positions in any individual stocks.