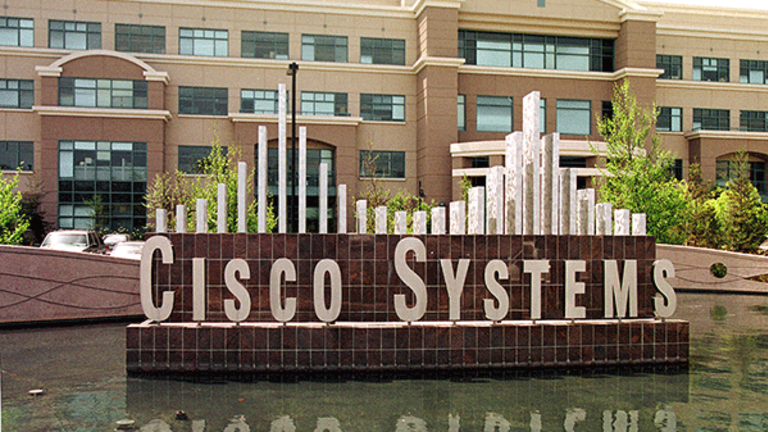 Publish date:
Cisco Systems Could Thrive From Recent Acquisition, Trump Tax Plan
A proposed tax holiday could spark more acquisitions by the tech giant and a dividend hike, too.
A proposed tax holiday could spark more acquisitions by the tech giant and a dividend hike, too.
(This article has been updated to include charts from technical analyst Bruce Kamich of Real Money, our sister site for active traders.)
"Tax holiday." It's a phrase you'll hear from plenty of tech-sector leaders these days. And with good reason: America's tech industry has some $650 billion in cash sitting in overseas bank accounts, according to the Financial Times.
Just five companies -- Apple AAPL, Microsoft (MSFT) - Get Microsoft Corporation (MSFT) Report , Alphabet (GOOG) - Get Alphabet Inc. Class C Report , (GOOGL) - Get Alphabet Inc. Class A Report , Oracle (ORCL) - Get Oracle Corporation Report and Cisco Systems (CSCO) - Get Cisco Systems, Inc. Report -- account for the bulk of that stash: roughly $505 billion between them, according to a December report from Moody's. (CSCO, AAPL and GOOGL are all holdings of Jim Cramer's Action Alerts PLUS Charitable Trust Portfolio. See how Cramer rates these stock here.)
Silicon Valley, therefore, has much to gain if President Trump follows through on his pledge to let companies bring their buckets of cash home at a one-time tax rate of 10%, compared to the 35% they'd pay now.
Cisco, for one, has made no secret of the fact that it's onboard. Here's what executive vice-president and CFO Kelly Kramer had to say when asked about repatriation on the company's Nov. 16 post-earnings conference call: "We have talked about tax reform for a very long time, and I can say that what's encouraging is with the incoming administration, this is one of their top priorities that they said they're going to prioritize in their first 100 days, so we're encouraged that something will happen now."
It's easy to see why: when its fiscal 2017 first-quarter ended on Oct. 29, 2016, the networking giant held $71 billion in cash and cash equivalents -- but just $10.4 billion of that was in the United States.
In December, CEO Chuck Robbins told CNBC that if a tax holiday comes to pass, Cisco investors would benefit via dividends and share buybacks, while the company accelerated its M&A drive.
Meanwhile, Cisco isn't waiting for Trump to make his tax plans known. Last week, it announced that it would buy AppDynamics, whose software monitors how users interact with companies' apps and delivers that data in real time, so they can make fixes in progress.
The price tag: $3.7 billion. The deal is expected to close in Cisco's fiscal 2017 third quarter, which ends April 30.
The move took AppDynamics off the market on the eve of its IPO, which had valued it at around $1.9 billion-so Cisco is paying a healthy premium.
For Cisco, the move means a larger presence in business-analytics software, a market that's forecast to grow at an 11.7% compound annual rate through 2020, according to October numbers from tech-research firm IDC.
That growth is reflected in AppDynamics' revenue, which was up 54% in the nine months ended Oct. 31, 2016, from the same period a year earlier. The company has just under 2,000 clients on its roster.
AppDynamics lost $95.1 million, in the latest nine months, up slightly from $92.4 million. But the deal will let it tap Cisco's massive R&D resources (Cisco spent $6.3 billion on research last year, or about 13% of its revenue). AppDynamics also helps Cisco diversify away from its core hardware business.
In addition, Cisco is an AppDynamics client, so management knows what it's buying.
Meantime, Cisco offers a dividend yield of 3.4% today, above the S&P 500average of 2.1%. The payout's also growing rapidly: Since the company started paying dividends in 2011, it has hiked its quarterly dividend by 333%.
The stock's forward price-to-earnings ratio stands at 14.3, a discount to its industry, at 17.9, and the analyst community sees further upside ahead: The average price 12-month price target stands at $33.11, about 7.6% above current levels.
Technical analyst Bruce Kamich of Real Money, our premium site for active traders, adds that CSCO's daily chart looks bullish. For example, he notes that Cisco successfully tested its rising 200-day moving average line (denoted in blue below) last June and December, and then again in January:
Kamich says that and other factors "show that an upside resolution is in progress and that a breakout could come soon." Click here to read his full analysis.
So if you're looking for a blue chip tech stock to add to your portfolio, consider Cisco. You'll enjoy a healthy dividend now, and long-term gain potential as it expands its software offerings in areas like analytics and cybersecurity.
---
Cisco Systems is a good stock to buy for the long haul. But if you're hunting for quicker gains, we've found a genius trader who turned $50,000 into $5 million using a strategy he spent years perfecting. For a limited time, he's guaranteeing you $67,548 per year in profitable trades if you follow his simple step-by-step process. Go right here to get full details now.
The author is an independent contributor who at the time of publication owned none of the stocks mentioned.