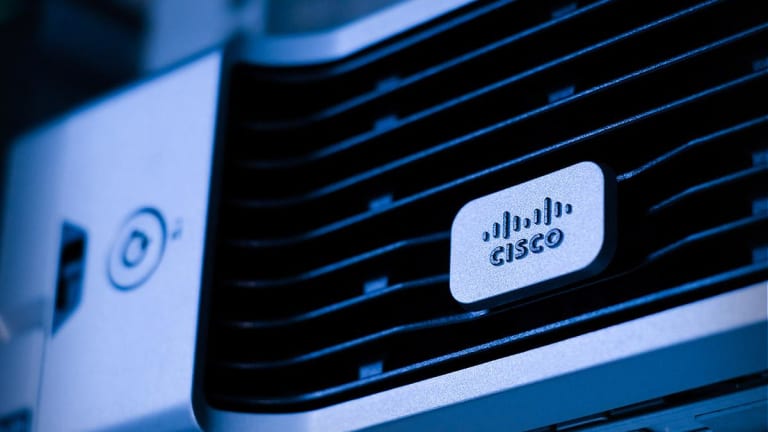 Cisco Shares Look Cheap After Their Selloff
Cisco shares fell nearly 8% in response to disappointing Q2 guidance. However, I believe that this selloff gives long-term investors a chance to buy shares at a discount.
Cisco (CSCO) - Get Report reported its Q1 earnings after the bell on Wednesday and while the numbers beat on both the top and bottom lines, shares sold off in response to the report due to negative Q2 guidance. The guidance that Cisco gave during its prior quarter sparked a selloff as well.
These negative outlooks are becoming a theme for this company as management continues to highlight macro problems that had led to decreased business and CEO confidence which put pressure on enterprise spend. Investors are fearful of secular pressures leading to a prolonged growth slump for Cisco. This is why the stock is being priced so cheaply.
However, when I look at the underlying fundamentals, I don't see a disaster here. To me, Cisco shares are being priced irrationally low, giving long-term investors a great chance to pick up shares of a blue chip technology name while it's in the bargain bin.
Q1 Results
Cisco's Q1 revenue came in at $13.2 billion, up 2% year-over-year. The company's non-GAAP earnings-per-share came in at $0.84, up 12% year-over-year. For a mature name like Cisco, double digit bottom-line growth is great. But, whether it is completely rational or not, the market places outsized focus on forward growth prospects, which is why the Q2 guidance was the star of the Q1 report.
Cisco guided for year over year revenues declines of 3-5% in Q2. And, they lowered their non-GAAP earnings-per-share guidance range to $0.75-$0.77. At the mid-point of this earnings guidance, Cisco would generate year-over-year bottom-line growth of 4.1%.
During the conference call, management seemed to compound the negative sentiment surrounding the Q2 guidance. Rather than turn the narrative towards the strong margins that the company continues to generate (implying that market share is not being lost) or the fact that Cisco is still on track to meet, and even exceed, its prior guidance regarding its continued transition away from legacy hardware and into the software space, throughout the Q&A session much of the focus was on slowing enterprise spend. 
Cisco's non-GAAP total gross margin came in at 65.9% in Q1, up from 64.2% during the same quarter one year ago.
The company continues to believe that software sales will make up roughly 30% of its total revenue pie by the end of fiscal 2020, with upwards of 70% of those sales coming in the form of high margin, reoccurring SaaS based subscriptions.
In recent years, the market has shown a penchant for paying high premiums for companies adopting this more predictable and reliable reoccurring sales model. However, when CEO Chuck Robbins says things like, "We saw some large deals get done but got done smaller," or "And then we just saw deals that slipped, and so we saw little bit of all that," there's no wonder the narrative was negatively skewed.
Granted, I don't want to be too hard on Robbins because he is the architect of Cisco's turnaround towards growth and growth markets. I continue to be bullish on the direction the company is headed. Management appears appears to be bullish too, I just wish they had done a better job of portraying that sentiment during the Q&A session of the conference call.
This morning, Robbins came on air for a CNBC exclusive interview with Jim Cramer and tried to change the narrative.
While noting that it would be impossible to model progress with regard to macro concerns until the outlook on trade is more clear, the did highlighted the fact that Cisco was controlling what it could control in the face of macro headwinds with regard to things like margins.
With regard to the cautious stance of CEOs regarding their capital, Robbins said that Cisco's technology "is fundamental to how they're running their organizations" and "there is only so long that they can actually pause."
Robbins concluded the interview by saying, "Quarters come and go and we're not too worried about it."
At this point, the selloff had already begun and it was probably too late to stave off much of the negative sentiment in the short-term, but I think Robbins is right here and investors who can't see the forest for the trees are running the risk of missing out on a great deal. 
Valuation
While it's true that the $0.76 mid-point EPS guidance was below analyst consensus, I find it curious that the stock sold off to 52-week lows on the news. At Thursday's $44.70 share price, Wall Street has slapped a 13.5x forward multiple on shares (based upon the current analyst estimate of $3.31 for full-year 2020 earnings). This is down significantly from the nearly 19x multiple that investors proved willing to pay for Cisco earlier in 2019. It's also below Cisco's 5-year average trailing twelve-month price-to-earnings multiple of 14.1x.
In spite of the top-line weakness, Cisco remains incredibly profitable. During the quarter, non-GAAP operating income totaled $4.4 billion, up 6% year-over-year. Cash flow from operations came in at $3.6b. This was down 5% year-over-year, though the figure includes a $0.4 billion receipt with relation to the Arista (ANET) - Get Report litigation settlement. Normalized with this one-time item in mind, cash flows from operations would have been up 7% year-over-year.
Cisco ended the quarter with $28 billion dollar's worth on cash on the balance sheet. This affords the company continued flexibility in the M&A space and signals more shareholder returns. During Q1, Cisco paid $1.5 billion to shareholders in dividends and returned $768 million in the form of stock buybacks (at an average share price of $48.91). The company has $12.7 billion remaining on its current buyback authorization and I expect to see the company continue to retire shares into this share price weakness.
In today's low interest rate environment, a company like Cisco, offering a 3.1% dividend yield, mid-single-digit earnings growth, and mid to high single-digit dividend growth prospects remains exceedingly attractive.
With the market near all-time highs, it's difficult to find blue chip equities trading with attractive multiples attached to them. Cisco certainly fits this bill. And, due to the company's generous shareholder return policies, investors buying into weakness will be paid handsomely while they wait for the stock to rebound. Cisco remains one of my favorite technology names in today's market. It's a defensive pick in a late-cycle market environment that I feel comfortable holding over the long-term.
Cisco is a holding in Jim Cramer'sAction Alerts PLUS Charitable Trust Portfolio. Want to be alerted before Cramer buys or sells CSCO? Learn more now.
Nicholas Ward is long CSCO.