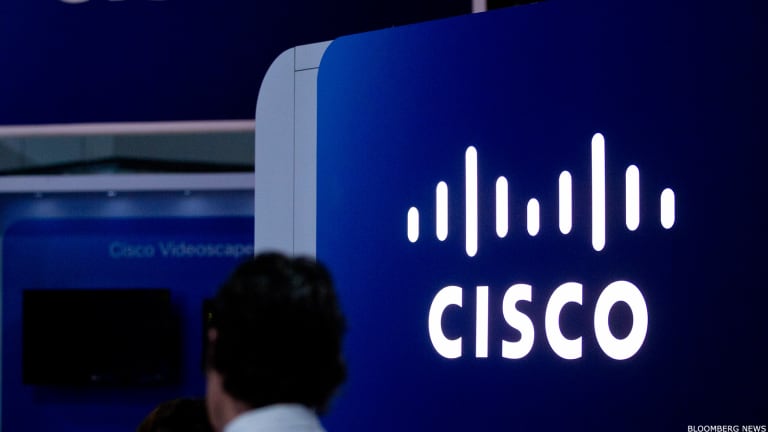 Publish date:
Cisco's Modest Earnings Beat: What Wall Street's Saying
Here's what analysts are saying about Cisco's earnings report.
Here's what analysts are saying about Cisco's earnings report.
Cisco Systems (CSCO) - Get Cisco Systems, Inc. Reportbeat both earnings and revenue estimates on Wednesday after the close, but investors weren't that impressed. 
Shares of the networking giant were slumping more than 4% to $44.18 in early morning trading on Thursday. 
The company reported earnings per share of $0.66 vs. estimates of $0.65, and $12.46 billion in revenue compared to estimates of $12.43 billion. Since the beginning of the year, the stock has increased 13.3%.
Here is what analysts had to say about Cisco's fiscal third-quarter results:
Daniel Ives, GBH Insights (Attractive, Price target at $51)
"While the macro environment remains a bit uneven especially on 'large ticket' traditional networking deals, we are seeing the combination of better execution this quarter, newer product initiatives on cloud/security/IoT, and the focus on recurring revenue translating into a modestly improved selling environment for Cisco in the field and an expanding pipeline heading into the rest of FY18/early FY19."
Vijay Bhagavath, Deutsche Bank (Buy, Price target at $55)
"While bearish investors are likely to point to (and arguably so) lack of near-term catalysts to push up consensus earnings estimates, given the inline July Quarter outlook and a stock that seems reasonably valued - prima facie - on EPS (CSCO trading at ~13x P/E on our $3.25 FY20 EPS view), we recommend clients with a 1-2+ year performance time frame to Buy the near-term weakness in the stock."
Samik Chatterjee, JP Morgan (Overweight, Price target increased to $58)
"Not only were all the headline financial metrics stronger than expected, Cisco also demonstrated strong execution against its broader strategy of transitioning towards software and subscription revenues ... Despite strong adoption by customers of the refreshed switches, there still remains massive runway for growth with an installed base of 840,000 customers for Catalyst 9K switches ... Moving on from positives on revenue growth, we believe there is more to Cisco than meets the eye relative to its ability to leverage revenue growth for profits after operating income increased only +1.7% in F3Q18 vs. revenue growth of +4.4%. However, we estimate but for the higher memory prices and impact of deferred revenue on Catalyst 9K switches, operating income would have otherwise risen by +4.7%."
Sami Badri, Credit Suisse (Neutral, Price target at $41)
"Management mentioned that adoption of the CAT-9K Switch, which requires the purchase of a software subscription of 3- to 7-year terms, remains strong with over 5,800 customers; up from 3,100 in the prior quarter (we note that the CAT-9K is the fastest ramping new product in CSCO's history). Rev. from subscriptions comprised ~55% of software rev. and total recurring rev. was ~32% of CSCO's overall rev., an increase of ~200bp from a year ago. However, the transition towards recurring rev. is moving slightly slower than we expected (given our F3Q18 estimate of recurring revenues was ~34% of total revenues)."
Simon Leopold, Raymond James (Outperform, Price target at $50)
"After hours, shares were down 3-4%, which we attribute to pre-report optimism, margin pressure and some slowing metrics. Our thesis is intact, and headwinds will eventually turn into tailwinds when the memory market rebalances and deferred revenue comes off the balance sheet. The 9K switching cycle has brought the largest product group back to y/y growth. We continue to see evidence of the pivot towards more recurring and higher software revenues, which creates a sales headwind but provides a margin tailwind. Cisco remains committed to returning capital to shareholders and bought back $6 billion within its $31 billion commitment."
Ittai Kidron, Oppenheimer (Outperform, Price target at $50)
"Cisco reported solid Apr.-quarter results and provided in-line (solid revenue and EPS with higher opex) guidance. Every region exhibited YoY order growth for only the second time since FY3Q16, while order growth was positive in all verticals (with robust enterprise growth), with the exception of service provider (weighed down by routing). Strong momentum for new solutions (Catalyst 9K, HyperFlex, AppD) keeps us positive on Cisco's competitive positioning in key core markets although weakness in enterprise routing is something to watch. Overall, we believe recent themes are unchanged, as Cisco continues to transition to a recurring/software-driven business model. Buyback plan (~$25B/11.5% of market cap) and dividend yield (2.9%) provide support and help limit downside."
James Faucette, Morgan Stanley (Overweight, Price target at $50)
"Software strength coming to the forefront, and will drive a "stronger for longer" Cisco. Management reported strong Q3 results and spoke to a generally positive outlook that was mostly in-line with expectations. Some headwinds continue to linger, including service provider weakness and DRAM pricing, but the earnings call offered ample evidence that Cisco's software strategy is progressing well. The subscription attach rate to the Cat9K remains consistent and security revenues outperformed on strength across its portfolio (as we had seen in our channel checks). As Cisco continues to gain traction with its traffic visibility, analytics and automation capabilities, we think software will help stabilize equipment replacement cycles, and its benefits will become increasingly apparent as the current Cat9K cycle plays out."