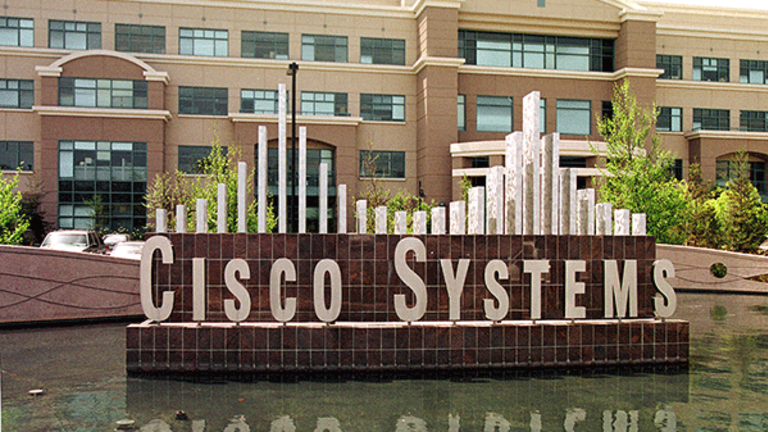 Cisco's Explanations for Its Soft Guidance Only Go So Far
The company's hardware pressures are more than offsetting its software growth, and are only partly due to short-term issues. More acquisitions could be on the way.
Following Wednesday afternoon's quarterly earnings release, shares of Cisco Systems (CSCO) - Get Cisco Systems, Inc. Report were down about 5% after hours due to the soft July quarter (fiscal fourth quarter) guidance the company provided with its April quarter beat. But shares finished after-hours trading down 7.7%, wiping out a large chunk of their 2017 gains, and remained at about that level in pre-market trading on Thursday.
The commentary that CEO Chuck Robbins and CFO Kelly Kramer provided about product order trends may have had something to do with the additional losses. But it also didn't help that markets weren't appeased by the various explanations that Cisco provided for a weak outlook that comes amid stiff competitive and/or secular pressures for a number of hardware businesses.
Cisco reported April quarter revenue of $11.94 billion (down 1% annually) and adjusted EPS of $0.60 (up 5%), beating consensus analyst estimates of $11.9 billion and $0.58. But the networking giant guided for July quarter revenue to be down 4% to 6% annually, and for EPS to be in a range of a $0.60 to $0.62. That compares with a consensus for a 1% sales decline and EPS of $0.62.
The company also disclosed that it just added 1,100 job cuts to its August 2016 restructuring plan, which initially featured 5,500 job cuts. $150 million in pre-tax charges are expected for the new layoffs.
A continued sales mix shift toward software subscriptions and other recurring revenue streams is weighing on Cisco's growth rates, by moving revenue from the top line to a deferred revenue balance that rose 13% last quarter to $17.3 billion. But with Cisco indicating that this mix shift had about a 200 basis-point impact on sales growth last quarter, its guidance appears to still imply a 2% to 4% sales decline excluding the mix shift.
Jim Cramer and the AAP team hold positions in Cisco and HP Enterprise for their Action Alerts PLUS Charitable Trust Portfolio. Want to be alerted before Cramer buys or sells CSCO or HPE? Learn more now.
The outlook comes after a slew of other companies, including IBM (IBM) - Get International Business Machines (IBM) Report, Intel (INTC) - Get Intel Corporation (INTC) Report , F5 Networks (FFIV) - Get F5 Networks, Inc. Report and Mellanox Technologies (MLNX) - Get Mellanox Technologies, Ltd. Report, reported disappointing enterprise hardware-related sales. The impact of cloud infrastructure adoption on enterprise IT spending remains a clear problem for many firms. On the server side, a pause in demand ahead of a mid-summer Intel Xeon CPU refresh also seems to be weighing.
Cisco's product orders fell 4% in fiscal Q3, after being flat in the January quarter. A 10% drop in service provider orders, following a temporary rebound in demand, was a culprit. The company reported seeing a sharp drop in Mexican service provider orders, and a modest drop in U.S. orders, with some clients much stronger than others. It also pointed out that Chinese service provider orders face tough comps, due to big year-ago deals, and that emerging markets headwinds generally intensified.
Also weighing were 2% and 4% declines seen in enterprise and public sector orders, respectively. Robbins noted U.S. federal demand fell sharply, something he blamed on a "lack of budget visibility." Commercial (SMB) orders rose 1%. Order pressures seen in Q3 are expected to continue in Q4.
Sluggish capital spending from carriers seeing little or no revenue growth has been hurting service provider sales for a while. So has competition from Huawei and ZTE's aggressively-priced offerings in emerging markets. On the call, Robbins called Huawei "a very strong competitor," but added he doesn't think competition "has increased significantly in the emerging countries." Juniper Networks (JNPR) - Get Juniper Networks, Inc. (JNPR) Report could also be an issue: Whereas Cisco's routing revenue, which depends heavily on carriers, fell 2% last quarter to $2.03 billion, Juniper's routing revenue grew 4% to $521.6 million.
The mainstay switching business, which still accounts for 29% of total revenue and 39% of product revenue, grew 2% in Q3 to $3.49 billion, after dropping 6% in Q2. But with Kramer stating switching sales trends remain "very fluid," there's a good chance that sales will drop again in Q4, given Cisco's revenue guidance. Cloud adoption and competition from HP Enterprise (HPE) - Get Hewlett Packard Enterprise Co. (HPE) Report, Huawei and Arista Networks (ANET) - Get Arista Networks, Inc. Report have been issues. Growing adoption of VMware's (VMW) - Get VMware, Inc. Class A ReportNSX software-defined networking (SDN) platform, which makes it easier to deploy commodity switches, might also now be rearing its head.
Data center (UCS server) revenue fell 5% to $767 million; Cisco blames an industry shift from from blade servers to rack servers. Collaboration revenue, which covers things like videoconferencing hardware and unified communications and messaging software, fell 4% to $1.02 billion. But Cisco added its collaboration deferred revenue balance rose 10%, aided by demand for its subscription-based WebEx online meeting software.
Wireless sales were a bright spot, with revenue rising 13% to $703 million. Cisco's Meraki unit, which provides Wi-Fi access points and Ethernet switches that can be managed via cloud software, was said to be performing well. Security revenue grew 9% to $527 million, with the deferred revenue balance rising 39%. And "Other" revenue, which covers things like cloud-based IoT services, grew 57% to $138 million.
Solid financial execution helped Cisco's EPS rise 5% last quarter in spite of a 1% revenue drop: Adjusted operating expenses fell 9% to $3.8 billion, with sizable drops in both R&D and SG&A spend. Gross margin of 64.4% was nearly flat, and above guidance of 63% to 64%; Q4 GM guidance is also at 63% to 64%. EPS also benefited a little from $500 million worth of buybacks.
And between its various networking, collaboration, security, data center and IoT software and service offerings, Cisco is making good progress towards cutting its hardware dependence. Product deferred revenue balance for recurring software and subscriptions grew 57% to $4.4 billion (51% excluding the $3.7 billion AppDynamics acquisition), and has more than doubled over the last eight quarters. Between the 10% of product revenue and the 90% of service revenue that's recurring, 31% of total revenue now comes from recurring streams, up from 29% a year ago.
But as Cisco's guidance shows, more progress is needed to offset hardware pressures that don't merely stem from things like macro pressures and a U.S. federal spending pause. Robbins hinted on the call that Cisco is up for making more acquisitions to better address security and software opportunities. His company's latest numbers bolster the case for doing so.