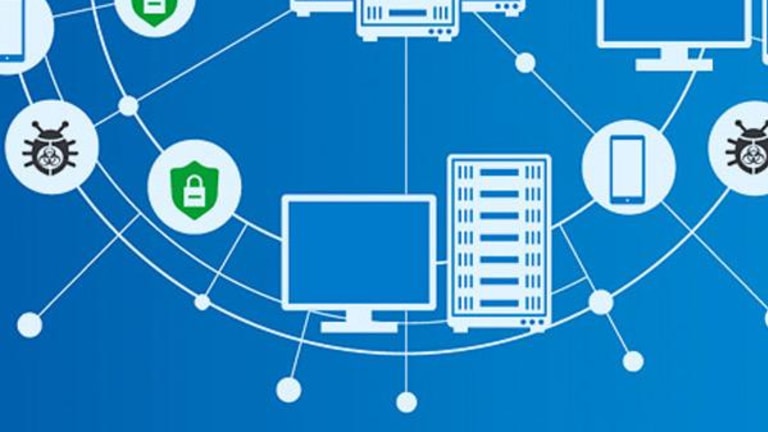 Cisco's Quarter Features a Mix of Troubling and Encouraging Numbers
Cloud-related pressures and stiff competition are weighing on Cisco's hardware sales. But software trends remain healthy.
In a market where large-cap tech multiples have been steadily rising, how does one look at a company that trades at just 12 times forward earnings after backing out net cash, maintains strong positions in several multi-billion dollar markets and is smartly upping its exposure to growth areas -- yet also faces major secular challenges that aren't going away?
It's not an easy question to answer, and how one answers it determines how one looks at a Cisco Systems Inc. (CSCO) - Get Cisco Systems, Inc. Report  earnings report and conference call that won't make many bears change their minds, but also gave bulls one or two reasons to think the situation can improve a bit.
Cisco reported July quarter (fiscal fourth-quarter) revenue of $12.13 billion (down 4% annually) and adjusted EPS of $0.61 (down 3%). EPS was in line, while revenue slightly beat a $12.07 billion analyst consensus.
October quarter guidance was also generally in line: Revenue is expected to be down 1% to 3% annually versus a consensus for a 2% drop, and EPS guidance of $0.59 to $0.61 compared with a $0.60 consensus.
On the bright side, Cisco reported that its closely watched product orders were flat last quarter, an improvement from the April quarter's 4% drop. Worth remembering: Both revenue and order growth are getting a small boost from recent acquisitions, especially Cisco's $3.7 billion early-2017 purchase of app performance monitoring software firm AppDynamics.
Shares closed after-hours trading down 2.5% to $31.53. They're a little more than $2 below where they traded before Cisco provided disappointing guidance in May, but still up 5% on the year.
Likely worrying investors: Cisco's switching revenue (still over a third of product revenue) fell 9% annually to $3.44 billion, missing a $3.56 billion consensus. That makes for quite the contrast with rivals Juniper Networks Inc. (JNPR) - Get Juniper Networks, Inc. Report  and Arista Networks Inc. (ANET) - Get Arista Networks, Inc. Report , each of which have seen strong data center switch demand from cloud giants. Juniper's switching revenue rose 32% in Q2 to $276 million; Arista's product revenue rose 50% to $353.9 million.
Cisco mostly blamed its switching weakness on soft demand for the campus switches used to wire office buildings -- HP Enterprise Inc.  (HPE) - Get Hewlett Packard Enterprise Co. Report and Huawei have been providing stiff competition here -- ahead of the June launch of its Catalyst 9000 switch line. But it also admitted that data center switching revenue (hardware plus software) was roughly flat.
The company promised the Catalyst 9000 line, along with the innovative subscription-based software it supports, will provide a boost going forward, but cautioned it's still "very early" in what's typically a 3-year Catalyst refresh cycle. Cloud infrastructure adoption is clearly weighing on Cisco's enterprise switch sales, and so might growing uptake for VMware Inc.'s (VMW) - Get VMware, Inc. Class A Report  NSX software-defined networking (SDN) platform, which makes it easier to deploy commodity switches in a data center.
CEO Chuck Robbins was eager to talk about a recent deal with Microsoft Corp. (MSFT) - Get Microsoft Corporation Report  that will let the software giant run its Linux-based SONiC switch OS on Cisco switches within its data centers -- rivals such as Arista and Dell already supported SONiC -- and insists Cisco continues to "make good traction" with cloud giants. But given recent sales trends, this feels like a wait-and-see story. "Successful enterprise technology providers, for the most part, are all experiencing the same challenge: How to add 'cloud-native' revenue at a faster pace than declining 'traditional enterprise' revenue," points out tech analyst Patrick Moorhead.
Here's One of the Biggest Questions Ever on Apple's TV Plans
Routing product revenue was also pressured, dropping 9% to $1.89 billion. Weak demand for enterprise access routers was blamed -- Cisco says there was a "spending pause" related to its recent $610 million deal to buy SD-WAN software vendor Viptela. But with Cisco's service provider product orders (they depend a lot on router sales) down 7%, it looks like soft carrier demand, partly a product of weak capital spending, is also still weighing. Juniper, it should be noted, saw its routing revenue drop less than 1% in Q2 to $572.5 million, with cloud demand helping offset carrier weakness.
Due to lower demand for "legacy" firewall hardware, Cisco's security product revenue (a growth priority lately) only rose 3% to $558 million, after having grown 9% in the April quarter. But things look better when one remembers Cisco's security orders still grew at a double-digit clip thanks to software and service subscriptions that drove a 49% increase in the business' deferred revenue. Over 7,600 customers were added for Cisco's subscription-based AMP malware-protection platform, raising the total count to more than 42,000.
And Cisco's report and call featured several other encouraging datapoints regarding software growth. Cisco's product deferred revenue balance for software and subscriptions (boosted a bit by AppDynamics) grew 50% annually to over $5 billion, and helped its total deferred revenue balance grow 12% to $18.5 billion. The company also disclosed it now has over 20,000 clients for the various networking software products sold under its Cisco ONE label, that its ACI data center switch and SDN software portfolio saw 38% growth and that a "large majority" of early Catalyst 9000 adopters are buying "the most advanced subscription offer" available for it. 11% of product revenue now comes from recurring streams, and that number is bound to rise in the coming quarters.
And while Cisco's collaboration product revenue fell 3% due to soft demand for endpoint devices such as office phones, the segment's total billed and unbilled deferred revenue grew 16%. Likewise, the company's "Other" revenue, which appears to include the cloud-based Jasper IoT management platform, grew 31% to $161 million.
Financially, Cisco is executing reasonably well. Gross margin did drop 90 basis points annually to 63.7% -- Cisco blamed high memory prices, lower sales and a "slight uptick" in price pressure -- and is only forecast to be in a range of 63% to 64% this quarter. But a 7% drop in operating expenses to $3.9 billion propped up EPS, as did $1.2 billion in buybacks.
Overall, enough traction is being made in growth areas to think that things might look a little better for Cisco a year from now. However, for things to look a lot better, the company needs to meaningfully slow switching share losses and gain a stronger foothold with cloud giants now responsible for a big chunk of global IT hardware spend.
Such achievements are hardly out of the question, but they're also far from a given right now.
More of What's Trending on TheStreet:
50 Reasons Dying Sears Had No Choice But to Strike a Deal With the Ruthless Amazon