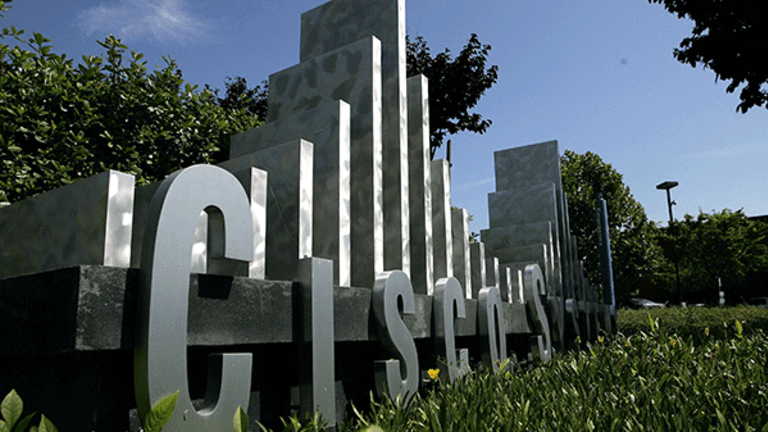 Cisco's 'Better Than Feared' Q2 Results: What Wall Street's Saying
Cisco saw declines in its legacy switching and routing businesses, but growth in other areas gave several Wall Street analysts ammunition to become bullish on the networking giant.
Cisco's (CSCO) - Get Cisco Systems, Inc. Report mixed fiscal second-quarter results initially scared investors, but a closer look shows that the networking giant is making strides in its efforts to expand into faster-growing technologies. 
After Wednesday's closing bell, Cisco reported adjusted earnings of 57 cents per share, surpassing analysts' estimates by a penny. Revenue fell 2.9% year-over-year to $11.58 billion, but still beat Wall Street's projected $11.55 billion. 
Shares of Cisco were rising 3% to $33.80 on Thursday morning. 
The revenue decline was due, in part, to continued weakness in Cisco's core switching business, which saw its revenue drop 5% year-over-year to $3.31 billion. Analysts were looking for revenue of $3.39 billion. 
Routing, Cisco's other large business unit, saw its revenue fall 10% year-over-year to $1.8 billion. 
Cisco expects revenue to keep declining in the fiscal 2017 third quarter by as much as 2% year-over-year. 
TheStreet's Jim Cramer, who owns Cisco in the Action Alerts PLUS portfolio, wrote in a recent post that the forward outlook is "virtually a non-event," however, as the expectations match consensus around the midpoint. 
Speaking on Thursday's "Mad Dash" segment on CNBC though, Cramer said Cisco is transforming itself from a hardware company to a software as a service company. The headline numbers may not suggest a strong quarter. But its software and cloud-based revenues show strong growth and act as recurring sales, he reasoned. Because of this, Cisco deserves a higher valuation going forward.
It's similar to Adobe's (ADBE) - Get Adobe Inc. Report previous situation. Adobe went from being a boring on-premise company with a low valuation, to being a cloud-based, subscription revenue story that now validates a much higher valuation. Cramer said the same thing can happen to Cisco. Oh, and don't forget about the $71 billion in overseas cash that Cisco has as well, he added.
The San Jose, CA-based company's newer pursuits, including security, collaboration and wireless all saw their revenues improve year-over-year.
Following the results, Wall Street analysts said the "slightly better" results set the stage for Cisco to see some growth in the near term. Here's what they had to say about the quarter: 
Mark Moskowitz, Barclays (Overweight, Price Target $34) 
"As for the long term, the key hurdle is whether the company can demonstrate its subscription and software focused strategy can work. Here, accelerating growth in deferred revenue is a suitable test. That was on full display in Jan-Q, and alongside strong free cash flow, should keep a balanced debate between the Bulls and Bears."
Vijay Bhagavath, Deutsche Bank (Buy, PT raised to $40 from $37) 
"Better than feared Q2 report (versus our inline to light preview call)...CSCO is fundamentally interesting - based on modest "rerating" we anticipate in FY18+, driven by "Mid Teens" growth in higher margin Software and Subscription Revenues. Plus, we highlight the repatriation optionality."
George Notter, Jefferies (Buy, PT raised to $37 from $35) 
"The year-over-year improvement in product deferred revenue growth is associated with the move to recurring/subscription models. Of course, that hinders top-line growth but adds additional visibility/predictability to the model. Recurring revenue now accounts for 31% of company sales, up from 28% a year ago."
Erik Suppiger, JMP Securities (Market Perform)
"We feel that the results reflect continued momentum in the company's upgrade cycle, which we think is enabling Cisco to compete more effectively against FireEye (FEYE) - Get FireEye, Inc. Report , and which we believe creates opportunities for other vendors, such as Palo Alto Networks (PANW) - Get Palo Alto Networks, Inc. Report ."
Alex Kurtz, Pacific Crest Securities (Overweight, PT raised to $34 from $33)
"Headwinds in the campus market persisted (two-thirds of switch revenue), dragging down overall switching revenue -5% year-over-year versus -7% year-over-year in the prior quarter; this remains a key barrier to broader reacceleration in switching. We continue to see campus as a long overdue refresh opportunity during C2017."
Kulbinder Garcha, Credit Suisse (Underperform, PT raised to $27 from $25)
"Our concern is that some of levers Cisco have had in recent quarters to offset switching decline may be running out. For example in the current quarter, 4 of 9 divisions saw a revenue decline on a year-over-year basis, with previously strong growth areas such as Datacenter again in decline."
Michael Genovese, MKM Partners (Neutral, PT raised to $35 from $31) 
"Total product orders improved to flat year-over-year, compared to down 2% in the prior quarter. The improvement was driven by Service Provider, where orders were down 1% in 2QFY17 versus down 12% in 1QFY17, and the Americas, which saw orders up 4% versus down 4% in the prior quarter."
Tim Long, BMO Capital Markets (Outperform, PT raised to $37 from $33) 
"The company is spending $3.7 billion to purchase App Dynamics, furthering the push into the application intelligence space while increasing the percentage of revenues that are recurring. If there is a repatriation holiday, we expect CSCO to be aggressive on acquisitions and buyback, and potentially dividend, which was just increased by 12%."
Jeffrey Kvaal, Nomura (Neutral, $30 PT)
"Cisco's results, guidance, and dividend increase were all in line with consensus. This is a positive, as we believe even bullish investors had steeled for a negative revision."
Ittai Kidron, Oppenheimer (Outperform, $36 PT) 
"Execution remains solid, with strong margins and progress on the shift to subscription-based solutions. We're positive on the transition to software/subscriptions, which, combined with share repurchases/repatriation and an increased dividend, offers a favorable backdrop for multiple expansion."
Steven Milunovich, UBS (Buy, PT raised to $37 from $35) 
"Cisco has been a mixed story with growth in new areas offset by deterioration in core switching and routing. We think management is looking to move fast: (1) Cisco has accelerated investments in the core to gain share and improve results; (2) the company's position in hyperconverged is lagging-HyperFlex is on a short leash; and (3) more and larger M&A may be coming..."