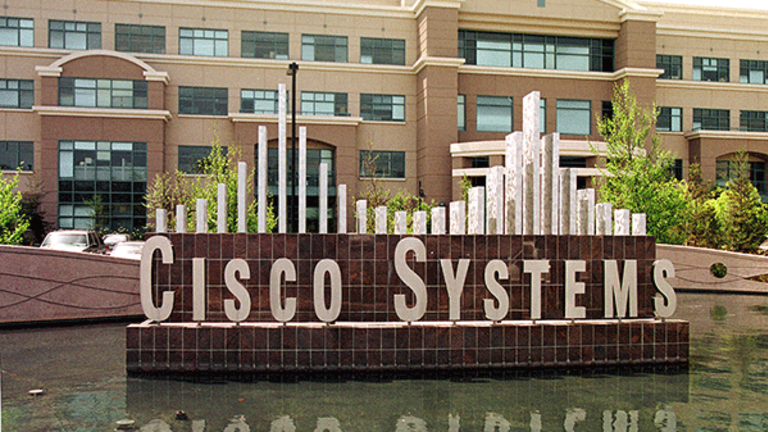 Cisco Just Added a Huge Piece to Its Software-Driven Transformation Strategy
The company's $3.7 billion deal to buy AppDynamics suggests it wants to be an end-to-end provider of tools for managing IT infrastructures. That could pave the way for more deals.
That Cisco Systems (CSCO) - Get Cisco Systems, Inc. Reporthas wanted to increase its software exposure is hardly a secret: For several years, first under John Chambers and even moreso under new CEO Chuck Robbins, the company has been snapping up software firms in fields as disparate as collaboration, cloud management, security and IoT, with an eye towards becoming less dependent on switch and router businesses that face their share of long-term pressures.
All the same, the networking giant's $3.7 billion deal to buy leading app performance monitoring (APM) software firm AppDynamics is eye-popping both for its size, and for what it signals about the company's data center and cloud software ambitions. And given those apparent ambitions, deals involving companies in adjacent software markets seem quite plausible.
Just days before AppDynamics was set to do an IPO that at the top of its price range would've valued the company at a relatively meagre $2.2 billion, Cisco made an offer the firm couldn't refuse. The deal's valuation certainly isn't low: With AppDynamics having recorded billings of $237 million (up 44% annually) over the 9 months ending October 31, Cisco might be paying around 9-to-10 times forward billings, assuming AppDynamics keeps up its recent growth.
The deal price, along with speculation that a fellow IT giant could respond to Cisco's move by snapping up another APM software firm, has led shares of major AppDynamics rival New Relic (NEWR) - Get New Relic, Inc. Report to rise 12%. Meanwhile, Splunk (SPLK) - Get Splunk Inc. Report is up over 7%; though the company isn't considered a direct AppDynamics rival, its tools, which analyze the tons of machine data thrown off by systems and apps, are often used for APM tasks. Cisco itself is up fractionally.
AppDynamics, along with New Relic and Compuware's Dynatrace spinoff, has been grabbing APM share from older enterprise software players such as IBM (IBM) - Get International Business Machines Corporation Report, HP Enterprise (HPE) - Get Hewlett Packard Enterprise Co. Report, CA Technologies (CA) - Get CA, Inc. Report and BMC Software. Oracle (ORCL) - Get Oracle Corporation Reportand Microsoft (MSFT) - Get Microsoft Corporation Report also compete in this space, but are smaller players.
Cisco and HPE are holdings in Jim Cramer's Action Alerts PLUS Charitable Trust Portfolio. Want to be alerted before Cramer buys or sells CSCO or HPE? Learn more now.
AppDynamics' market share gains have been fueled by tools that provide deep visibility into how an app's code is performing across thousands of servers and millions of end-user devices, as well as the performance of related infrastructure elements such as databases and storage.
Its products have also won praise for their ability to map and monitor "business transactions" involving an app, such as placing an e-commerce order or pulling up a weather report, and for improving the speed at which companies can detect and resolve app issues. Cisco is already a client, as are DirecTV, Expedia (EXPE) - Get Expedia Group, Inc. Report, Kraft and Citrix Systems (CTXS) - Get Citrix Systems, Inc. Report.
Beyond that, AppDynamics is benefiting from the way that cloud and mobile app adoption have helped the APM market grow. The fact that cloud/mobile apps tend to feature many distributed elements, require constant updates in response to analytics and user feedback -- in some ways, this is part of the broader DevOps trend in software development -- and need to avoid having any kind of serious performance or uptime issue makes having powerful and scalable APM tools all the more important. Gartner estimates the APM market grew 10.6% in 2015 to $2.7 billion.
So how does all this fit in with what Cisco's currently doing? The company has already been busy launching tools that allow companies to manage and monitor how apps function on networks. The company's ACI software-defined networking (SDN) platform, which lets clients quickly provision networking resources and set related policies for individual apps, is certainly part of it. As is its recently-launched Tetration analytics platform, which relies on sensors placed within Cisco and third-party hardware to give a comprehensive view of how an IT infrastructure is functioning.
On a conference call discussing the AppDynamics deal, Cisco talked up how the app visibility provided by AppDynamics' products complements Tetration, and claimed the deal will let it provide complete IT monitoring solutions covering both infrastructure and app analytics. It also argued AppDynamics had the best products/technology of any APM player.
Also highlighted: The ability of AppDynamics tools to provide a unified view of complex/distributed apps running across both cloud and on-premise infrastructures, and the ability of Cisco to cross-sell these products through its many sales channels. Cisco also noted AppDynamics gets well over half its revenue from subscriptions. 
In addition to products that directly complement what AppDynamics is doing, Cisco has aggressively used M&A to obtain software tools for managing many of the devices and apps connecting to its networks.
Its $1.4 billion purchase of Jasper Technologies, provider of cloud-based platform for handling IoT device connections, looms large here. Other notable acquisitions include CloudLock, a provider of tools for securing the cloud apps a company uses, Lancope, a security software firm whose offerings now integrate with Cisco hardware to detect unusual network activity, and Piston Cloud Computing and CliQr Technologies, a pair of cloud management software firms.
Taken in aggregate, Cisco is clearly making a big push to be a leading supplier of software for deploying, managing and analyzing a company's IT's resources. There's certainly no shortage of competition here -- IBM, Microsoft and VMware (VMW) - Get VMware, Inc. Class A Report are among the notable rivals -- but the breadth of Cisco's offerings, together with the benefits provided at times by integrating them with its networking hardware, set it up well to be a formidable player.
Still, when it comes to IT hardware management software, Cisco isn't yet considered a top player. IBM, CA, Microsoft and BMC are the biggest names in the $20 billion-plus IT operations management (ITOM) software space, of which APM is just one part. Thus it wouldn't be far-fetched to see the company make a systems management software acquisition or two in the wake of the AppDynamics deal.
Meanwhile, a look at Cisco's recent hardware sales show why it's so eager to expand its software arsenal. The company's switching revenue fell 6% annually in the October quarter, and its total product orders fell 2%, due largely to service provider weakness. Soft carrier capex, the adoption of public cloud infrastructures relying on white-label switches and stiff enterprise switching competition from HPE and Huawei are all headwinds.
Going forward, the adoption of third-party SDN platforms such as VMware's NSX, which make it easier for companies to deploy commodity switches, could also be a problem. As might carrier adoption of network functions virtualization (NFV), which allows proprietary hardware from Cisco and others to be replaced by commodity servers running on Intel (INTC) - Get Intel Corporation ReportCPUs.
Software accounted for 9% of Cisco's product revenue last quarter, up from 6% a year earlier. And the company's product deferred revenue related to recurring software and subscription revenue streams grew 48% to $3.8 billion. Cisco's latest software acquisition suggests its strategy for keeping those numbers growing rapidly is a lot more ambitious than many have assumed.