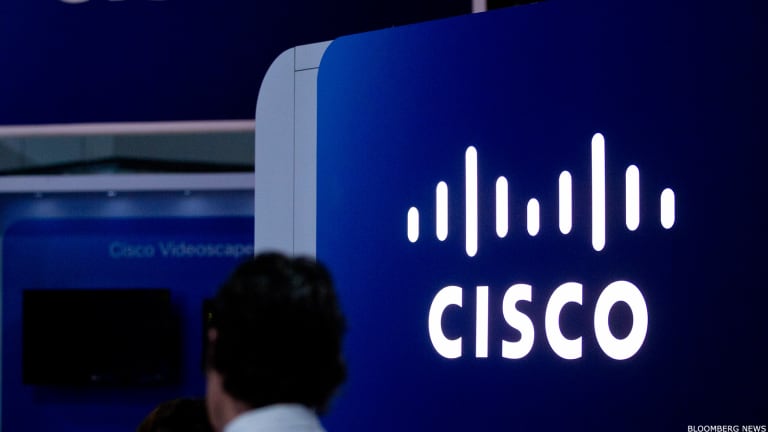 Cisco Plummets After Weak Guidance, Layoffs: What Wall Street's Saying
Cisco CEO Chuck Robbins said on the company's earnings call that a 'lack of budget visibility' from the federal government caused a slowdown in product orders during the third quarter.
Cisco (CSCO) beat analysts' estimates for the fiscal third quarter but gave light revenue guidance for the current quarter, which caused shares to slide 7.8% to $31.16 in on Thursday morning.
The networking giant posted adjusted earnings of 60 cents per share and $11.94 billion in revenue on Wednesday after market close, surpassing Wall Street's projected 58 cents per share and $11.9 billion. 
Still, that bright spot was overshadowed by Cisco's announcement that it expects fourth-quarter revenue to fall 4% to 6% year-over-year, a deceleration that CEO Chuck Robbins attributed to weak product orders in its public sector business, particularly those that come from the federal government.
A sales deceleration of 4% to 6% implies revenue between $11.9 billion and $12.1 billion, according to Reuters, which is below consensus estimates of $12.5 billion. With little budget visibility, Robbins said on an earnings call with investors that those headwinds comprise a significant chunk of the slowdown in sales. 
"It's a pretty significant stall right now with the lack of budget visibility," Robbins said.
Cisco's orders in the public sector unit (which also includes sales to state and local governments) also fell 4% during the third quarter. In addition to that, Cisco announced it would cut 1,100 more jobs, on top of the 5,500 jobs the company slashed last August. 
While the pullback in shares is disappointing, these "hiccups can happen" when a company as big as Cisco undertakes a massive restructuring plan," TheStreet's Jim Cramer, who owns Cisco in the Action Alerts PLUS portfolio, wrote in a recent post.
Wall Street analysts also remained largely optimistic. Here's what they had to say about the quarter: 
Brian White, Drexel Hamilton (Buy, Price Target lowered to $39 from $40) 
"We believe this morning's sell-off provides another buying opportunity given Cisco's rich dividend yield, attractive valuation, expanding recurring revenue contribution, consistent margin execution and prime position as a beneficiary of potential revisions in repatriation policies."
Mark Moskowitz, Barclays (Overweight, $34 PT) 
"There was goodness in Apr-Q results, as recurring product deferred revenue accelerated to 57% Y/Y growth. The partial offset in the near term is that the shift to a subscription based model could be having a deflationary impact as a larger mix of revenue heads to the balance sheet first. This is explainable, though, and nothing to fret, in our view."
Jeffrey Kvaal, Nomura (Neutral, PT lowered to $29 from $30) 
"Cisco followed a solid F3Q with guidance for a sales decline well below consensus. This may be more than temporary. Cisco passed when pressed on long-term growth, steeled us for a multi-year transition, and its limited optimism rang hollow."

Tim Long, BMO Capital Markets (Market Perform, PT lowered to $32 from $35) 
"Cisco's transformation to a recurring revenue model is progressing as planned, but as we outlined in our recent downgrade, the benefits of transformation will take time to play out...The weaker outlook seems more macro driven than share-loss related, but other than the upcoming analyst day, there does not seem to be a near-term catalyst that will move the shares higher from current levels."
Ittai Kidron, Oppenheimer (Outperform, $36 PT) 
"Overall, while the demand environment is mixed, we feel that Cisco is executing well and keeping costs/margins stable. The continued push towards subscription-based solutions will likely weigh on revenue growth for quarters/ years to come, and we wouldn't be surprised to see further revisions near term. Nevertheless, we believe that the shift presents long-term economic upside to Cisco, and meanwhile a strong balance sheet limits downside."
Aaron Rakers, Stifel (Hold, $34 PT) 
"Cisco's weaker-than-expected F4Q17 guide and forward comments will pressure shares...Cisco's ability to provide a thorough and convincing review of its strategic transformation and ability to return to growth will be a key focus at the upcoming (6/28) Investor Day."
Alex Henderson, Needham (Hold) 
"Cisco's July Q is almost always the seasonally strongest of the year. But the guidance of down 4-6% in July revenues with product revenues likely down 6-8% y/y makes forecasting the following several quarters much more difficult...OK, Cisco has a strong balance sheet and cash flow and high margins, but with roughly an acquisition per month, we think the declining revenues should be concerning to even the most ardent bulls." 
Erik Suppiger, JMP Securities (Market Perform)
" We believe the results bode poorly for Fortinet (FTNT) , MO, $41 PT) and Palo Alto Networks ( (PANW) , MO, $155 PT), particularly given that our industry contacts suggest turnover is elevated in the sales organizations of both. We view shares of Cisco as fairly valued, trading at 13x our CY18E EPS estimate."
Read more of TheStreet's top stories:
If Apple, Facebook and Netflix Keep Diving, the Ugly Trump Stock Market Correction Could Be a Thing
Look How Walmart Just Schooled Everyone Else in Retail -- Jim Cramer Weighs In
Here's How Home Depot Is Trying to Destroy Dying Sears