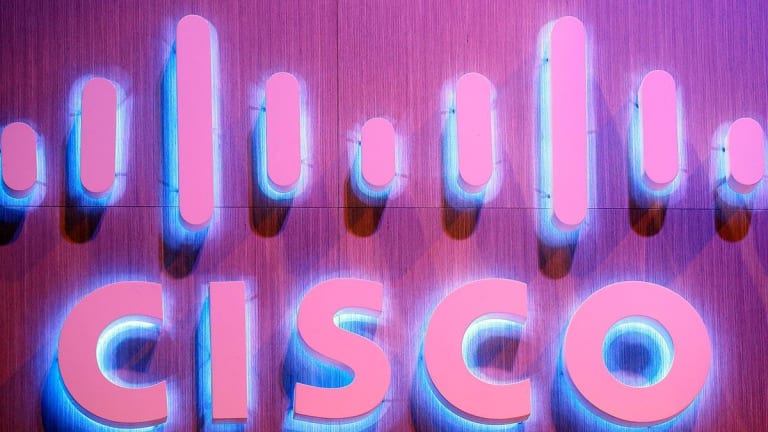 Cisco Earnings Preview: Look Beyond Short-Term Results
Cisco's fiscal fourth quarter will be an opportunity to gauge its competitiveness in growth areas like cloud data centers, 400G and security.
Thanks to its successful transformation to a subscription-based software business, Cisco Systems (CSCO) has been reporting mid-single-digit quarterly revenue growth since the company's fiscal second quarter in 2018. But the transition isn't over and the company must keep pace with technology. Besides the short-term performance, Cisco's fiscal fourth quarter will be an opportunity to gauge its competitiveness in growth areas like cloud data centers, 400G and security.
The networking giant will report its fiscal fourth-quarter results after the closing bell Wednesday.
Strong Performance Expected to Continue in Fiscal Q4
Management at Cisco has forecast that strong operating performance reported over the last six quarters will continue during the fiscal fourth quarter.
Revenue is expected to grow in the range of 4.5% to 6.5%. Given the strong 5.9% base comparison, management expressed its confidence in the strength of the business. Also, operating leverage will materialize. The midpoint of the non-GAAP gross margin range at 64.5% represents a solid improvement compared with a gross margin of 62.9% a year earlier. Non-GAAP operating margin also is anticipated to increase with an expected range of 31% to 32% compared with 30.9% the year before.
Higher revenue, improved margins, and share buybacks justify the predicted strong double-digit non-GAAP EPS growth and earnings in the range of 80 cents to 82 cents.
Other network vendors reported their results over the last few weeks. Arista Networks  (ANET) , Juniper Networks  (JNPR)  and Extreme Networks (EXTR) matched or exceeded their guidance. With this positive context, a disappointing performance from Cisco would be surprising.
Over the medium term, competitors' forecasts were mixed. Juniper and Extreme Networks expect their results to improve over the next quarters. In contrast, Arista forecast slower growth for its cloud business due to lower capital programs from web-scale providers. Therefore, guidance Cisco will provide for the next quarter will give some extra information about its strength against its competitors over the near term.
Besides the short-term results, here are growth areas to pay attention to during Cisco's fourth quarter.
Key Growth Businesses for the Long-Term 
Cisco doesn't report the performance of its cloud business. Arista's prudence about its performance in the cloud data center segment over the medium term contrasts with its strong 20%+ CAGR (Compound Annual Growth Rate) revenue growth during the last several years. Any communication about Cisco's competitiveness in this area would provide precious information.
The timing of the development of 400G technology will be an important aspect to consider as well. The first use cases most likely will involve cloud data centers. Both Juniper and Arista announced available 400G switches during calendar 2019. But the commercial deployments are delayed to mid-2020 due to the lack of availability of optics at scale. Last month, Cisco announced its intention to acquire the optics provider Acacia. Thus, I expect management to discuss the availability of optics and the timing of the deployment of 400G infrastructure. Being ready for commercial deployments before mid-2020 would give Cisco an advantage over its competitors.
The security segment, despite representing only about 5% of total revenue, is another key business for Cisco. The growth potential is important and the synergies with the network portfolio are significant. Many competitors like Arista, Extreme Networks, and to a lesser extent Juniper, can't propose such a complete offering. Cisco didn't provide any guidance on its security business. But with its scale and synergies, I expect Cisco's security business to match or exceed the expected 10% growth of the market over the medium term.
Conclusion: If Cisco Meets Guidance, Its Valuation Is Reasonable
Considering the recent earnings of some other network vendors, I expect Cisco to - at least - match its guidance. Besides the short-term results and the guidance for the next quarter, I'll be watching for any extra information about key growth areas.
Since the previous earnings, the stock price has dropped about 8% to $51.54. The annualized midpoint of the forecast non-GAAP EPS corresponds to a PE ratio of 15.9 times. If the company delivers fiscal fourth-quarter results in line with guidance, the valuation is reasonable.
Cisco is a holding in Jim Cramer's Action Alerts PLUS member club. Want to be alerted before Jim Cramer buys or sells CSCO? Learn more now.
The author is long CSCO.