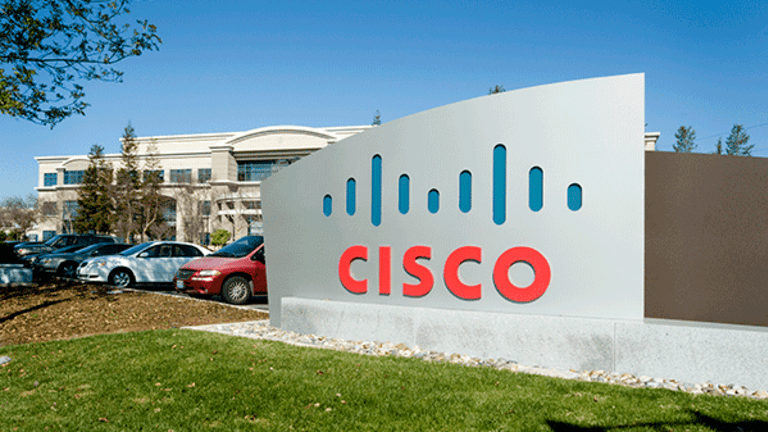 Cisco Deal With AppDynamics to Accelerate Revenue Growth: More Squawk From Jim Cramer
Cisco snatched AppDyanmics up the day before it was scheduled for an IPO. This timing is something TheStreet's Jim Cramer says he doesn't ever remember seeing.
Shares of Cisco (CSCO) - Get Free Report were higher in late morning trading on Wednesday after acquiring AppDynamics for $3.7 billion as it continues to move toward becoming a software company. AppDynamics was scheduled for an initial public offering on Thursday at a valuation of less than $2 billion. 
The timing for the deal is definitely unique, with Cisco "swooping in" at the last minute, TheStreet's Jim Cramer said on CNBC's "Squawk on the Street" on Wednesday morning. "I was ready for this company. I was ready to talk about it," he said. 
The deal is "great" because Cisco's last quarterly results were "misinterpreted" because it didn't have "that kind of oomph" that comes from an "understanding" of deferred revenue, Cramer continued. 
While Cisco has to pay big bucks for AppDynamics, the one thing the company has a lot of is cash, he pointed out. Cisco could be further helped out if the new administration does usher in a repatriation tax cut. "[Cisco] is in many ways a 'Trump stock,'" Cramer said.  
Cramer expected Cisco to boost its dividend more, but this deal is actually better because it creates a higher multiple, he claimed. This is what needed to happen since their core business was slowing "to the point that people like other companies in the sector." 
The deal is good for both the company and its shareholders because it will accelerate revenue growth and it will accelerate the transition to a software company, Cramer noted. "They're trying to become more of a software company. Bingo! This is what they did." 
(Cisco is held in Jim Cramer's charitable trust Action Alerts PLUS. See all of his holding with a free trialhere.)