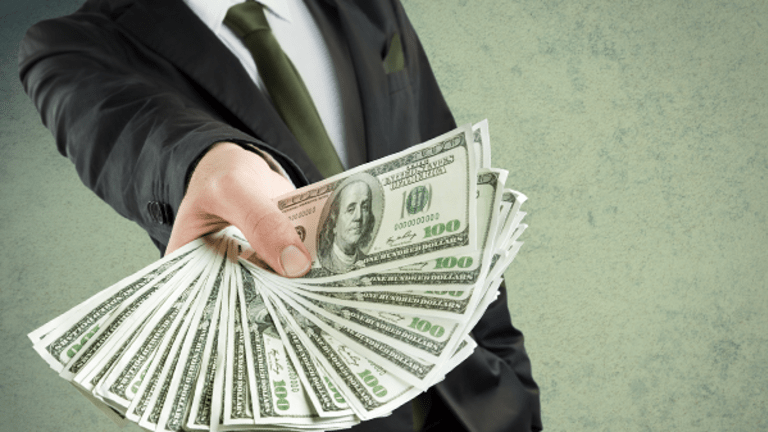 Cisco CEO: Here Is Our Acquisition Strategy
Cisco has never been one to shy away from deals.
Cisco Systems Inc. (CSCO) - Get Cisco Systems, Inc. Report has never been one to shy away from M&A, making more than 200 acquisitions in its history.
That flurry of deal activity hasn't changed much under the watch of CEO Chuck Robbins, either, with at least 20 transactions taking place since he took the helm in June 2015. The San Jose, Calif., networking company announced its latest deal on Monday, Aug. 21, saying it plans to acquire hyperconvergence software startup Springpath Inc. for $320 million in cash and assumed equity awards. Cisco said it expects the deal for the Sunnyvale, Calif., company to close in the first quarter of fiscal 2018.
Springpath developed a file system tailor-made for hyperconverged data centers, which use integrated software to manage a server so that it can scale more quickly and run more efficiently. Cisco said it intends to use this and other software from Springpath to continue building out its data center computing business. Cisco's data center unit is its fourth-largest business but has continued to lose money, as revenue has declined year over year in the past four quarters.
Cisco has a long-standing relationship with Springpath, having led the startup's Series C financing round in 2015. The amount of that investment was undisclosed. The startup also has attracted prior funding from Sequoia Capital, New Enterprise Associates Inc. and Stanford University, among others.
After Cisco's Dive Drags Tech, Here's What Wall Street's Top Analyst Had to Say
Since Cisco's initial investment, it partnered with Springpath in 2016 to develop and release HyperFlex, Cisco's hyperconverged platform.
Cisco had been working with SimpliVity Corp., which develops hyperconverged IT infrastructure platforms, before it was acquired by Hewlett Packard Enterprise Co. (HPE) - Get Hewlett Packard Enterprise Co. Report for $651 million in February. Since then, Cisco has increasingly relied on its HyperFlex product to gain an edge in the hyperconverged data center market-a space that IDC has predicted will be worth as much as $6 billion by 2020. Rob Salvagno, Cisco's head of corporate development and investments, said in a blog post on Monday that HyperFlex has attracted more than 1,800 customers.
"This acquisition is one more example of Cisco's shift toward providing more software-centric solutions," Salvagno said.
Salvagno sits on Springpath's board of directors, according to Springpath's website.
As part of a wide-ranging interview, TheStreet recently had a chance to talk with Cisco's CEO about the company's M&A strategy and what kinds of companies it could be targeting next. Robbins pointed to Cisco's previously stated "build, buy, partner, invest and co-develop" M&A strategy. Cisco has been known to acquire companies to seize their emerging technology, rather than build it itself, like its $3.7 billion purchase of AppDynamics Inc. in March. AppDynamics creates software that helps companies monitor how their applications and websites are running to prevent them from crashing.
Looking forward, Robbins said Cisco plans to keep being opportunistic when it comes to M&A, by using the same "build, buy, partner" approach it always has.
"[We] intend to continue to use smart M&A as a way to seize market transactions in new markets as well as extend our leadership in our current business," Robbins said. "Our M&A approach will strive to remain balanced -- maintaining discipline in light of market conditions while making key strategic moves that cement Cisco's competitive differentiation for the future."
He added that the company will "always be looking out" for additional deals like its purchases of AppDynamics; Meraki Inc. for $1.2 billion in 2012; Sourcefire Inc. for $2.7 billion in 2013; and OpenDNS Inc. for $635 million in 2015. Robbins also highlighted Cisco's growing number of strategic partnerships, which now include Apple Inc. (AAPL) and Salesforce.com Inc. (CRM).
More of What's Trending on TheStreet: