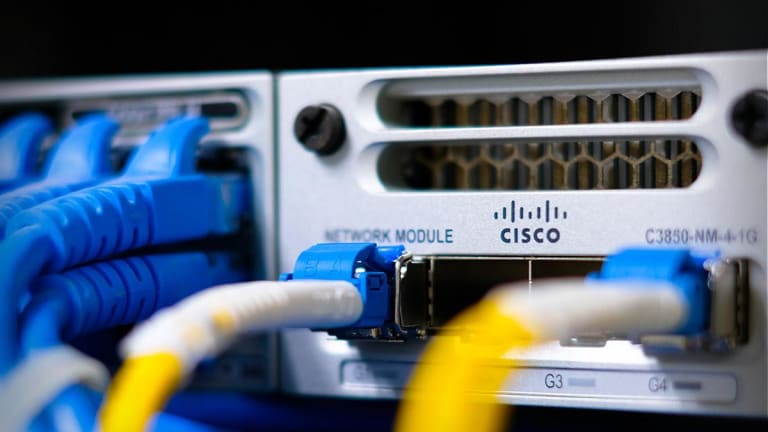 Cisco Remains Attractive Despite Arista's Blow-Up
Arista presented disappointing Q4 guidance, causing its shares to tank. However, the company came into the quarter with a significant growth premium and its weakness should not reflect poorly upon networking giant Cisco.
Arista presented disappointing Q4 guidance, causing its shares to tank. However, the company came into the quarter with a significant growth premium and its weakness should not reflect poorly upon networking giant Cisco.
Arista Networks (ANET) - Get Report posted earnings after the bell on Thursday and the company beat analyst expectations on both the top and bottom lines. However, management reported disappointing Q4 guidance, including revenue estimates that were roughly 20% below the Wall Street's expectations.
In response, the stock experienced a precipitous sell-off in the after hours trade and were down  27% on Friday morning, with the action causing ripple effects across the networking industry. 
Cisco (CSCO) - Get Report  has not been immune to the negative sentiment thus far, falling 1% on Friday. But I believe that Arista's weakness should not scare investors away from Cisco. On the contrary, I believe any extended weakness in Cisco shares due to Arista's disappointing guidance presents an attractive buying opportunity.
Arista's Weakness
Prior to the recent guidance, analyst consensus for Arista's Q4 revenue was approximately $686 million. Management's guidance was for Q4 revenue in the $540 million to $560 million range. Not only would a total in this range be a disappointment to analysts, but at the mid-point, it would also represent a 7.7% year-over-year decline compared to the $595.7 million revenue figure that Arista posted in Q4 of 2018.
With regard to the projected weakness, Arista President and CEO, Jayshree Ullal said, "We expect a sudden softening in Q4 with a specific cloud titan customer."
During Arista's Q2 report, the company noted that Microsoft (MSFT) - Get Report represented 27% of the company's revenues, and also commented that "historically, large purchases by a relatively limited number of end customers have accounted for significant portion of our revenue."
There is speculation that Microsoft is the culprit for Arista's Q4 guidance, but other large tech names such as Facebook (FB) - Get Report make up significant portions of Arista's revenue pie as well. This high concentration leads to high risk and the after hours move is a reflection of this. 
Arista has stormed onto the scene as a data center specialist and up until now, the company has made a name for itself as a popular growth stock. This growth has inspired the market to place a high premium on its shares.
Prior to the Q3 report, Arista's trailing twelve-month price-to-earnings ratio was roughly 26x. Without such bullish growth expectations, the stock is experiencing significant multiple contraction. This scenario is one of the downsides of high risk growth investing and it's why my preferred holding in the network industry is Cisco. 
Cisco: The Cheaper Option
During Cisco's most recent quarterly report back in August, the company also gave weak guidance, causing its stock to fall some 7%. However, Cisco's guide was for 0-2% growth, as opposed, to Arista's -7.7% growth.
It will be interesting to see if Cisco disappoints again when it reports on Nov. 13. However, Cisco doesn't face the same issues that Arista does regarding a concentrated customer base. Furthermore, Cisco offers investors exposure to a broader portfolio of products and services, resulting is resilient cash flows. Given the company's more diversified business and revenue stream, volatility at the level we're witnessing with Arista right now is unlikely. 
The idea that enterprise demand is falling in nothing new to Cisco. On Oct. 10, Goldman Sachs analyst Rod Hall downgraded Cisco to Neutral from Buy because of the belief that enterprise and telecom spending in going to decrease in the short-term. In the midst of a trade war with so many question marks hovering over macro markets, it makes sense for management teams to tighten up their spending and maintain a more defensive mindset. Conservative sentiment within the enterprise space will continue to be a headwind for suppliers like Cisco moving forward, yet I believe that much of this weakness has already been priced into Cisco's stock.
Prior to Cisco's recent bout of weakness, shares were trading for nearly 18 times trailing twelve month earnings. However, in the $47 range, Cisco shares today are trading for approximately 15 times earnings. And, using forward looking 2020 consensus earnings-per-share estimates of $3.33 for 2020, we arrive at a 14.1 forward price-to-earnings ratio.
Cisco not only offers investors a relatively cheaper price to earnings multiple, but also a strong dividend yield. Cisco shares yield 3%, which is becoming more and more attractive as interest rates fall. Cisco's $1.40 forward-looking dividend appears to be safe, supported by free cash flow per share of $3.28. This 43% free cash flow payout ratio and the company's generous stance when it comes to shareholder returns implies continued dividend growth.
Combine these sub-market multiples with the mid-to-high single-digit earnings-per-share growth estimates that analysts foresee in 2020 and 2021, and the stock's dividend yield and this boring, cash cow of a company appears to offer investors the potential for a relatively low-risk, double-digit compound annual growth rate.
As Cisco continues to chug along, a slight change of sentiment surrounding the name and a bit of multiple expansion back towards the levels we saw earlier in 2019, could produce significant alpha moving forward.
With this in mind, I find myself wondering, why buy the speculatively priced up-and-comer when the established leader offers such satisfactory return potential? I continue to be content with my Cisco exposure. This is why I haven't felt compelled to pay the growth premium associated with Arista.
Save 57% during our Halloween Sale. Don't let this market haunt you; join Jim Cramer's Investment Club, Action Alerts PLUS. Click here to sign up!
Cisco, Microsoft and Facebook are holdings in Jim Cramer'sAction Alerts PLUS Charitable Trust Portfolio. Want to be alerted before Cramer buys or sells these stocks? Learn more now.
Nicholas Ward is long CSCO.