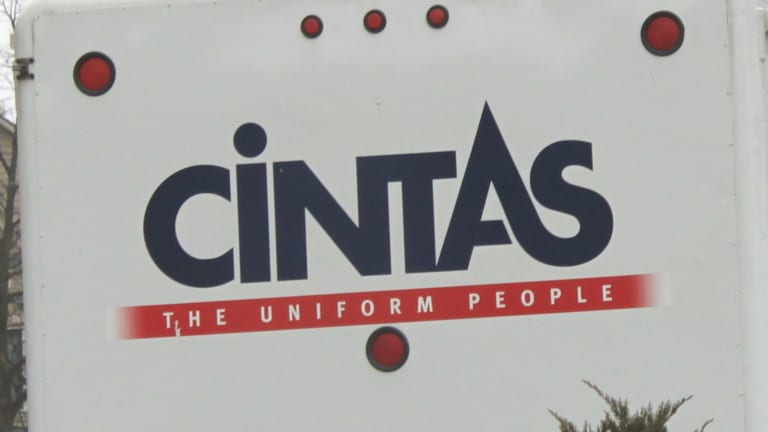 Cintas May Be the 'Ultimate Trump Stock' -- but Is It a Buy?
Cintas reports earnings Thursday. Last week Jim Cramer called it the 'ultimate Trump stock.'
Last week on CNBC's "Mad Money," Jim Cramer picked Cintas (CTAS) - Get Report as his "ultimate Trump stock." The company reports second-quarter earnings on Thursday. Year to date, Cintas shares are up 31.6%.
Cintas designs, manufacturers and services corporate uniform programs. The company also supplies doormats, restroom cleaning supplies, first aid and safety products. In fiscal 2015, the company delivered its services through 165 processing plants, 111 rental branches and over 8,000 delivery routes throughout the U.S. and Canada. In 2016, Cintas spun out its document-shredding business and formed a partnership with Shred-It International.
Approximately 77% of revenue is derived from uniform rental. Cintas designs and manufactures the uniforms it rents to customers. The company services those uniforms by cleaning, repairing and replacing them as needed.
Cintas also sells uniforms to customers. Uniform sales are approximately 10% of revenue. Safety and fire protection is about 13% of revenue.
The company is the second-largest supplier of first aid and fire suppression equipment. Cintas repairs and replaces portable fire extinguishers and services emergency exit lights as well.
Cintas estimates it provides services to over 1 million businesses in the U.S. and Canada. More than 50% of customers purchase services other than uniforms.
Cintas reports its second-quarter fiscal 2017 earnings results on Thursday. The consensus is looking for revenue of $1.29 billion and $1.15 per share in earnings. Last year, Cintas reported second-quarter revenue of $1.219 billion and earnings of $1.03 per share.
For fiscal 2017, analysts expect revenue to grow 5.9% to $5.2 billion and year-end earnings of $4.60 per share.
On Aug. 16, Cintas announced it would acquire uniform rental company G&K for $97.50 per share. Including debt, the deal is valued at $2.2 billion. The deal is expected to produce synergies of $130 million to $140 million by the fourth year after the deal is closed.
At the current price, the stock is trading at 26 times forward estimates, which to me, is pretty pricey for such a cyclical stock. Cintas paid 14 times enterprise value/earnings before interest, taxes, depreciation and amortization for G&K. Cintas is currently trading at 14 times EV/EBITDA too.
The stock is up sharply after the election because investors believe tax cuts and a continued decrease in the unemployment rate will benefit Cintas. Last quarter, the company paid a 28% tax rate.
I would wait for a pullback before committing capital to this stock. Cintas management was only willing to pay 14 times EV/EBITDA for G&K, so why would you want to pay more for Cintas?
This article is commentary by an independent contributor. At the time of publication, the author held no positions in the stocks mentioned.