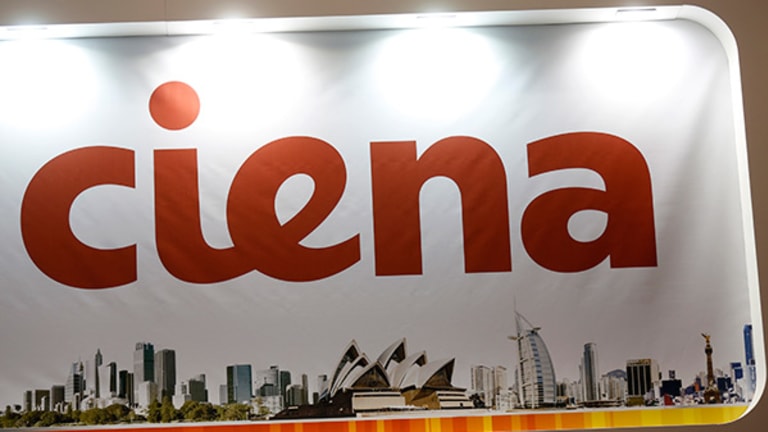 Ciena Is Ready to Profit on the Web's Future
Optical equipment maker Ciena reports earnings Thursday. Is this the start of another optical supercycle?
Optical network equipment maker Ciena (CIEN) is set to report third-quarter fiscal 2016 results on Sept. 1. When Ciena reports earnings, it will mark 16 years since the stock hit its peak of $859 per share. Since the dot-com crash in 2000, Ciena has had to transform its business from strictly a long-haul optic provider to a more diversified player.
I think we are at the beginning of another optical supercycle, and Ciena is perfectly positioned to win big again.
During the dot-com era, the United States binged on optical fiber and equipment. Back then, the U.S. needed to build out the Internet and simultaneously needed to build out the optical networks that capture all the backhaul traffic coming off the new cellular base stations.
Bandwidth providers spent the last 16 years building out their long-haul and back-haul capacity to distant cities.
Long-haul cables, or optical cables that stretch more than 1,500 kilometers, have been upgraded over the years to handle as much as 90 channels of 100 GB of data. These high-capacity cables terminate into metro areas' 10-year-old networks that can only handle 10GB to 40 GB of traffic.
This situation is creating a traffic jam of epic proportions. Anyone who has tried to stream a movie only for it to get stuck buffering has been trapped in that traffic jam.
Furthermore, these ancient metro networks connect directly into the data centers of cloud computing companies and huge websites like Facebook and Amazon. This so-called "web scale" business is totally new to the traditional optical equipment makers, who are used to catering to the elite Tier 1 service providers.
In 2000, 40% of Ciena's revenue came from just one player, Verizon (VZ) . Now with web scale taking off, 40% of Ciena's revenue comes from over 1,300 web and cloud-computing customers who need to jack directly into these optical networks. These customers need an entire optical network infrastructure and software to manage huge amounts of traffic, data and streaming video coming off their web servers. And that's where Ciena comes in.
In early June, Ciena reported strong second-quarter results. Ciena reported earnings of 34 cents per share, 7 cents ahead of the consensus estimate. Revenue rose 3.1% to $640.7 million. Adjusted gross margins were 45.1%.
With less dependence on Tier 1 service providers, Ciena saw its second-quarter packet networking business grow 30% year over year and its software business grow 130%. Ciena is also conquering the web scale business, with its Wave Server platform, which has been chosen by three of the top five web scale providers. Sales to web companies represented 5% to 10% of second-quarter revenue.
This momentum is expected to continue into the third quarter. When a website allows users to stream live video from a smartphone, you can bet the site has Ciena on speed dial.
Ciena reports third-quarter results on Thursday. I expect it to beat the consensus estimate. Analysts are looking for revenue of $627 million, up 12%, and an overall gross margin of 45%. Earnings are expected to come in at 38 cents per share.
Management guided investors to expect full fiscal 2016 revenue growth of 6.5% and adjusted gross margins in the mid-40s, while operating margin should end the year at 11%. Wall Street forecasts the company will end the year with earnings of $1.37 per share.
Any investor who has watched the optical space long enough has been burned by growth predictions before. Spending by the Tier 1 service providers can be lumpy, as upgrades start and stop suddenly (as Infinera (INFN) investors found out recently). But it seems like the optical supercycle is really here.
According to Ciena, data consumption is expected to grow by a factor of nearly 45 between 2009 and 2020. Streaming 4K video, 5G smart phones and all sorts of devices connected to the Internet are poised to swamp existing networks with traffic. Web scale companies like Amazon, Facebook and cloud providers are loading up on optical equipment to serve their users.
And with Verizon planning to upgrade its 40GB metro networks to 100GB later this year, Ciena is the place to be.
This article is commentary by an independent contributor. At the time of publication, the author held no positions in the stocks mentioned.