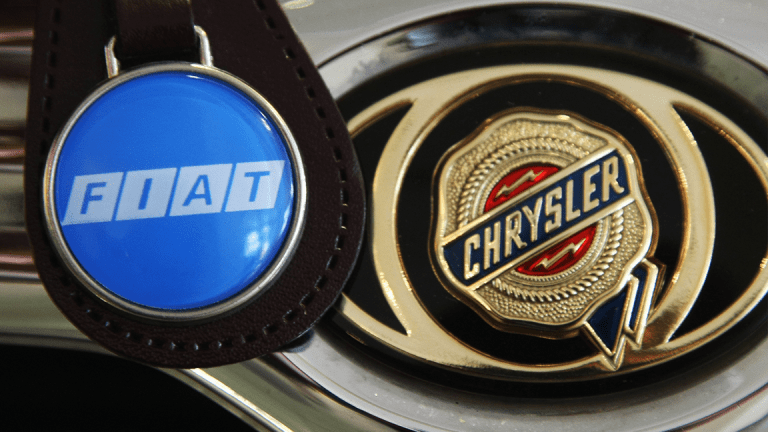 Fiat Chrysler to Recall 862,000 U.S. Vehicles That Don't Meet Emission Standards
The EPA announces the carmaker will recall 862,520 gasoline-powered vehicles in the U.S. that don't meet federal emissions standards.
Shares of automaker Fiat Chrysler (FCAU) - Get Stellantis N.V. Report  were down 1% Wednesday after the Environmental Protection Agency announced the company will recall 862,520 gasoline-powered vehicles in the U.S. that don't meet federal emissions standards. 
In-use emissions investigations conducted by the EPA along with the company's own in-use testing prompted the recall. 
The recall includes 2011 to 2016 model year Dodge Journeys, 2011 to 2014 model year Chrysler 200s and Dodge Avengers, 2011 to 2012 model year Dodge Calibers and 2011 to 2016 model year Jeep Compass and Patriots. 
"EPA welcomes the action by Fiat Chrysler to voluntarily recall its vehicles that do not meet U.S. emissions standards," EPA Administrator Andrew Wheeler said in a statement. "We will provide assistance to consumers navigating the recall and continue to ensure that auto manufacturers abide by our nation's laws designed to protect human health and the environment."
The recall will be implemented in phases throughout 2019 due to its size, and owners will be allowed to continue to drive their vehicles until they can be fixed. 
"We are advised that (Wednesday's) EPA announcement reflects a new policy for announcing routine emissions recalls," Fiat Chrysler said in a statement. "This campaign has no safety implications. Nor are there any associated fines. This issue was discovered by FCA during routine in-use emissions testing and reported to the agency. We began contacting affected customers last month to advise them of the needed repairs, which will be provided at no charge."
Earlier this year, the carmaker agreed to pay $800 million as part of a settlement to resolve claims levied by the U.S. Justice Department and the state of California that it used illegal software to cheat diesel-emissions tests. The company is still awaiting the results of a criminal probe into the matter. 
A Special Invitation:Do you want to learn more about planning for and living retirement from the nation's top experts, including Ed Slott and Robert Powell, the editor of TheStreet's Retirement Daily? Want to learn how to create tax-efficient income in retirement and how to manage and mitigate all the risks you'll face in retirement? Then sign up to attend TheStreet's Retirement Strategies Symposium on April 6 in New York City. For a limited time, you can attend this extraordinary symposium for $149 - a cost savings of $50 off the general admission price of $199.
You can see the full day's agenda, learn about the guest speakers and sign up HERE for this special event.